Sobhan Mohmand, Career Expert

2 May 2021
Tip: Use the Facilities Assistant CV Template below as an example to help you write your own personal and fully-tailored CV.
Jayden Newton
1 Crown Street
Long Load
TA10 0UP
Mob: 078 3623 3443
Email: [email protected]
Personal Profile Statement / Career Objective
I am an energetic, driven and hardworking Facilities Assistant with outstanding time management and customer service skills. I have gained more than three years of experience in this field, and I'm looking forward to utilising my skills and abilities in an organisation where I can make a tangible difference on a daily basis.
Education
| | | | |
| --- | --- | --- | --- |
| 2006 – 2008 | Level 3 NVQ in Facilities Management | Seaside College | Results: (Merit, Merit, Distinction) |
Relevant Modules:
Health, safety and welfare in construction (D)
Establish and monitor the facilities required by clients (M)
Project Management (D)
Monitor and solve customer service problems (M)
Building surveying (M)
Manage facilities management projects (D)
Building regulations and control (M)
2000 – 2006
Results: 11 GCSEs at Grades A*-C.
GCSEs
Greenfield Science School
Employment and Work Experience
| | |
| --- | --- |
| Apr 2013 – Present | Facilities Assistant SEMCO Facilities Services |
Main duties performed:
Covering the reception from 7.30 am until 8 am, break times and holidays
Meeting and greeting clients and contractors
Booking rooms, meetings, caterers, etc.
Setting up and utilising the IT equipment for meetings and events
Supporting the Facilities Manager in the day-to-day activities
Assisting people in and around the workplace
Ensuring all Health & Safety, legal compliance and procedures are followed
Liaising with couriers and suppliers
Basic admin duties such as printing, photocopying and filing
Performing building checks
Monitoring CCTV and the premises' security (including access control)
Carrying out risk assessments
Ensuring meeting rooms are clean and tidy before and after a meeting
Replenishing all consumables (when required)
Checking stock and ensuring supplies are purchased
Handling incoming and outgoing mail, packages and other deliverables
Inspecting and maintaining cleanliness throughout the facilities
Assisting with the preparation and layout of rooms
Ensuring emergency repairs are carried out as soon as possible
Organising the appropriate health & safety training for staff
Maintaining and updating accurate records and information systems
Liaising with the different departmental teams within the organisation
Coordinating all the facility maintenance, repairs and renewals
Acting as Fire Marshal in the event of an evacuation
| | |
| --- | --- |
| Dec 2012 – Apr 2013 | General Building Assistant Belem Housing Ltd. |
Main duties performed:
Developing relationships with other members of the site team and our tenants
Calculating and comparing costs for required goods or services.
Covering the Site Manager's responsibilities when he is off site
Performing finance duties such as ordering, POs and invoicing
Ensuring the building is safe and secure at all times
Ensuring all stakeholders adhere to Health and Safety Regulations
Performing security/maintenance checks around the premises
Accurately logging any problems/issues encountered
Performing minor cleaning tasks
Arranging site services for customers
Ensuring the appropriate procedures are in place and know to staff
Ensuring the premises are kept in a tidy state
Contacting suppliers to resolve any problems the customers might have
Professional Training and Qualifications
Workplace Hazard / Fire Awareness – The British Safety Council
First Aid (5-day training)
NVQ Level 2 in Cleaning and Support
Skills
Excellent interpersonal skills
The excellent ability to multitask & prioritise workload
Excellent IT skills (Microsoft: Word, Excel, Access, etc)
Full, clean UK driving license with my own transport
Hobbies and interests
I find myself to be an outgoing and friendly individual; I love socialising, meeting new people and volunteering at local Community centres. I also regularly go to the gym to keep fit and healthy.
References
Mr Aidan Adams
Operations Manager, SEMCO Facilities Services
Address:
66 New Dover Rd, Walden, DL8 3AU
Tel:
0233 233 6543
Email:
[email protected]
Mr Joe Begum
Site Manager, Belem Housing Ltd.
Address:
24 Casper Way, Hurston, KW17 7EZ
Tel:
0253 346 4867
Email:
[email protected]
Please note: the above CV Example is presented in the UK format and layout.
Preview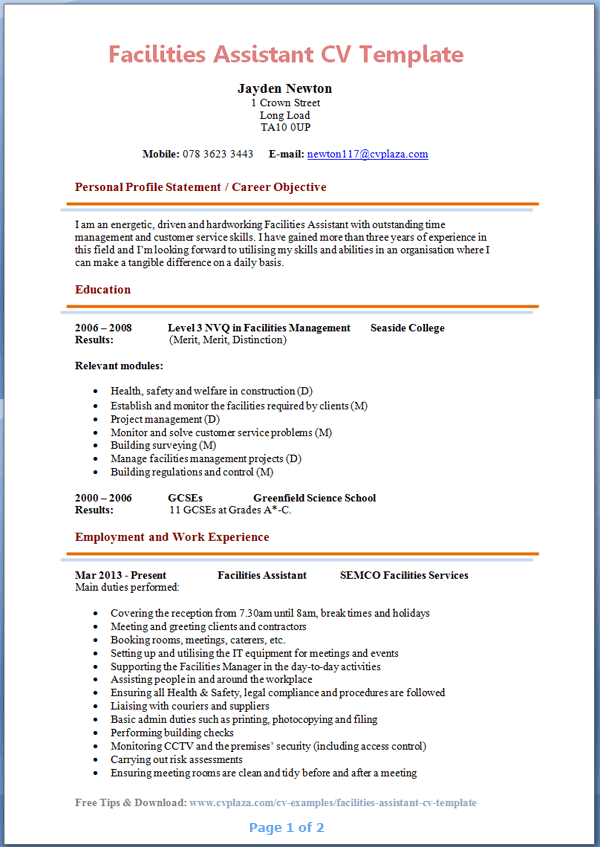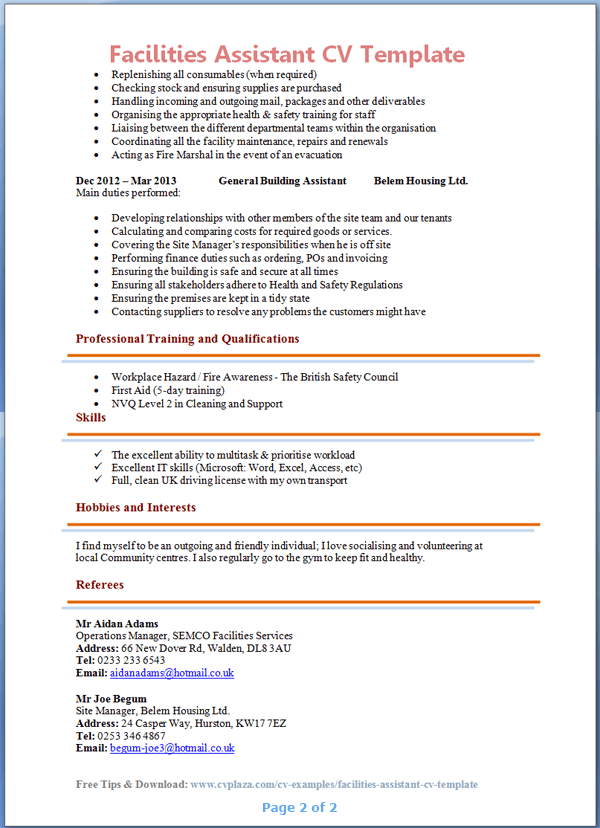 Download
Click here to download the above CV Sample.
COLLECTION: You may also want to browse through our collection of Free CV Templates and download any of the editable CVs to create your own (available in Microsoft Word format and convertible to PDF).
Top CV Tips and Guidelines
CV with no experience? The good news is that this job is an entry-level position which usually doesn't require a lot of work experience. In fact, many vacancies clearly state that no previous experience is required and that "full training will be provided." Having said that, it's always best to re-arrange the sections of your CV so that it is more focused on your education, skills and achievements rather than your employment history.
This job involves a lot of physical, hands-on activities and therefore you would want to portray yourself as someone who is active, fit and physically able to deal with all the duties that a Facilities Assistant needs to undertake [read: utilise the Hobbies section for this].
Good Luck!
Written by Sobhan Mohmand
Sobhan is a qualified Careers Advisor and Professional CV Writer with over 10 years of experience in helping job seekers get a job. He is a Member of the Careers Development Institute (CDI) and is listed on the official UK Register of Career Development Professionals. He holds a Level 6 Diploma in Career Guidance and Development (QCF).