Sobhan Mohmand, Career Expert

5 Apr 2020
WITH RELEVANT WORK EXPERIENCE:
144 Cambridge Road
Loughborough
LW1E 6PL
14 July 2017
Mrs Elizabeth Parsons
Claims Manager
Cover Planners Direct
87 Spring Road
Maidenhead
MH35 4HJ
Dear Mrs Parsons,
Re: Insurance Claims Handler (Ref: II923)
I was recently searching for a job on your website when I came across the above vacancy. I truly believe that I am the perfect fit for this role and that I will be able to make a significant contribution in your claims handling operations.
For the past nine months, I am working as a Claims Assistant at Aviva. I pride myself on being a well-balanced thinker in that I can view claims without bias, and this is what makes me excel at identifying and separating fraudulent claims from legitimate claims.
My communication skills have proved pivotal for my current job where I have been able to liaise with other professionals, such as solicitors and police officials, to verify that the statements or figures presented on claims forms are accurate and genuine. I am an organised individual who takes great pride in being a perfectionist. My current contribution to the company I work for has led to the successful processing of dozens of claims and an increase in customer satisfaction reviews on the company's official website.
Cover Planners Direct is a national insurance company which is the first choice for many people when it comes to providing insurance for their personal belongings. It would be a privilege to be part of your team and contribute to the success of your organisation.
I wish to take this opportunity to thank you for taking the time out to review and consider my application. Please do not hesitate to contact me on 078988 239 012 if you require any additional information. I look forward to meeting you soon.
Yours sincerely,
~ Signature goes here ~
Tim Slater.
Preview + comments: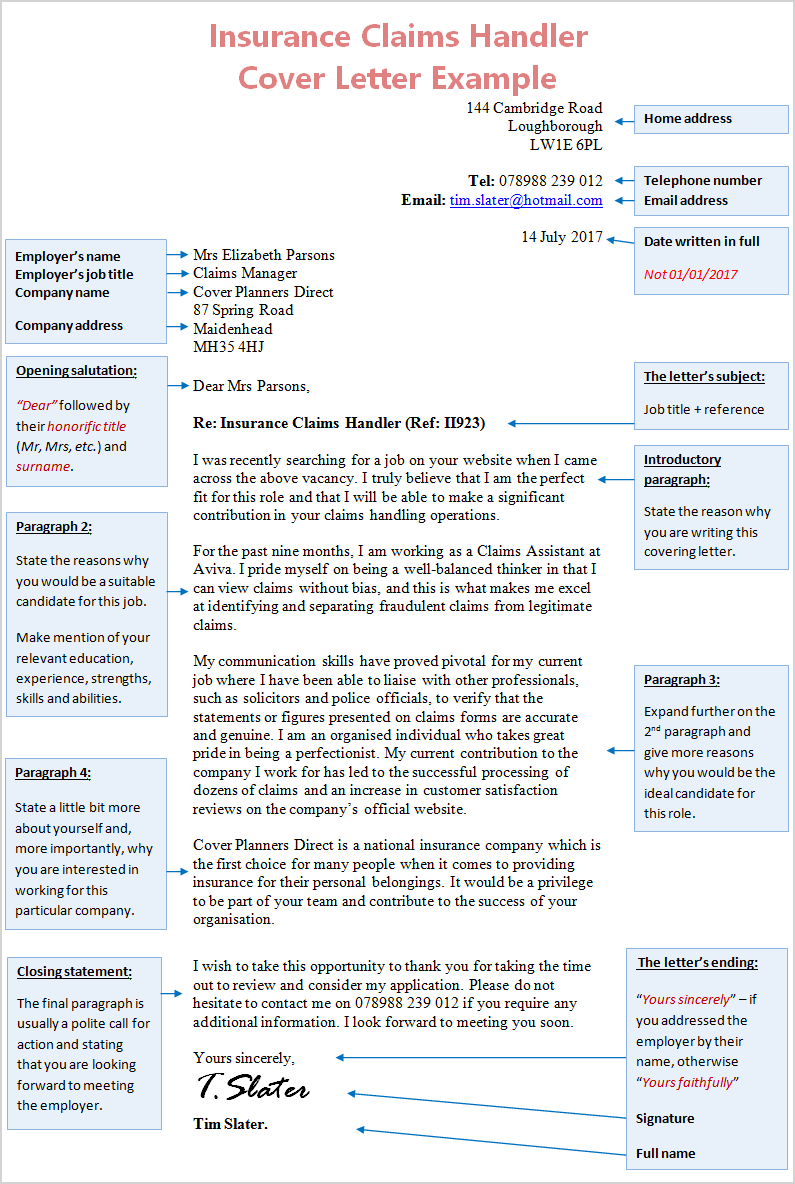 WITHOUT RELEVANT WORK EXPERIENCE:
45 Florence Road
Redditch
RB22 4PN
27 March 2017
Mr Richard Cornish
Claims Manager
P K & R Insurance
17 Cornwall Road
Telford
TP5 2SU
Dear Mr Cornish,
Re: Claims Handler (Ref: JW23)
I was delighted to hear about your vacancy for the Insurance Claims Handler role from a colleague at your firm, Mr Peter Mann, and I wish to be considered for this position.
As an Economics and Accounting graduate, I think that I would make an excellent candidate for the advertised role. Not only do I possess strong business acumen, but I also possess excellent interpersonal and customer service skills, developed in a part-time role as a Retail Assistant while studying at university. In addition, my degree has equipped me with advanced problem-solving and numeracy skills which I now hope to utilise in the workplace.
One of the greatest advantages that I have is that I do not get bored easily by repetitive or tedious tasks as I tend to look at the bigger picture and accept that such tasks are required as part of the job. I also have an interest in taking statements, investigations, fact-verification and processing legal documents, inspired by watching crime and justice documentaries on TV.
I am particularly interested in joining P K & R Insurance as it is a well-established firm with a longstanding reputation in the insurance industry. I would love to become a member of your team and make a tangible difference in the excellent customer service that you provide.
Please find enclosed a copy of my CV for a more detailed overview of my professional skills and experiences. Please do not hesitate to contact me if you require any additional information, and I hope to hear back from you in the near future.
Yours sincerely,
~ Signature goes here ~
Colin Roberts.
Preview + comments: