I am a very reliable, self–motivated and enthusiastic individual currently working as a Claims Handler at Aviva insurance company. I have a passion for customer service, a zeal for meeting targets, a keen eye for detail and irregularities and I consider myself to be an outstanding team player.
| | |
| --- | --- |
| Mar 2013 – Present | Claims Handler Aviva |
Main duties performed:
Taking new claims (First Notification of Loss)
Monitoring the progress of a claim
Accessing databases and information systems to obtain details
Taking statements from clients and witnesses for official records
Processing forms received from clients
Advising customers regarding their cover
Offering products and services according to their needs and requirements
Dealing with car accidents and taking the initial accident details
Speaking to any witnesses over the phone at the time of an accident
Liaising with policyholders, insurance companies and other third-party stakeholders to ensure swift settlement of the claims
Requesting and investigating statements, sketches, police reports, vehicle repair documentation and various other supporting evidence to settle a claim
Sending notification/progress letters to clients regarding their claim
Assessing each claim individually for fraud and consequently reporting any bogus/scam claims to the Claims Manager for further action
Resolving and negotiating any liability and cost issues with third parties
Liaising with third-party insurance companies and garages to authorise repairs and credit hire and subsequently monitoring each stage of the repairs or hire
Scanning, photocopying, faxing and emailing documents
Ensuring proper data protection, bookkeeping and data entry procedures are followed when handling personal information
Dec 2012 – Mar 2013
Claims Advisor Powerhouse Insurance
Main duties performed:
Advising people on insurance, claims and general financial issues
Managing files from inception toward litigation
Taking, processing and monitoring claims
Collecting information from clients through application forms
Reviewing original documents and evidence
Investigating potentially fraudulent claims
Liaising with internal and external stakeholders for settlements
Dealing with requests and enquiries from solicitors and third party insurers
Inputting data and monitoring it on the system
Escalating claims to another team if and when required
Conducting risk assessments
General admin duties and covering the reception when required
Qualifications
Certificate in Insurance – CII
Skills
Excellent telephone skills
Ability to multi-task and work in a busy environment under pressure
Ability to deal with stressful situations in a professional manner
Trained first aider
Outstanding persuasion and negotiation skills
Hobbies and interests
I enjoy spending time with my friends, meeting new people and doing anything creative (writing, performing, etc.). I have a keen interest in sports, particularly football, and business hence the decision to do Business Studies at College.
References
Mr George Davidson
Claims Manager, Aviva
Address:
47 Boat Lane, Recopy, DD8 4PN
Tel:
000 1436 1932
Email:
[email protected]
Mrs Alicia Chapman
Senior Admin Officer, Powerhouse Insurance
Address:
90 Jed Road, Seaworthy, EX32 7EZ
Tel:
000 5806 5248
Email:
[email protected]
Please note: the above CV Example is presented in the UK format and layout.
Preview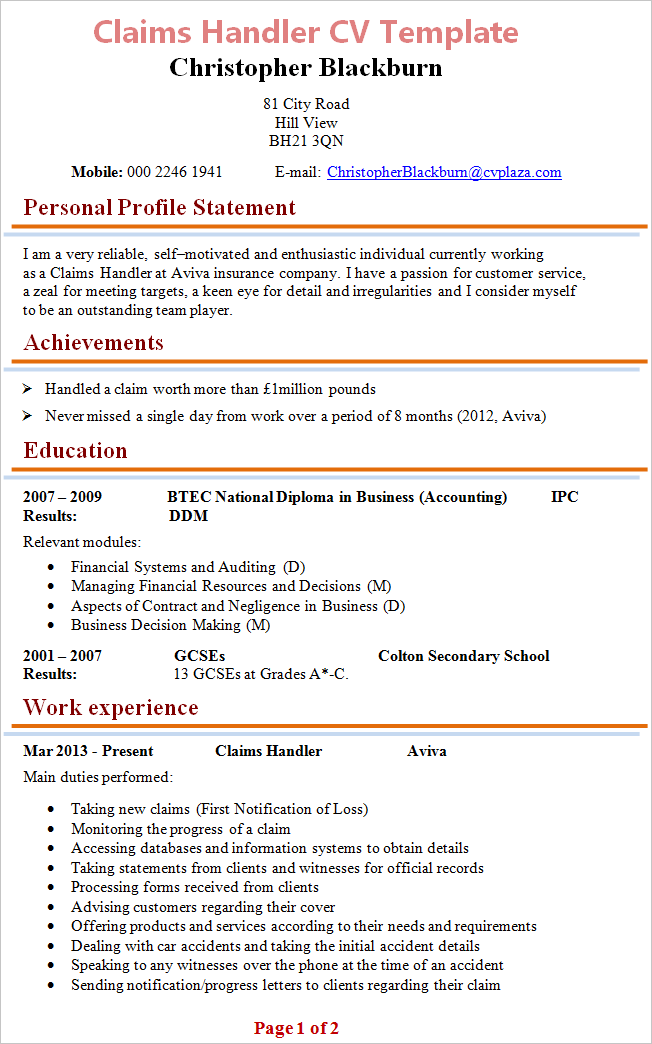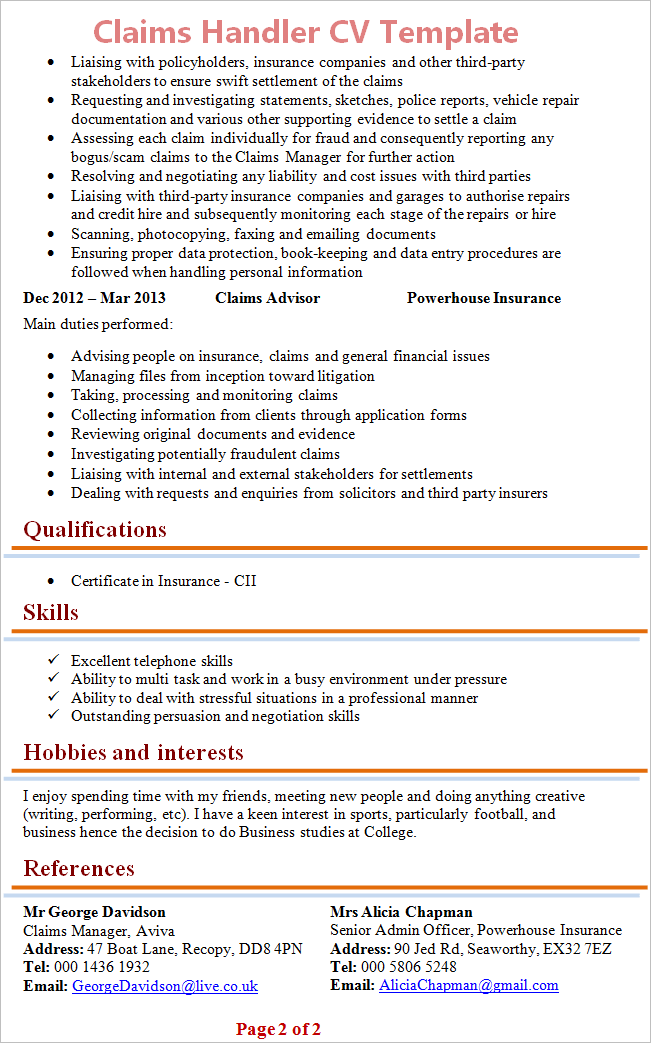 Download
Click here to download the above CV Sample.
COLLECTION: You may also want to browse through our collection of Free CV Templates and download any of the editable CVs to create your own (available in Microsoft Word format and convertible to PDF).
Top CV Tips and Guidelines
This job role puts you at the forefront of the Insurance Company's operations dealing with complex queries from multiple stakeholders (both internal and external) and therefore demonstrating experience of customer-facing operations or working in a fast-paced environment is a bonus to have.
No Experience? Regardless of applying for the job in the motor, commercial, property or personal industries, you will almost always be required to have some sort of experience in a claim handling environment.

There are a number of things that you can do to address this: a) volunteer for a couple of weeks or more to gain experience in the field, or b) start at the trainee level where no prior work experience is required and built your career up from there.

Attention to detail is an important skill that you may want to consider putting on your CV since you will be dealing with important financial cases which could have a direct impact on the finances and operations of the organisation.
Good Luck!
Written by Sobhan Mohmand
Sobhan is a qualified Careers Advisor and Professional CV Writer with over 10 years of experience in helping job seekers get a job. He is a Member of the Careers Development Institute (CDI) and is listed on the official UK Register of Career Development Professionals. He holds a Level 6 Diploma in Career Guidance and Development (QCF).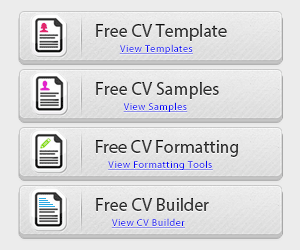 SPONSORED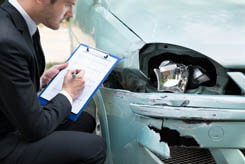 OVERVIEW
SALARY RANGE
£15.000 – £25.000

ENTRY
Relevant Work Experience

WORKING HOURS
37+ hours per week
Competencies
Communication Skills
Ability to communicate effectively with customers and third-party companies

Writing Skills
Excellent writing skills to write clear and concise reports

Computing Skills
Ability to use a computer effectively for business needs

Listening Skills
Listening attentively to customer's needs, concerns, complaints and statements

Attention to Detail
Paying attention to every aspect of the job and ensuring that no "small details" are overlooked

Investigation
Ability to research and examine a matter in a focused manner