Sobhan Mohmand, Career Expert

4 Feb 2019
There used to be a time in which it was the common practice to include your gender on your CV, together with other personal information such as date of birth, marital status and nationality.
Over the past decade, however, this practice has almost completely disappeared.
New laws have been introduced to kerb discrimination in the workplace, and it has now become illegal for an employer to ask for your gender or sexuality on your CV or to discriminate against you during the hiring process based on your sex.
Moreover, in most cases, it doesn't serve much of a purpose.
Consider the following example: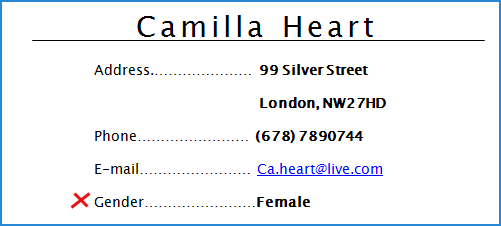 What is the purpose of Camilla mentioning her gender as "female" on her CV? It is plainly obvious from her name that she is a woman.
More reasons why you should include your gender on your CV:
Employers are generally only interested in whether the selected candidate can do the job or not; this is irrelevant to one's sex, age or ethnicity.
That precious space can be utilised for more important information that adds value to your CV, such as mentioning previous work experience, education, qualifications and relevant hobbies and interests.
"My gender cannot be derived from my name; should I include my gender on my CV?"
Whenever the recruiters look through the CVs of applicants they are inevitably going to form mental images of the candidates. This is quite natural and something to be expected.
It could be useful to clarify your gender if you have a unisex name such as "Sam" or "Alex" because it might take the recruiter a bit off their feet when a woman walks in when they were actually expecting a man or vice versa!
What should you do in this case?
You have several options:
At the bottom of your cover letter you could put a prefix (e.g. Miss, Mrs, or Mr) before your name. This is probably the best thing to do.
Your CV may already contain clues to your gender (e.g. studied at St David's Girls' School) so you don't need to do anything extra.
Do nothing as it doesn't matter at all whether you're male or female! Most people will agree that employers have better things to do than worry about whether the applicant "Sam" is male or female!