Sobhan Mohmand, Career Expert

24 Oct 2019
The Employment History (or career history, work experience) section of a CV is a crucial part of any CV and as its name suggests: it is all about your employment history and the jobs that you have previously worked in.
Your employment history should tell the potential employer in a quick glance…
What work you have done
Where you've done it, and
When you have done it
Example of an Employment history section of a CV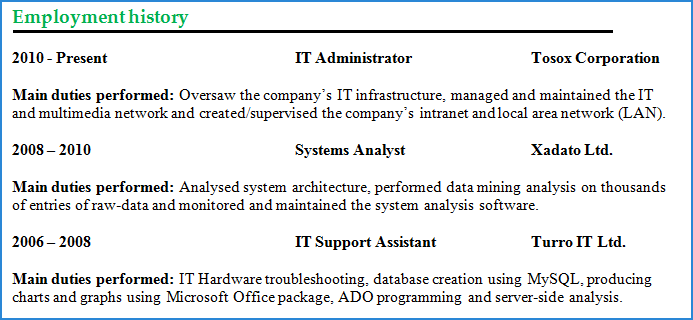 What is included in the employment history section of a CV
The employment section can contain details of any type of jobs that you've held:
Permanent/temporary jobs
Full-time/part-time jobs
Saturday jobs
Summer jobs
Voluntary jobs
Industrial placements and internships
How to write an employment section of a CV
Take a piece of paper and list down all the jobs you've had to date
Sort all your jobs in chronological order (i.e. most recent jobs first)
For each of the jobs that you have listed down you should also write down:
The name of the company you have worked in
The dates (from-to)
Your job title
Your primary responsibilities (and achievements, if applicable)
I have had so many jobs before, how do I fit everything on my CV?
Once you have listed all your jobs that you have done so far in your career, some of you might come to realise that they are more than just a handful of permanent or full-time jobs that you can list down on your CV.
In this case, you may want to skip the less-significant jobs from the following categories:

Once you have done that you simply add a single line stating:
| | | |
| --- | --- | --- |
| 1983 – 1995 | Various jobs | Engineering and Retail (sectors) |
What to do if you have no work experience?
If you've got absolutely no work experience, then we recommend you to do some voluntary work before you apply for paid jobs. This will save you a lot of time and effort in the long-run.
What NOT to include in an employment history section
Contact and personal details of your previous employers
Give a job description rather than what you've actually done/achieved
Include too many irrelevant jobs
Use of jargon and technical terms many readers will not understand
Written by Sobhan Mohmand
Sobhan is a qualified Careers Advisor and Professional CV Writer with over 10 years of experience in helping job seekers get a job. He is a Member of the Careers Development Institute (CDI) and is listed on the official UK Register of Career Development Professionals. He holds a Level 6 Diploma in Career Guidance and Development (QCF).