I am an enthusiastic, hard-working and disciplined Catering Assistant with excellent track-record in working in the food industry. I am friendly individual with a great passion for food; I enjoy socialising with people, and my exceptional customer service skills have earned me the award of "Employee of the Month" twice in a row.
| | |
| --- | --- |
| Dec 2015 – Present | Catering Assistant Lily's Restaurant |
Main duties performed:
Serving customers and ensuring customer satisfaction at all times
Assisting the chef with washing, peeling, chopping and preparing of meat, vegetables and fruit
Making hot drinks; coffee, tea and other drinks
Handling payments and operating the till
Ensuring that all utensils and cutlery are clean before and after use
Washing the dishes in a timely manner
Ensuring that all work surfaces, eating areas and food preparation equipment (coffee machines, ovens, fridges, etc.) are clean and hygienic
Sweeping, hovering, mopping and deep-cleaning the kitchen and eating areas
Conducting regular stock checks and ordering more in when necessary
Ensuring strict adherence to food hygiene regulations at all times
Performing any other basic food preparation duties
Aug 2013 – Jun 2014
Waiter Lloyds Fine Dining
Main duties performed:
Welcoming diners and ushering them to their seats
Handing out menus and telling the diners about the specials of the day
Recommending and suggesting dishes (when requested)
Serving food and drinks in a distinguished and courteous manner
Dealing with customer feedback, complaints and compliments
Education
2014– 2015
Results: Distinction
BTEC General Cookery in Hospitality
Pearson College

Relevant Modules:

Serving Food & Drink
Food Preparation & Cooking
Food Safety in Catering
Preparing & Serving Drinks
Employability And Communication Skills

2009 – 2013
Results: 7 GCSEs at Grades A-C, including Maths and English
GCSEs
Monk's Hill School
Qualifications
Currently completing a Level 2 Diploma in Food Safety in Catering
Skills
Physically fit: Able to stand and be on the move for hours without a problem
Attention to detail: skilful at spotting dirt in utensils, cutlery as well as stray hairs in food and therefore ensuring customer satisfaction at all times
Arithmetic skills: I have a talent for performing quick mental calculations, and I am able to estimate quantities and volume by looking at the ingredients.
Flexible working hours: Minimal home-based commitments enable me to switch shifts with colleagues at the last minute and work overtime.
Hobbies and interests
In my spare time, I enjoy going out with my friends, staying active and playing football on a weekly basis. I also love cooking up a storm in the kitchen and regularly experiment with new recipes.
References
Mrs Katarina Summers
Catering Manager, Lily's Restaurant
Address:
50 Edmund Rd, Essex, EK4 1ZB
Tel:
0753 4567 6874
Email:
[email protected]
Mr Ben Clark
Supervisor, Lloyds Fine Dining
Address:
8 Main Rd, Clay, CO1 8FQ
Tel:
0750 6579 9074
Email:
[email protected]
Please note: the above CV Example is presented in the UK format and layout.
Preview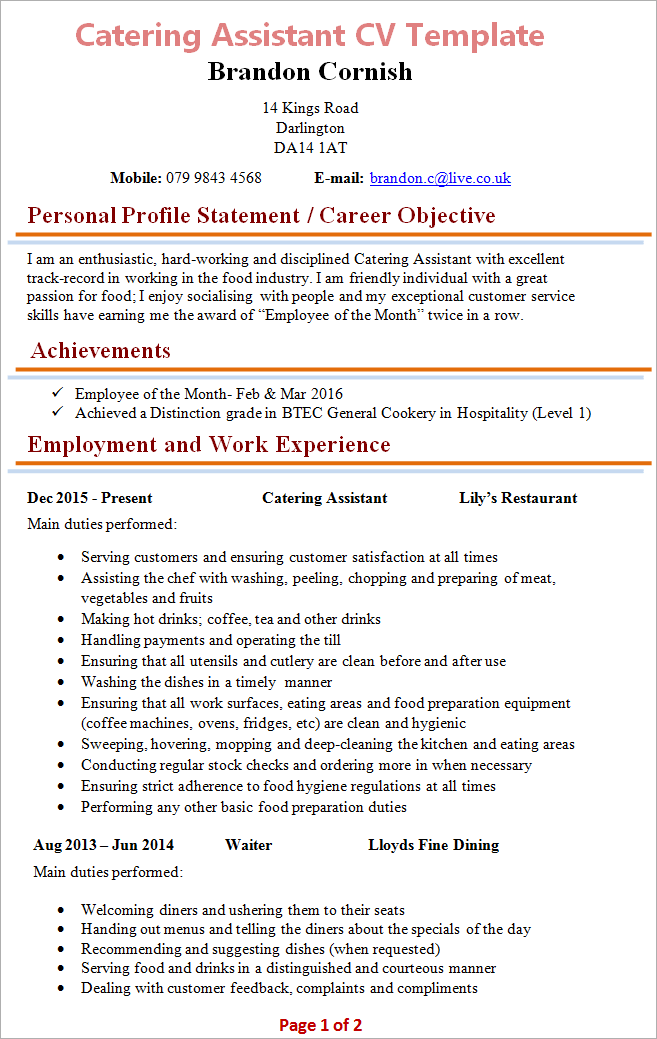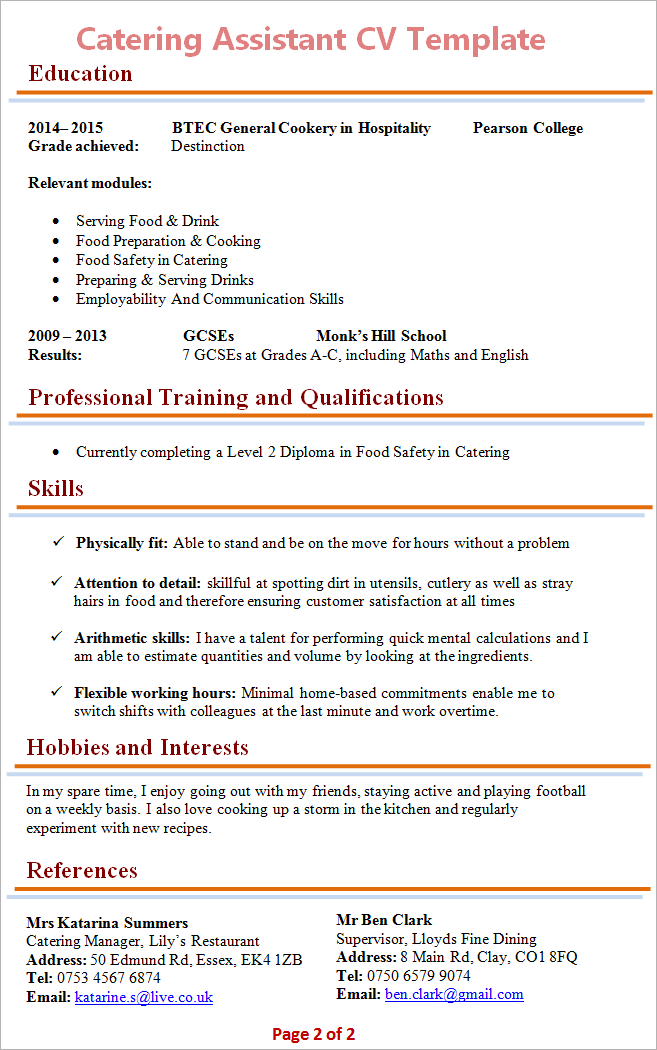 Download
Click here to download the above CV Sample (blank).
COLLECTION: You may also want to browse through our collection of Free CV Templates and download any of the editable CVs to create your own (available in Microsoft Word format and convertible to PDF).
Tips
Work experience: Working as a Catering Assistant means that you will constantly be working in a fast-paced, customer-focused environment and be constantly on your feet. There are two ways to make your CV stand out for this job: a) gain some work experience by volunteering, b) place the "Employment and Work Experience" before the "Education" section emphasising your practical skills and personal attributes.
CV Length: The length of Catering Assistant CV should ideally be one or two pages long (max). If you're a school leaver or a person who hasn't "done" much in their career to date, then a 1-page CV should suffice and will not be held against you. Remember the saying: "I didn't have time to write a short letter, so I wrote a long one instead."
Good Luck!
Written by Sobhan Mohmand
Sobhan is a qualified Careers Advisor and Professional CV Writer with over 10 years of experience in helping job seekers get a job. He is a Member of the Careers Development Institute (CDI) and is listed on the official UK Register of Career Development Professionals. He holds a Level 6 Diploma in Career Guidance and Development (QCF).
OVERVIEW
SALARY RANGE
Minimum wage

ENTRY
Work Experience

WORKING HOURS
37+ hours per week
Competencies
Communication Skills
Ability to communicate with customers in a clear and audible fashion

Listening Skills
Ability to listen to customer's concerns and complaints

Observation Skills
Ensuring that no "small details" are overlooked when preparing and serving food

Caring
Ability to care for and empathise with customer's needs by providing unforgettable customer service

Teamwork
Working with other catering staff in a supportive and constructive manner

Multitasking
The flexibility to handle different jobs and tasks in a fast-paced work environment
Related Resources