Aug 2012 – Feb 2013
Sales Assistant Tidewater Shop
Main duties performed:
Assisting customers to find their desired goods
Handling cash and processing payments on cash register
Stocking shelves with goods
Keeping the shop floor tidy
Qualifications
Level 3 Diploma in Hospitality and Tourism Management (VRQ)
Level 2 Award in Risk Assessment
Skills
Excellent communication skills and being able to build a rapport with team members, customers and the public alike
Good knowledge of IT including online booking systems and Microsoft Office
Able to work under pressure and keep calm and composed at all times
Experienced in working in fine dining restaurants
Hobbies and interests
In my free time, I like to focus on my photography hobby, visiting national galleries and meeting new people. I am also very passionate about food and I enjoy going out to restaurants with my friends and family on a regular basis.
References
Mr John Miller
Hospitality Manager, Dewberry Manor House
Address:
16 Malvern Rd, Dorset, DI8 9DU
Tel:
0723 8988 4354
Email:
[email protected]
Mrs Emily Johns
Manager, Saffron Hotel and Restaurant
Address:
9 Clifton Rd, Kent, KQ1 7NE
Tel:
0980 8798 0342
Email:
[email protected]
Please note: the above CV Example is presented in the UK format and layout.
Preview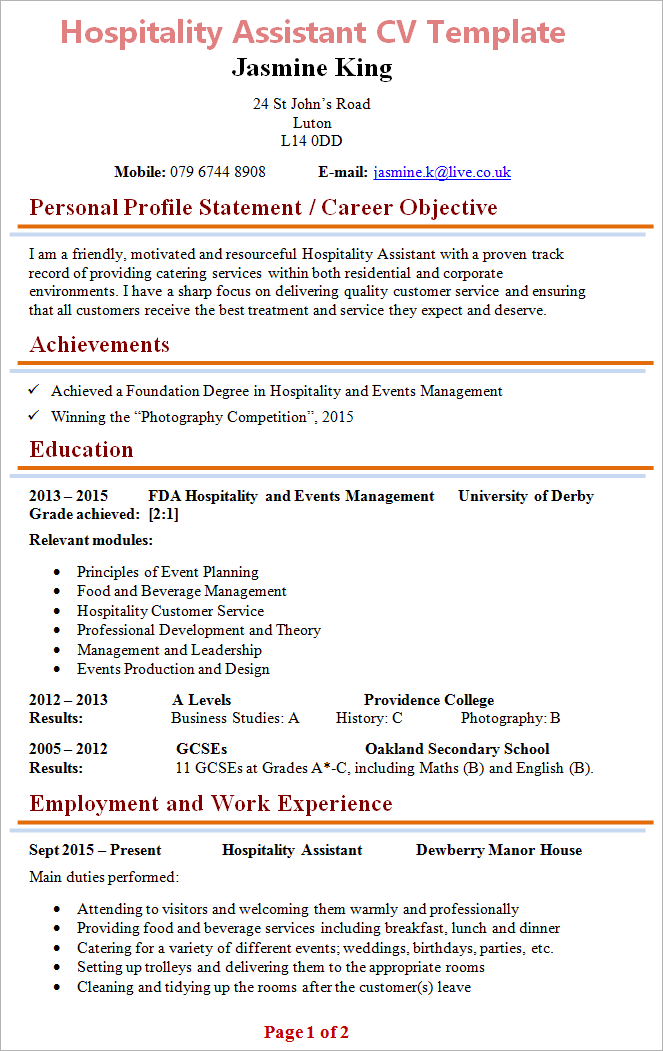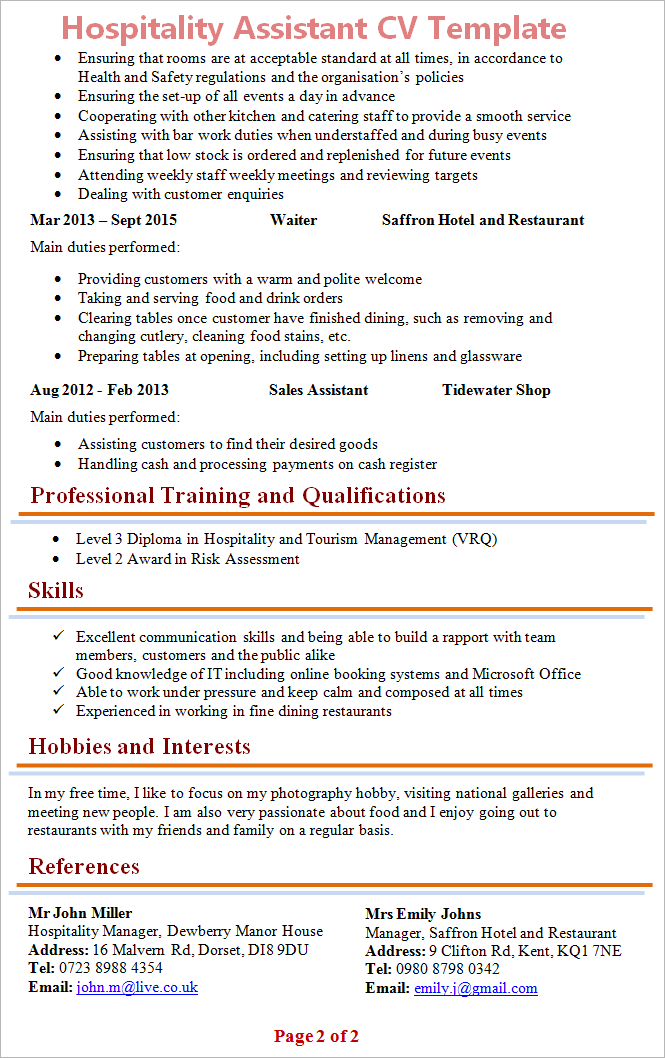 ---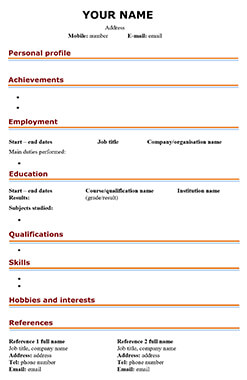 Are you writing your CV from scratch or is your CV template outdated? Download this professional CV template to impress employers!
Free
Save time and effort
Guaranteed correct CV structure
Word document (.docx) format
Fully customisable
How to save your CV as a PDF document:
Click on File > Save As > Select "PDF" from the drop-down menu.
---
Write a one-page CV: This is an entry-level job so you don't need to have a lengthy, two-page long CV to secure this job. As a general rule of thumb, the short the CV the better. Omit any irrelevant and outdated information and only include things that will add value to your CV. Some things you don't need to include on your CV are your date of birth, age, gender, photograph, marital status, nationality, national insurance number and salary expectations.
Make your CV easy to read: Use short sentences, bullet points, lists, columns and subheadings to present your information instead of big, chunky paragraphs that employers will not read.
Don't use any logos, graphics, icons or images: Your CV should only contain text and nothing else. Some simple design features (such as a thin line below the subheadings) are acceptable because those things improve the presentation of your CV, they are not considered images or graphics that distract from the main content of your CV.
Use a professional font: You may be tempted to use an original/creative font such as a handwriting font to make your CV more attractive. However, doing this will make your CV stand out for the wrong reasons! A CV is a business document that needs to be presented in a professional manner. The best fonts you can use are Verdana, Times New Roman, Helvetica, Georgia and Calibri. These high-legibility fonts will make it easier for employers to find your key information at a glance and increase your chances of being invited for a job interview.
---
Personal details
The top of your CV contains the following personal details:
Your name
Address
Telephone number
Email address
You don't need to write "CV" at the top of your CV as employers clearly know what type of document you have submitted. Instead, your name should be the header of your CV (as shown in the example above).
Example:
Eric Myers
78 West Street, Doncaster, D26 9QP
Mob: 07978378209 Email:

[email protected]
Personal profile
Your personal profile is a short summary of your personal characteristics, competencies, abilities and experience.
It acts as a short introduction to your CV so it needs to be powerful to encourage the employer to continue reading the rest of your CV.
Guidelines for writing an effective personal profile:
Keep it concise (no more than 4-5 sentences)
Highlight your strengths and abilities with real-life examples
Tailor your profile to the needs of the job and the employer
Hospitality assistant CV personal profile statement
I am a dedicated and friendly individual with more than two years of experience in the hospitality and catering industry. I have experience in meeting and greeting customers, taking orders, cleaning tables, serving food and drinks and assisting the kitchen staff with basic food preparation duties. I am an excellent team player and can also work on my own initiative. Providing excellent customer service is my number one priority and I am currently seeking a position where I can grow both personally and professionally.
Achievements
In this section, you should list a few of your achievements and accomplishments that you are proud of and will impress the employer.
Your accomplishments could be many things, including good grades, relevant work experience, promotions, awards, being elected for leadership positions (i.e. project manager or class representative), organising an event or helping charity organisations (campaigning, fundraising or participating in events).
Example:
Completed more than 100 hours of work experience at a local restaurant
Finished school with 8 GCSEs including Maths and English at grades A-C.
Ran the half marathon for charity in 2021
Employment and work experience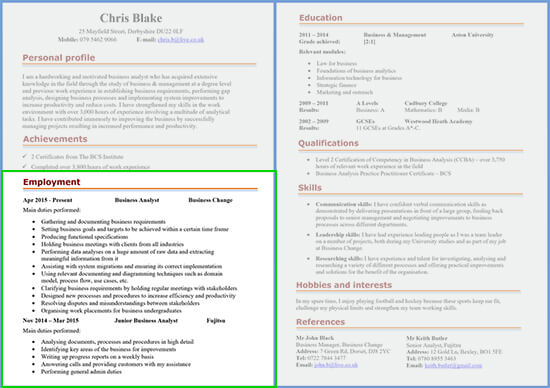 The employment section contains details of your current and previous jobs.
These jobs could be full-time, part-time, paid and unpaid jobs.
Employers highly value all types of work experience so don't worry if you don't have any relevant work experience, you will be provided with full training on the job.
Most employers offer a comprehensive 2-week induction program for this role.
However, it is recommended you start volunteering at a restaurant or hotel to gain some work experience in the catering and hospitality industry, even if it is for a few hours a week.
| | |
| --- | --- |
| April 2022 – Present | Hospitality/catering assistant Dine & Shine Ltd. |
Main duties and responsibilities performed:
Met and greeted customers with a warm smile
Served food, drinks and snacks to customers to the highest standard
Assisted with the table preparation, set up and cleaning
Ensured that all cutlery and glassware were clean and polished
Assisted with any food preparation tasks in the kitchen
Ensured that the service areas were clean, tidy and presentable
Provided excellent customer service at all times
Note: You should place the education section (see below) before the employment section if you don't have any work experience. The strongest sections of your CV should always be placed before any less-important sections.
Hospitality assistant duties to add to your CV
Take orders from customers and make food suggestions/recommendations based on their specific preferences or dietary needs
Deliver food from the kitchen to the dining area
Set up, prepare and clean tables for the next customers
Serve customers in a pleasant and friendly manner
Ensure that refreshments are always stocked and available when required
Assist kitchen staff with food preparation during busy times
Clean and sanitise equipment and workstations before and after use
Process payments on the cash register
Education
Next, give details of your educational background such as A-levels, BTECs and GCSEs.
For each entry, you need to state the name of the course/qualification, the name of the educational institution (i.e. school, college or university), the start and end dates of the course, the subjects you studied and the grades/result you achieved.
Example:
| | | | |
| --- | --- | --- | --- |
| 2017-2019 | A-Levels | Liverpool Community College | Subjects: Nutrition and Food Science (A), Psychology (B) and Sports Science (B). |
| | | | |
| --- | --- | --- | --- |
| 2015 – 2017 | GCSEs | Leeds City School | Subjects: Business (B), Hospitality (A), Journalism (C), English Language (B), Maths (B), Geography (C), Physical Education (C) and ICT (C). |
Qualifications
The qualifications section contains details of any additional qualifications you may hold, these are usually work-based or industry-specific qualifications.
Example:
Level 2 Certificate: Hospitality & Catering – West Yorkshire College
Level 1 Food Hygiene and Safety – Ashfield College
BTEC Level 1 Teamwork and Personal Skills – Ashfield College
Skills
The skills section, as its name suggests, contains a list of your skills, competencies and abilities that will help you in doing your job well.
To find out which skills to include, you should refer to the job specifications and identify the type of skills that employers want for the role and mention those on your CV if you possess them.
This section is especially important if you don't have any relevant work experience. You should focus on your transferable skills (an ability or expertise which may be used in a variety of jobs), for example, communication, teamwork and organisational skills.
Serve customers in a professional, friendly and courteous manner
The ability to work in a fast-paced environment (under pressure)
The ability to work both as part of a team and individually
Excellent interpersonal skills – to communicate with staff and customers
Basic food-handling skills
The ability to work in a standing position for long periods (hours)
Professionalism and strong customer service skills
Good understanding of food hygiene and safety
Good understanding of the hospitality and catering industry
Maintain a high standard of hospitality service
Hobbies and interests (optional)
The hobbies and interests section of your CV contains a few of your hobbies that are relevant to the job and will add value to your job application.
For example, stating that you enjoy cooking in your free time tells the employer that you are passionate about food, an essential requirement for hospitality jobs.
Guidelines:
Only mention hobbies that are relevant to the job or add value to your application.
Don't mention more than 3-4 hobbies.
Example:
In my free time, I enjoy socialising with my family and friends and watching Food Channel to expand my knowledge of the hospitality and catering industry.
References
The references section is the last part of your CV.
Here you have two options:
If you don't want to disclose your references on your CV, you can simply write "References are available upon request."
If you do want to disclose your references on your CV, especially if you have some free space left at the end of your CV, you should include the following details for each of your referees; full name, job title, company name, address and telephone number. Make sure to ask your references for permission before using them as your references, you don't want the conversation about you to be awkward!
Example:
Mr Joshua Falcon
Hospitality Manager, Woodland Hotels
Address:
12 Manor Street, Exeter, E71 4XN
Tel:
07663578937
Email:
[email protected]
Mr Donald Mann
Catering Supervisor, Dine & Shine Ltd.
Address:
127 The Grove, Oxford, OX3 8DN
Tel:
0787435687288
Email:
[email protected]
---
Preview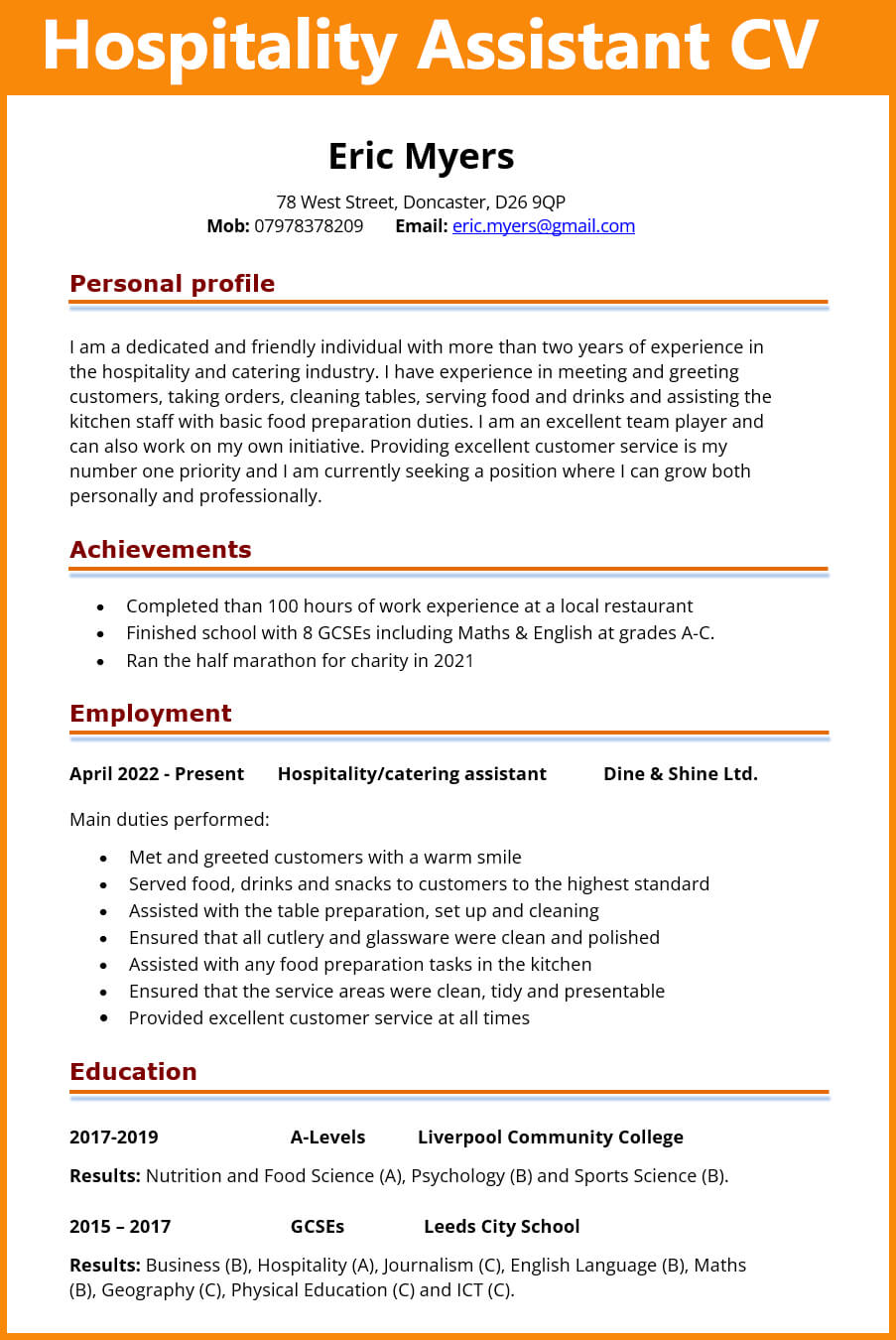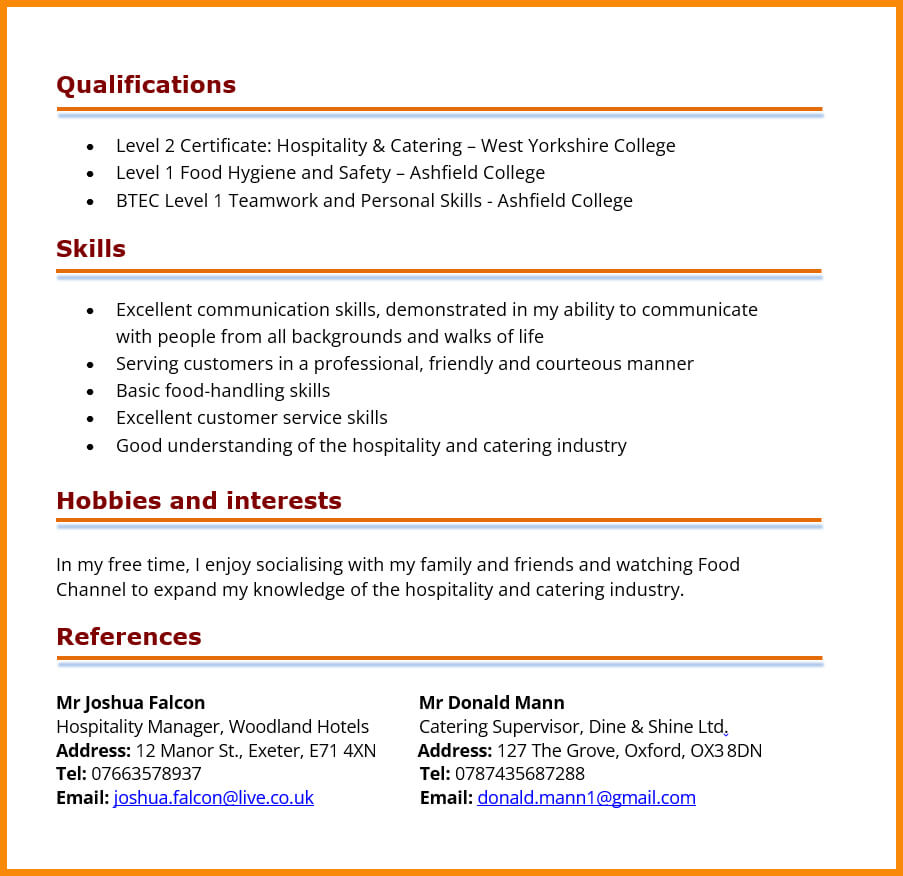 ---
Tailor your CV to each job: Hospitality/catering assistants work in a variety of venues such as in hotels, restaurants, business centres, educational institutions and government buildings. You should carefully study each job vacancy separately and tailor your CV to the needs of that particular job and employer. Use the same terminology and key terms as the job advert.
Proofread your CV for spelling and grammar mistakes: Spelling or grammar mistakes on your CV show a lack of attention to detail and your CV will get rejected because of it. You should print out your CV, read it out loud and identify and fix any errors. You can also use grammar check software such as Grammarly to help you correct some of your mistakes.
Include a cover letter with your CV: Sending a one-page cover letter with your CV is a great way to build a relationship with the employer and increase your chances of securing a job interview. Your cover letter should inform the employer about the reason for your application, your key strengths and why they should consider you as the ideal candidate for the role.
Follow-up on your application: It's a good idea to follow up with a short email or phone call if you haven't heard back from the employer after one or two weeks following your job application. Sometimes, this gentle reminder will do the trick and land you a job interview.

---

You've now reached the end of this guide.

If you have followed all the guidelines and tips in this guide, you should now have an impressive hospitality assistant CV that will get you job interviews in no time.

Good luck with your job hunt!

Written by Sobhan Mohmand

Sobhan is a qualified Careers Advisor and Professional CV Writer with over 10 years of experience in helping job seekers get a job. He is a Member of the Careers Development Institute (CDI) and is listed on the official UK Register of Career Development Professionals. He holds a Level 6 Diploma in Career Guidance and Development (QCF).

SPONSORED

OVERVIEW

SALARY RANGE
£17.000 – £27.000

ENTRY
Relevant Work Experience

WORKING HOURS
37+ hours per week

Competencies

Communication Skills
Ability to effectively communicate with catering staff and customers

Multitasking
The flexibility to handle different jobs, tasks and responsibilities whenever required

Caring
Ability to care for and empathise with customer's needs by providing outstanding customer service

Motivation
Being motivated and having a positive attitude in all aspects of your job

Teamwork
Working with people with diverse skill sets and different backgrounds

Numeracy Skills
Dealing with numbers and doing basic financial calculations

Related Resources