| | |
| --- | --- |
| Jul 2015 – Present | Gas Engineer HomeFix |
Main duties performed:
Responding to routine maintenance and emergency calls from customers
Providing customers with accurate quotes and timescales for jobs
Being professional, responsible and safe at work at all times
Providing excellent customer service at all times and to all customers
Connecting and disconnecting all types of appliances
Carrying out inspections, repairs and upgrades
Installing electric meters and other home devices
Performing basic heating and plumbing repairs if and when required
Ensuring all work meets the standards laid down by the company and the Health and Safety guidelines and policies
Using computerised fault finding equipment to search for and repair gas leaks
Keeping, recording and updating accurate details of work carried out
Coaching and teaching newly qualified gas engineers
Visiting customer's properties and offices on a regular basis
Jan 2015 – Jun 2015
Gas Service Technician Smart Heat Ltd.
Main duties performed:
Diagnosing faults and problems with boilers and other gas appliances
Assisting in the installation of gas boilers and central heating systems
Making sure that building logs are kept up-to-date as new parts are installed
Producing administration documents for customers
Carrying out tests to ensure that there are no leaks in the property
Referring cases to senior Gas Technicians when required
Building good relations with customers and ensuring that their needs are met
Adhering to Health and Safety practices at all times
General Admin duties
Education
| | | | |
| --- | --- | --- | --- |
| 2013 – 2015 | Level 3 Diploma in Gas Utilisation | Langley College | Grade achieved: Distinction |
Relevant Modules:
Personal Development and Communication Skills
The Scientific Side of Gas
Industry Standards and Regulations
Gas Health and Safety
Combustion and Properties of Gas
Buildings and Structures
Practical Skills: Installation, Servicing and Aftercare
2006 – 2012
Results: 11 GCSEs at Grades A*-C.
GCSEs
Montgomery Secondary School
Qualifications
Registered on the Gas Safe Register
Completed the Nationally Accredited Gas Certification Scheme
Central Heating training, 2015
Skills
Excellent customer service and communication skills used on a daily basis to communicate with customers about their faults and issues
Outstanding organisational skills that allow me to fit in emergency customers when needed and have the ability to change my priorities rapidly
Proficient in all aspects of Security and public awareness
Fully qualified and experienced to work all types of boilers and appliances
Able to work under pressure and making quick decisions when required
Natural problem-solver and being able to think on the spot
Clean driving license with own method of transportation
Hobbies and interests
My main hobby is learning and playing the guitar. I also enjoy spending time socialising with my friends and going to events, concerts and fun days out to meet new people and develop my social and people skills in the process.
References
Mr David Black
Senior Gas Engineer, HomeFix
Address:
40 Summer Rd, Surrey, SU11 8DK
Tel:
0744 6578 9964
Email:
[email protected]
Mr John Miller
Manager, Smart Heat Ltd.
Address:
7 Clark Rd, Leeds, LI19 2HS
Tel:
0855 4568 8932
Email:
[email protected]
Please note: the above CV Example is presented in the UK format and layout.
Preview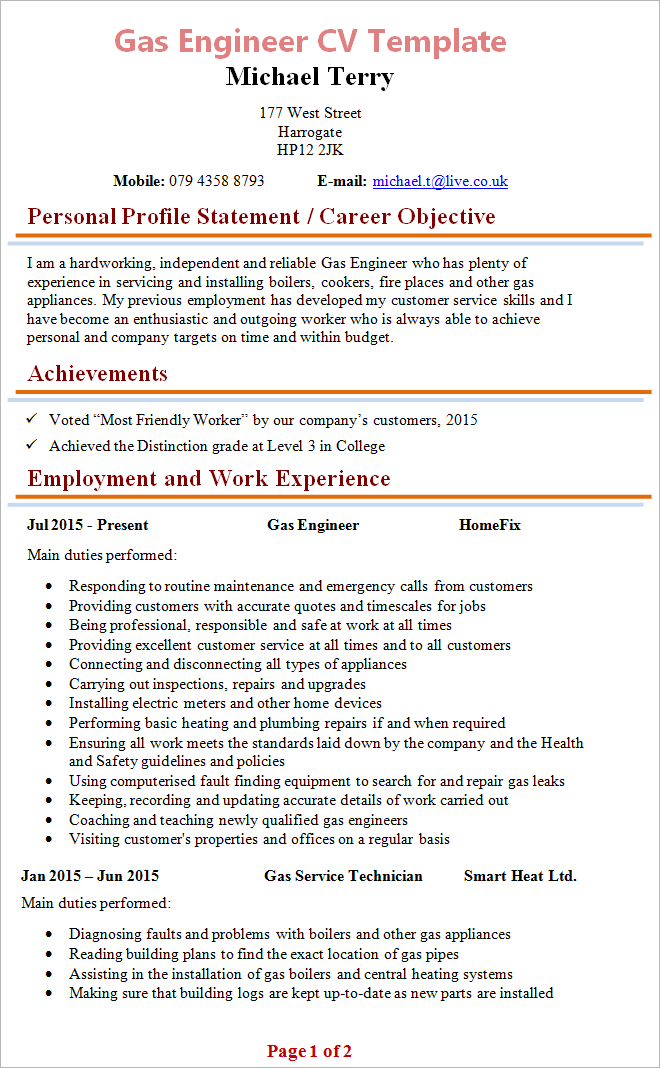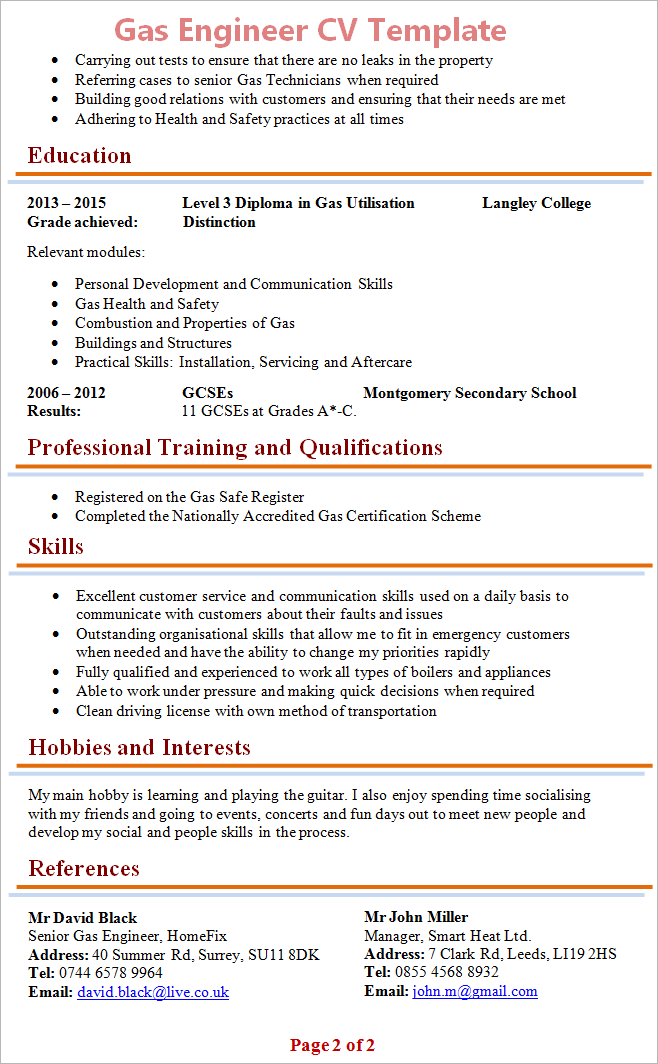 Download
Click here to download the above CV Sample (blank).
COLLECTION: You may also want to browse through our collection of Free CV Templates and download any of the editable CVs to create your own (available in Microsoft Word format and convertible to PDF).
Tips
Education vs. Work Experience: Having relevant work experience is essential for this job, and the work of a Gas Engineer is predominantly practical and hands-on with little theory work required. It is, therefore, advisable that you should place your "Employment" section of your CV before the "Education" section to emphasise your practical skills and abilities.
Working Hours: This role is usually not a 9-5 job, and you may be required to work outside these normal working hours, on weekends and during the evening. You could state your availability on your CV as "Flexible with working hours" or "Willing to work unsociable hours, weekends and holidays."
Good Luck!
Written by Sobhan Mohmand
Sobhan is a qualified Careers Advisor and Professional CV Writer with over 10 years of experience in helping job seekers get a job. He is a Member of the Careers Development Institute (CDI) and is listed on the official UK Register of Career Development Professionals. He holds a Level 6 Diploma in Career Guidance and Development (QCF).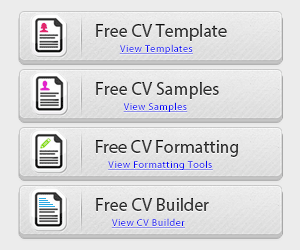 SPONSORED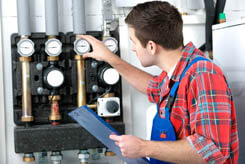 OVERVIEW
SALARY RANGE
£24.000 – £40.000

ENTRY
Work Experience

WORKING HOURS
38+ hours per week
Competencies
Interpersonal Skills
Excellent interpersonal skills to build business relationships with customers

Organisational Skills
Methodically running different projects and meeting deadlines

Practical Skills
Having hands-on experience with inspecting, diagnosing, upgrading and installing gas appliances

Observation Skills
Ability to achieve thoroughness and accuracy in a given task

Problem Solving
Ability to identify and solve difficult problems as a matter of urgency

Customer Service
Relating to customer's needs and offering appropriate advice and solutions
Related Resources