I am a very enthusiastic, conscientious and self-motivated Examinations Officer with over two years of experience in organising and supporting examination processes. I can adapt to any working environment, and I thrive working under tight deadlines. Currently, I seek a position where I can utilise and further develop my skills and abilities.
| | |
| --- | --- |
| Feb 2013 – Present | Examinations Officer University of Kent |
Main duties performed:
Liaising with the academic staff to organise examinations
Primarily responsible for smooth running of exams
Ensuring all rules and regulations are adhered to in the JCQ guidelines
Making announcement to the students at the start and end of the examination
Meeting all examination deadlines (e.g. booking rooms on time, organising external examination visits, ensuring all materials are in place, etc.)
Ensuring students are always supervised and escorted when leaving the classroom (e.g. to use the bathroom) during the examination process
Producing a timetable for internal and external exams to include dates, times, location, the number of students and examiners.
Keeping track of time
Arranging appointments with external examiners on examination days
Responsible for the storage, collection and dispatching of examination papers in a timely manner
Handing out and collecting test papers and answer books
Answering candidates' queries under strict exam conditions
Sept 2012 – Feb 2013
Exam Invigilator BC College
Main duties performed:
To organise and set up exam room (e.g. laying out tables, etc.)
Making sure the classroom is tidy for exams and cleaning up afterwards
Catering for the needs and requirements of special needs students and those students with learning difficulties or special circumstances
Ensuring the student registration data is accurate and up to date
Ensuring the relevant staff have up to date invigilation training
Ensuring that all exam materials delivered to BC College are stored in safe and secure location in line with the JCQ requirements
Jul 2012 – Sept 2012
Assistant Exams Officer Kent Sixth Form
Main duties performed:
Assisting the Exam Invigilator with examination-related tasks and duties as and when appropriate
General admin duties such as dealing with the post, emailing and clerical work
Handing out exam papers, workbooks and calculators to students
Booking rooms
Watching over young learners undertaking their examinations
To cover reception duties as required
Qualifications
BTEC Apprenticeships: Learner Administration for Centre Coordinators
Level 2 ECDL (Computing)
First Aid at Work
Skills
Excellent communication and interpersonal skills
Outstanding organisation and time management skills
The ability to eloquently and professionally speak to a large group of people
IT Skills (Microsoft Office and Typing Speed 65wpm)
Full Clean UK Driving License
Hobbies and interests
My greatest hobby in life is to be able to spend quality time with my family and friends. I also enjoy reading non-fiction books, cycling down the canals and going on road-trips.
References
Mr Jamie Chandler
Examinations Manager, The University of Kent
Address:
31 East Street, Flight, NG31 6LT
Tel:
0223 341 2224
Email:
[email protected]
Mr Andrew Fraser
Vice-principal, BC College
Address:
89 Guild Street, London, N9 3ZH
Tel:
0223 744 2238
Email:
[email protected]
Please note: the above CV Example is presented in the UK format and layout.
Preview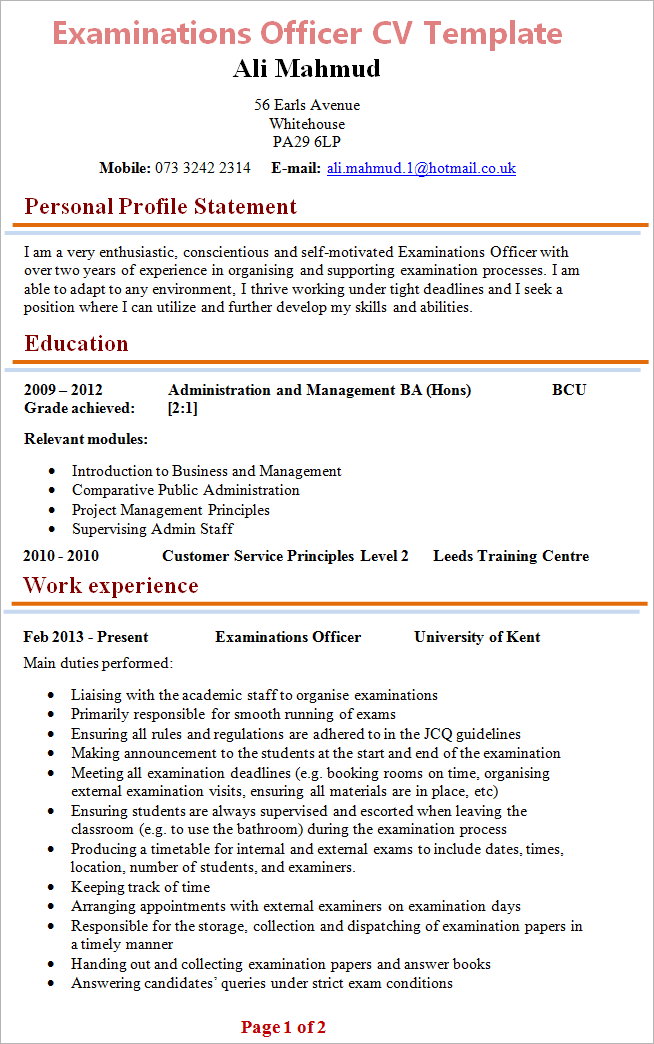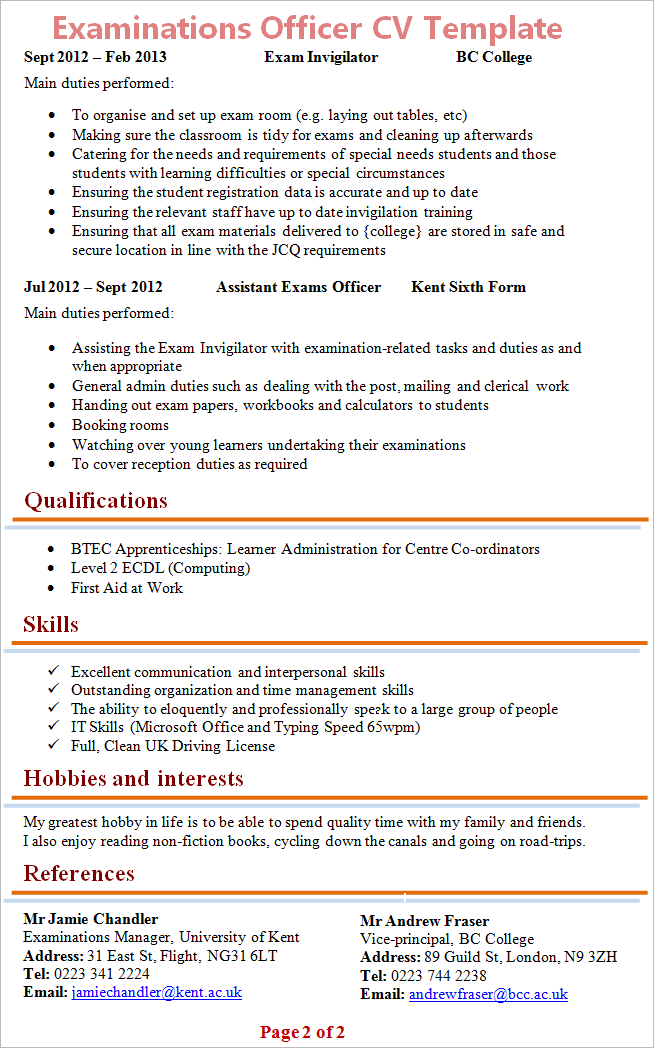 Download
Click here to download the above CV Sample.
COLLECTION: You may also want to browse through our collection of Free CV Templates and download any of the editable CVs to create your own (available in Microsoft Word format and convertible to PDF).
Top CV Tips and Guidelines
Understanding the scope of your job is an initial step to be able to write an excellent CV for it. This job requires one to take care of and handle all matters relating to examinations including ensuring high standards, administrative duties and analysis and presentation of results. Ensure that you have covered these areas on your CV with examples of your past work experience. Click here to find out more about an Examinations Officer's responsibilities.
Being able to communicate and liaise with a wide range of individuals including (young) students, staff and external stakeholders is an essential requirement that you would want to mention on your CV. State some of the occasions on which you have dealt with people from different levels of seniority with success.
Every Examinations Officer or Exam Invigilator will require the following skills to have in order to do their jobs to a high standard: punctual, disciplined, excellent attention to detail, having outstanding organisational and communications skills and being able to work under pressure. Why not mention some of these on your CV (provided that you indeed possess them)?
Good Luck!
Written by Sobhan Mohmand
Sobhan is a qualified Careers Advisor and Professional CV Writer with over 10 years of experience in helping job seekers get a job. He is a Member of the Careers Development Institute (CDI) and is listed on the official UK Register of Career Development Professionals. He holds a Level 6 Diploma in Career Guidance and Development (QCF).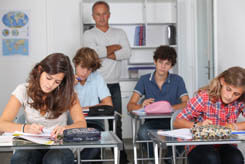 OVERVIEW
SALARY RANGE
£20.000 – £30.000

ENTRY
Degree or Relevant Work Experience

WORKING HOURS
37+ hours per week
Competencies
Communication Skills
Ability to communicate effectively with both students and staff members

Organisational Skills
Excellent organisation skills to balance a heavy workload

Observation Skills
Observing students during their examinations

Time Management
Allocating one's own time in a systematic manner to complete work efficiently

Public Speaking
Ability to speak in front of a large audience in a clear and audible fashion

Planning
Ability to use systems to organise and keep track of information
Related Resources