I am a confident, caring, assertive and organised Teaching Assistant looking for a new opportunity to make a real difference into the lives of young learners. My main goal in life is to ensure young children are supported and encouraged to achieve their full potential. I am a complete 'all-rounder', and I can adapt to any situation, in particular to situations surrounding young learners and their educational environment.
| | | |
| --- | --- | --- |
| 2010 – 2012 | FdEd Education Studies for Teaching Assistants | Bath Spa University |
Relevant Modules:
Planning, Delivery & Assessment of Learning
Supporting Language & Literacy
Supporting Individuals and Groups
Reflective Practitioner – Research in the Educational Workplace
Learning, Theory and Practice
2007 – 2009
Results: English: A* Maths: B Business: A
A Levels
Easington East College
| | |
| --- | --- |
| Feb 2013 – Present | Teaching Assistant (TA) Leeds High School |
Main duties performed:
Taking a small group of learners for additional lessons
Preparing class registers and accurately and timely updating learners' records
Monitoring and recording pupil activities
Regularly giving feedback to the teacher on pupil progress and behaviour
Producing individual learning plans tailored to specific students and their learning needs
Liaising with students, teachers, learning mentors, youth workers and peer groups as required.
Working with SEN (special educational needs) children on a one-to-one basis providing them with extra support and assistance in the classroom
Support the Teacher with marking students' assignments
Planning learning activities & school trips with teachers
ICT Support
Sept 2012 – Feb 2013
Classroom Assistant Woodbridge Academy
Main duties performed:
Supporting with the delivery of lessons, workshops and tutorials
Participating in one-to-one support and group activities
Admin duties such as phoning, filing and answering emails
Contacting parents regarding student's educational performance
Tidy up the classroom before and after lessons
Jan 2012 – Sept 2012
Learning Support Assistant Cardiff Primary School
Main duties performed:
Providing support within the classroom (during literacy and numeracy lessons)
Planning of activities & lessons for literacy on a regular basis
Teaching 1:1 and small groups (for literacy, phonics, reading, etc.)
Helping children with any questions they might have regarding the curriculum and refer them to the teacher when appropriate
Helping children with their playing, learning and social development.
Qualifications
Attended various workshops such as:
Level 3 Award and Certificate in Supporting Teaching and Learning in Schools
Level 2 Diploma in Support Work in Schools
Level 2 First Aid at Work
Skills
Excellent interpersonal and communication skills
The ability to explain a concept or subject in a variety of ways
Excellent understanding of how children develop and learn
IT skills (Microsoft Office)
Excellent reading, writing and proofreading skills
Being patient, polite and understanding at all times and particularly when dealing with learners who have learning difficulties or special needs.
Hobbies and interests
My hobbies are going to the cinema, spending time with my family and friends and babysitting for family members. I also enjoy meeting new people which is also why I have been a volunteer at my local Youth Community Society for the past two years. Recently, I have voluntarily worked at a private nursery to complete my NVQ level 2 in Childcare and Development – something which I am really proud of.
References
Mr Benjamin Power
Teacher, Woodbridge Academy
Address:
3 Chariton Rd, West Town, SN14 3NL
Tel:
0223 8300 5506
Email:
[email protected]
Mr Lewis Young
Head Teacher, Leeds High School
Address:
3 Milk Road, Portsmouth, TR4 8GR
Tel:
0080 6778 4334
Email:
[email protected]
Please note: the above CV Example is presented in the UK format and layout.
Preview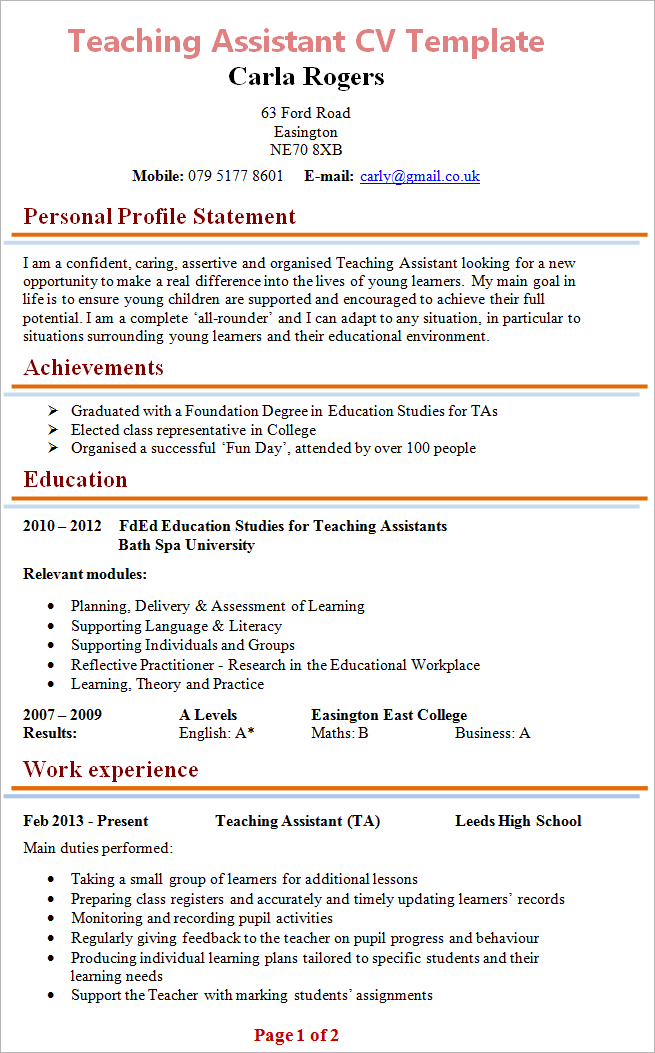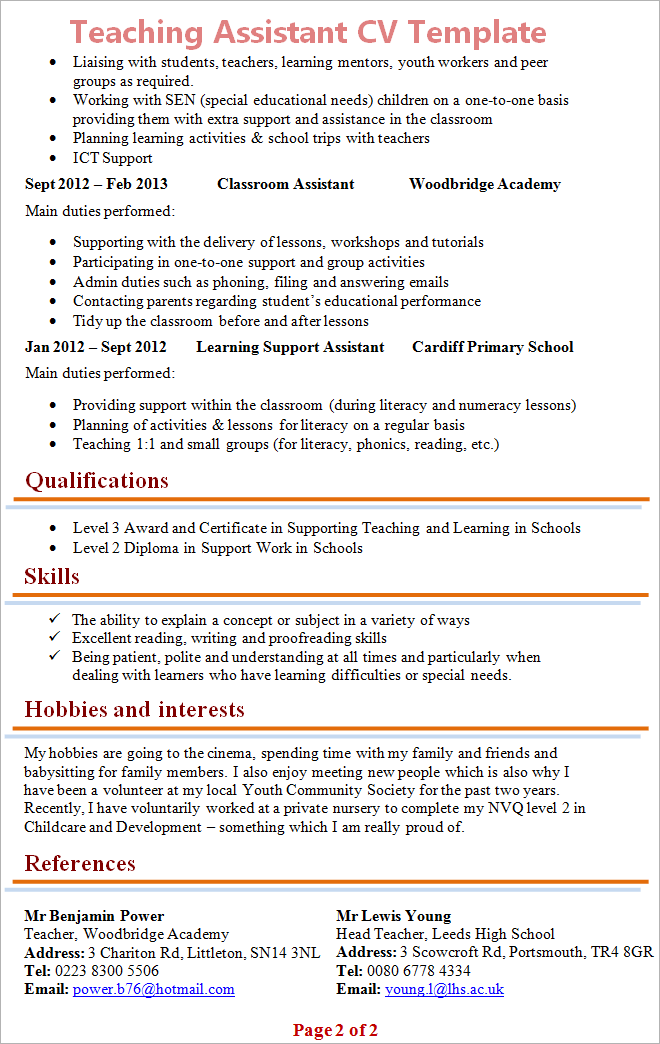 Download
Click here to download the above CV Sample.
COLLECTION: You may also want to browse through our collection of Free CV Templates and download any of the editable CVs to create your own (available in Microsoft Word format and convertible to PDF).
Top CV Tips and Guidelines
Check out the TA Job Description which contains a lot of key terms and ideas that you can use to fully optimise your CV for the job you are applying for.
Always ensure that your CV makes you look like the ideal candidate who is suitably-qualified for the job and not under or over qualified.
Question: what to do if you've got no experience? You may want decide to do voluntary work at a Nursery, School or Youth/Community center in order to gain some relevant experience in the field.
Good Luck!
Written by Sobhan Mohmand
Sobhan is a qualified Careers Advisor and Professional CV Writer with over 10 years of experience in helping job seekers get a job. He is a Member of the Careers Development Institute (CDI) and is listed on the official UK Register of Career Development Professionals. He holds a Level 6 Diploma in Career Guidance and Development (QCF).
OVERVIEW
SALARY RANGE
£11.000 – £19.000

ENTRY
GCSEs or A-Levels

WORKING HOURS
37+ hours per week
Competencies
Communication Skills
Ability to communicate effectively with staff, students and their parents

Writing Skills
Excellent writing skills to write clear and concise reports

Listening Skills
Ability to listen to student's concerns and complaints

Teamwork
Working with other teaching professionals in a supportive and constructive manner

Caring
Having the natural ability to offer support to students who need it

Motivating
Ability to lead, support and inspire students to reach their full potential
Related Resources