Sept 2014 – Feb 2015
HR Assistant Kingston University
Main duties performed:
Assisting in the administration of company policy and HR procedures
Dealing with employee grievances, reporting complaints to senior managers
Producing handbooks and employment information booklets
Drafting job adverts, creating job descriptions and personal specifications and reviewing job applications (CV, cover letter and application form) for short-listing suitable candidates
General Admin duties; regularly making and answering phone calls, sending out emails to staff, taking minutes, printing, photocopying, filing, etc.
Qualifications
Level 3 in Employment Law – NCFE
Business Driven HR (2 days) – CIPD
Developing an Employee Engagement Strategy (1 day) – CIPD
Skills
Advanced interpersonal skills, demonstrated in the ability to develop strong working relationships with colleagues and company employees
Proficient in Microsoft Office and Kronos Workforce Central HR Software
In-depth knowledge of employment law and workplace regulations
Professional and confident with excellent diplomacy and negotiation skills
Excellent communication skills with an ability to liaise effectively with a range of departments to effectively implement company policies
Hobbies
In my spare time, I enjoy amateur baking, and I regularly attend a number of food festivals with my friends. I also take dancing classes twice a week as part of an active lifestyle, and I enjoy meeting new people from all backgrounds.
References
Mrs Claire Flanders
HR Manager, PGR industries
Address:
4 Field Rd, Hyde, HY8 2DK
Tel:
0743 6799 7657
Email:
[email protected]
Mr William Sanders
Supervisor, Kingston University
Address:
1 Upper Ln, Courtney, CI1 3LE
Tel:
0793 4562 8955
Email:
[email protected]
Please note: the above CV Example is presented in the UK format and layout.
---
Preview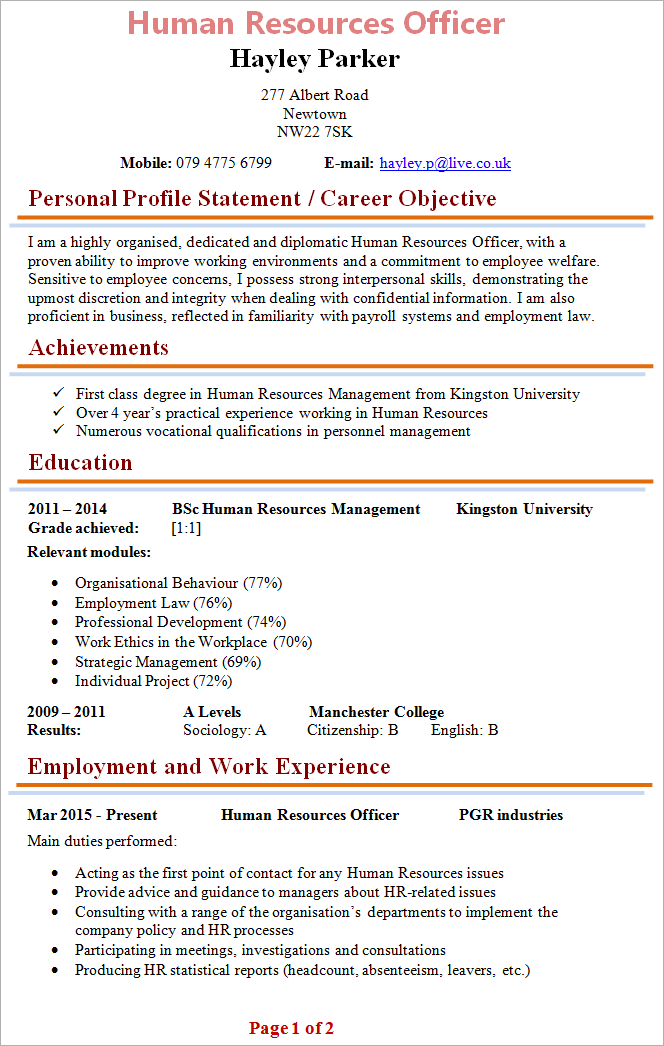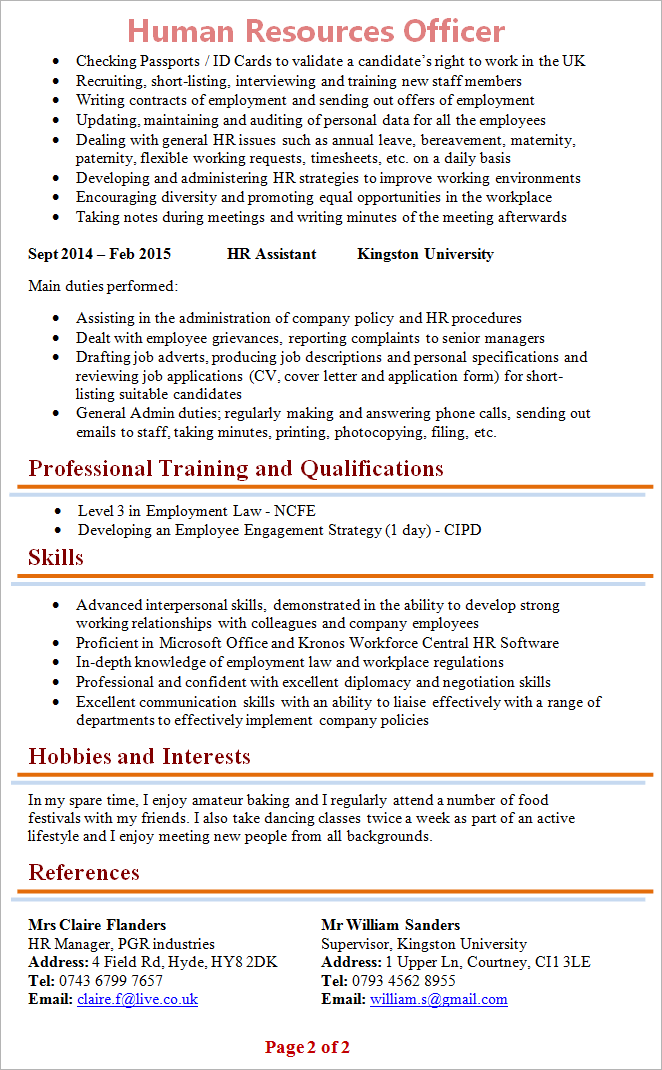 ---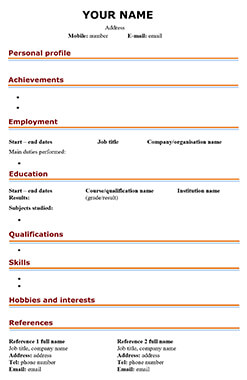 Are you writing your CV from scratch or is your CV template outdated? Download this professional CV template to impress employers!
Free
Save time and effort
Guaranteed correct CV structure
Word document (.docx) format
Fully customisable
How to save your CV as a PDF document:
Click on File > Save As > Select "PDF" from the drop-down menu.
---
Adopt a standard CV structure: Studies have shown that employers only tend to look at CVs for around 30 seconds. Unconventional CV structures catch employers off guard and make it harder for them to find the information that they need. Not a very good first impression you want to give!
Remove irrelevant or unnecessary information: Removing unnecessary information from your CV will improve its impact and free up valuable space for more important information. Don't include your age, date of birth, gender, marital status, photograph, national insurance number, salary expectations or nationality. Also, consider omitting outdated or irrelevant part-time jobs and low-level training qualifications if appropriate.
Improve the scannability of your CV: Under normal conditions, humans tend to scan things rather than read things in great detail. Employers are no different. To improve the scannability (and legibility) of your CV, you should use short sentences, bullet points, subheadings, appropriate spacing and a professional font. These things will improve the presentation of your CV and ensure that the employer can find the information that they seek at a glance.
Correct any formatting mistakes: Double-check your CV for formatting issues such as inconsistent fonts, font sizes, margins, spacing, bullet points, etc. For example, it will look bad if the font size of one subheading is 12pt but of another 14pt, or if the line spacing after one paragraph is 6pt and after another it's 10pt. These things may seem trivial and unimportant but employers highly value attention to detail, and a consistent format of your CV is proof that you are a perfectionist with a keen eye for detail.
---
Personal details
At the top of your CV, start with your personal details such as your name, address, telephone number and email address. It's optional to include a link to your LinkedIn profile (if you have one). As previously mentioned, don't include any irrelevant information such as your date of birth, age or gender.
Example:
Ben Norton
228 Manor Way, Manchester, M34 8DK
Mob: 07978379201 Email:

[email protected]
Personal profile
Following your personal details, you now need to write an impressive personal profile statement which will serve as an introduction to your CV. A personal profile tells the employer about your personal qualities, abilities and previous work experience.
Guidelines:
Tailor your profile to the needs of the employer and the job specification.
Back up your statements with facts, figures and examples.
Keep it concise (no more than 3-4 sentences).
I am a methodical, friendly and hardworking human resources officer with more than 2 years of experience working in various roles in the HR department. I started my career as an HR assistant and was promoted after nine months on the job. I am familiar with various HR Management Systems (HRMS) and HR Information Systems (HRIS). My expertise is in recruiting new talent, organising events and supporting the smooth running of the human resources department.
Tip: Use these personal profile statements for inspiration.
Achievements
It's time to show the employer what you are made of with a list of your key achievements from your studies, work or life in general.
Examples of achievements to include on your CV:
Awards received
Good grades
Promotions
Relevant work experience
Elected for a leadership position
Identified a problem and solved it
Completed a marathon
Organised an event
Completed projects on time and within budget
Example:
Over two years of work experience in the HR and recruitment industry
Elected project manager on multiple occasions
Designed and implemented various HR-related initiatives
Employment and work experience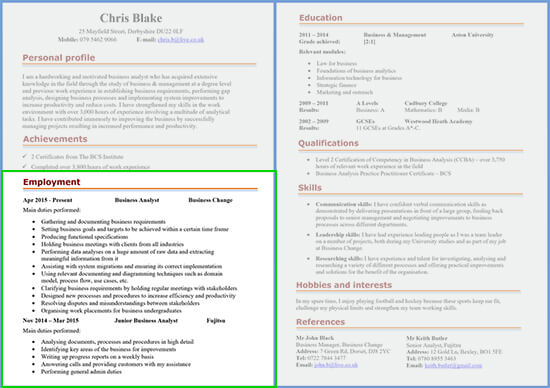 Next, write details of your previous or current employment and work experience.
Some of the things to include in this section:
Full-time jobs
Part-time jobs
Unpaid/voluntary positions
Internships
Professional work placements
| | |
| --- | --- |
| May 2021 – Present | HR Officer The University of Birmingham |
Main duties and responsibilities performed:
Assisted other HR with the day-to-day running of the HR department
Managed the complete recruitment process of new employees
Advised staff on pay, benefits and their rights and responsibilities
Implemented the organisation's HR policies and procedures
Drafted and negotiated employment contracts
Maintained and updated the HR database
Conducted meetings with applicants and employees
Orderly maintained personnel files and filing systems
Monitored staff performance and produced reports
Organised training sessions
Performed general admin duties
Note: If you don't have any relevant work experience, it is recommended for you to take up an unpaid/voluntary job, preferably in the HR department of an organisation. Volunteering will give you the vital work experience that employers value, teach you new skills, expand your professional network and boost your confidence.
HR officer duties to add to your CV
Responsible for recruiting, training and supporting staff.
Manage the recruitment process, including writing job descriptions, producing job adverts, writing contracts, organising interviews and hiring new talent.
Provide HR advice to employees related to contractual issues, pay, benefits, redundancies and job responsibilities.
Assist with the development and implementation of the organisation's HR strategy and associated HR policies.
Assist with HR administration, including filing, photocopying, answering phone calls and responding to emails.
Education and training
The education and training section of your CV contains details of your formal educational and professional training background.
Some of the things you can list in this section:
Undergraduate and postgraduate degrees
A-Levels and BTECs
GCSEs or equivalent
Short courses
Professional training and qualifications
Guidelines:
Expand on each qualification by mentioning the subjects studied and grades achievements. This will give the employer a better idea of what you studied and how that will help you in your future job.
Omit old or insignificant qualifications if you have a strong educational background, for example, level 1 qualifications if you are a university graduate.
Example:
| | | | |
| --- | --- | --- | --- |
| 2016-2019 | BA Human Resource Management | University of London | Degree classification: 2:1. |
Relevant Modules:
Introduction to Human Resource Management
Behaviour in Organisations
Recruitment and Selection Strategies
Employment Law in Context
Employee Retention and Engagement
2014 – 2016
Results: 7 Business (A), English (B) and Maths (B).
A-Levels
Northfield Academy
Qualifications
The qualifications section of your CV should contain a list of additional qualifications such as professional training qualifications.
Example:
Level 2 Certificate in HR & Employment Law – Course Gate
LEvel 1 Basics of Human Resource Management – Oxford Home Study Centre
Skills
In this section, you should list down some of your key skills and abilities that are relevant to the job you are applying for.
How to tailor your skills to the requirements of the job:
Look at the job specification and identified the skills that are required for the job.
Determine which of these skills you possess and mention them on your CV alongside real-life examples of where you demonstrated these skills.
Example:
Excellent interpersonal skills, demonstrated in my ability to work with a variety of people including applicants, employees and managers.
Strong IT skills, demonstrated in using a variety of IT systems including Microsoft Office and the department's HR information management systems.
Excellent organisation skills, demonstrated in my ability to manage complex filing systems, databases and information systems.
Useful skills to add to your human resources (HR) officer CV
Shortlisting and recruitment of staff
Interpersonal, communication and people skills
Organisational skills
Research and analytical skills
Using HR information management systems
Writing reports, job descriptions and contracts
Payroll & benefits administration
Performance evaluation
HR Policy Development
Employee relations
Collaboration and negotiation skills
Tip: One of the key features of an HR officer's job is to manage a lot of data, records, information, forms, documents and computer systems. You should emphasise on your CV your administrative and organisational skills to demonstrate that you have what it takes to be a successful HR officer.
Hobbies and interests (optional)
Research has shown that adding personal hobbies to your CV can strengthen your job application and improve your chances of being invited for a job interview.
Examples of hobbies and interests include:
Participating in sports
Campaigning and organising events for charity
Playing games and solving puzzles
Reading and writing
Mentoring and coaching
Painting, drawing and sketching
Exercising (going to the gym, jogging, etc.)
Attending social or business events
Guidelines:
Only include hobbies and interests that are relevant to the job and add value to your CV.
Don't mention more than 3-4 hobbies.
Example:
In my free time, I enjoy watching documentaries on TV and reading non-fiction books. I also enjoy going to the gym with my friends and participating in fundraising events for charity.
References
The last section of your CV is the references section.
Here you need to give the details of your references, people who know you well and can vouch for your skills, abilities and character to the employer.
Guidelines:
Write "References are available upon request" If you do not wish to disclose your references on your CV.
Always ask permission before using someone as a reference; it will prevent an awkward conversation from taking place between the employer and your reference if they weren't expecting a phone call!
For each reference, include their full name, job title, organisation name, address, telephone number and email address.
Example:
Ms Claire Douglas
HR Manager, Kent Council
Address:
5 Newton Road, Kent, K34 2MF
Tel:
07663574722
Email:
[email protected]
Mr Tom Wilson
Senior HR Officer, Tesco
Address:
55 Apple Rd, London, L43 2MD
Tel:
0787435685777
Email:
[email protected]
---
Focus on your skills and abilities: To do your job well as human resources officer, you will need to have certain skills, abilities and competencies. Employers are mainly interested in knowing whether you can do the job well or not. Essential skills for this role include interpersonal, IT, copywriting and research skills. Give real-life examples where you have used/developed the skills and competencies that are required for the role.
Write a compelling personal profile: Your personal profile statement is a very important part of your CV. Studies have shown that employers tend to briefly scan a CV and then go back to the top of the CV to read the personal profile in more detail. Therefore, spend some extra time writing, checking and improving your personal profile to improve the impact of your CV.
Send a cover letter with your CV: With each application, write a short, tailored cover letter to accompany your CV. A cover letter is a short letter that informs the employer about the reason for your application and why they would be the most suited candidate for the advertised role. It is your perfect opportunity to make a good first impression and explain how your skills and experience match the requirements of the job.
Keep your CV under two pages: As a general rule of thumb, the length of your CV should not exceed two A4 pages. Employers prefer short CVs because they are easier to scan/read and contain only the most important information about the candidate. Remove any irrelevant, outdated or unimportant information.
---
You've now reached the end of this guide.

If you have followed all the guidelines and tips in this guide, you should now have an impressive Human resources (HR) officer CV that will get you job interviews in no time.

Good luck with your job hunt!

Written by Sobhan Mohmand

Sobhan is a qualified Careers Advisor and Professional CV Writer with over 10 years of experience in helping job seekers get a job. He is a Member of the Careers Development Institute (CDI) and is listed on the official UK Register of Career Development Professionals. He holds a Level 6 Diploma in Career Guidance and Development (QCF).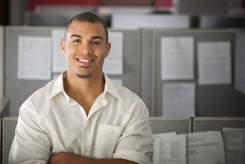 OVERVIEW
SALARY RANGE
£20.000 – £40.000

ENTRY
Degree and Work Experience

WORKING HOURS
38+ hours per week
Competencies
Communication Skills
Ability to communicate effectively and building good relations with other professionals (staff, employees, managers)

Writing Skills
Excellent writing skills to write clear and concise reports

Computing Skills
Excellent knowledge and expertise in Microsoft Office and HR-related software

Management
Ability to lead and inspire staff to accomplish success for the company

Diplomacy
Using appropriate techniques to move others to action or to gain agreements

Organisational Skills
Methodically running different projects and meeting deadlines
Related Resources
HR Officer CV Template