I am an energetic individual with strong interpersonal and retail skills who can bring a new face to the business that will deliver exceptional customer service and creativity, within a team or individually, to the utmost satisfaction of relevant stakeholders. I have more than two years of experience in the retail sector, and I consider myself to be very knowledgeable and experienced in the selling process.
| | |
| --- | --- |
| Mar 2013 – Present | Customer Service Advisor Pillow King |
Main duties performed:
General office duties such as phoning, filing, sending marketing materials, etc.
Advising customers on a wide range of company products and services;
Processing orders, taking payments and issuing refunds;
Supervising temporary shop assistants;
Dealing with complaints and compliments in a professional manner;
Meeting and greeting visitors and potential clients inside and outside the shop;
Making the public aware of all the promotions and special offers;
Ensuring product information are accurate and up to date;
Tidying up the shop floor and taking care of stock orders and documentation.
Dec 2012 – Mar 2013
Customer Service Assistant Gemco
Main duties performed:
Working with management and senior staff to meet store goals and targets;
Serving consumers at the checkout; wrapping, payments processing and refunds;
Replenishing stock and ensuring goods and products were neatly presented;
Ensuring Health & Safety procedures were followed at all times and by all stakeholders;
Addressing questions, complaints and concerns in accordance with company policy.
Jun 2012 – Dec 2012
Retail Shop Assistant Hit or Miss Ltd.
Main duties performed:
Ensuring customers find the right product to meet their needs and requirements;
Hanging clothes on hangers, sorting and pricing products;
Putting new stock out for display on the shop floor;
Packing up and/or disposing of any goods that were not sold in the shop;
Researching competitor's products, special offers and seasonal promotions.
Qualifications
Level 3 NVQ Diploma in Customer Service
First Aid at Work – HSE
Skills
Excellent communications, interpersonal and persuasive skills;
Ability to relate to (and work with) people from all different backgrounds and walks of life;
Ability to deal with difficult individuals in a polite, professional yet firm manner (and always keeping in mind the catchphrase: the customer is always right);
IT literate (with good knowledge of Microsoft Office).
Hobbies and interests
My hobbies include reading, writing, watching TV, spending time with my family and volunteering at local charity schemes. At University, I was very active in societies which eventually led me to set up the Business Partnership Society (BPS) together with my peers.
References
Mr Jerry Sanford
Store Manager, Pillow King
Address:
40 Edmond Rd, Chester, PA48 1DT
Tel:
0223 2689 5879
Email:
[email protected]
Dr Justin K. Herman
Manager, Hit or Miss Ltd.
Address:
75 Martyr Road, Leeds, LE10 3FE
Tel:
0980 5101 0022
Email:
[email protected]
Please note: the above CV Example is presented in the UK format and layout.
Preview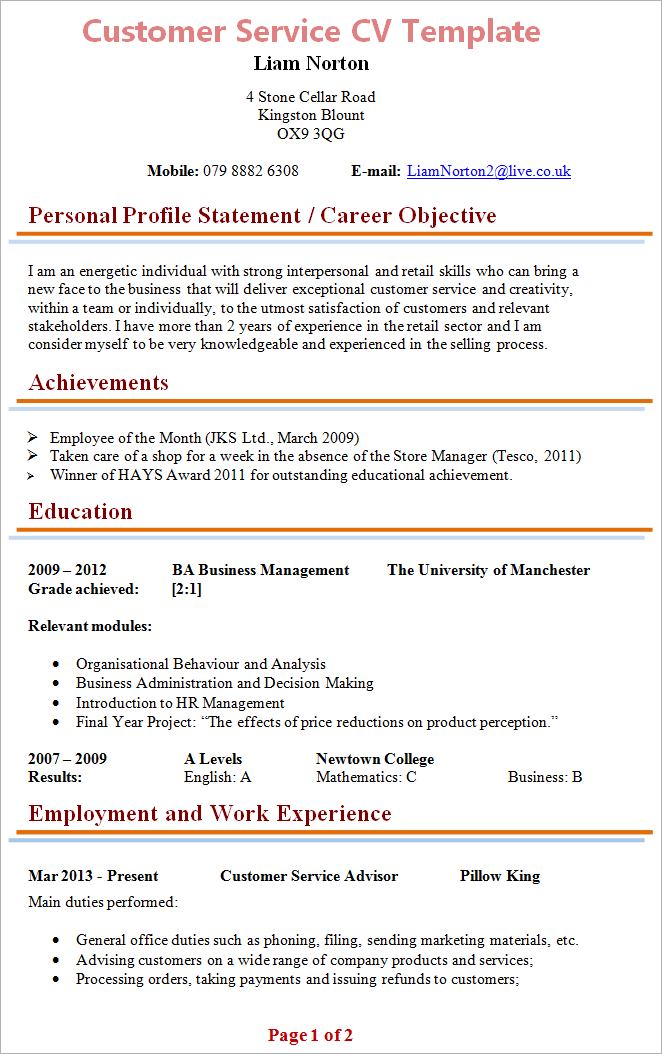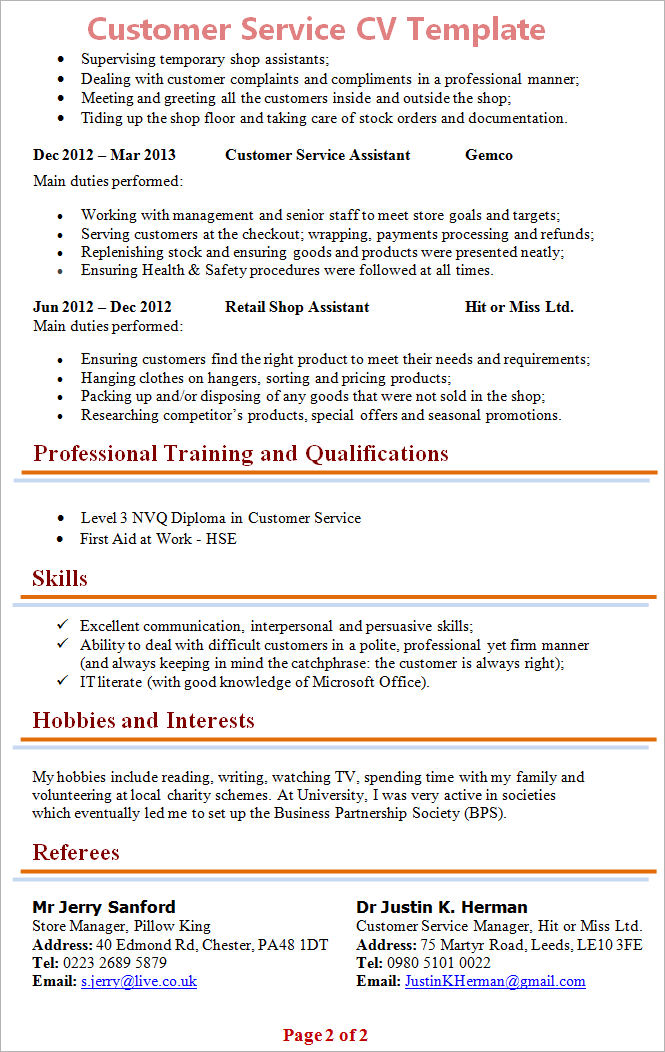 Download
Click here to download the above CV Sample (blank).
COLLECTION: You may also want to browse through our collection of Free CV Templates and download any of the editable CVs to create your own (available in Microsoft Word format and convertible to PDF).
Tips
Your CV should clearly illustrate the reasons that would make you a great Customer Service Advisor if you were hired, such as; respecting customers and ensuring that all their needs and requirements are met, having excellent interpersonal and communication skills to deal with stakeholders and third-parties on a daily basis and having a real concern for the success of the company that you are employed by.
Good Luck!
Written by Sobhan Mohmand
Sobhan is a qualified Careers Advisor and Professional CV Writer with over 10 years of experience in helping job seekers get a job. He is a Member of the Careers Development Institute (CDI) and is listed on the official UK Register of Career Development Professionals. He holds a Level 6 Diploma in Career Guidance and Development (QCF).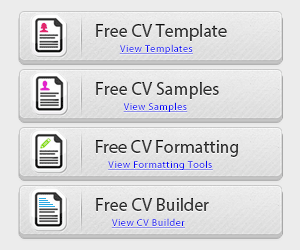 SPONSORED
OVERVIEW
SALARY RANGE
£17.000 – £23.000

ENTRY
Degree or Work Experience

WORKING HOURS
37+ hours per week
Competencies
Customer Service
Ensuring the stakeholder's needs, expectations and requirements are met

Communication Skills
Excellent communication skills to liaise with suppliers / teams / clients

Interpersonal Skills
Ability to handle queries and complaints in a professional manner

Creativity
Ability to "think outside the box" and come up with novel solutions

Organisational Skills
Methodically running different projects and meeting deadlines

Caring
Ability to care for and empathise with consumer's needs and problems
Related Resources