Feb 2014 – Jul 2015
Recruitment Administrator People's Vault
Main duties performed:
Providing the Human Resources team with administrative support
Analysing CVs and short-listing suitable candidates for interviews
Conducing phone and face-to-face interviews (when required)
Designing and distributing starter packs for the new employees; containing all the legal documents that need to be read and signed (including contract)
Covering for more senior HR officers
Processing staff time-sheets on a daily basis
Assisting the HR Manager on a daily basis, particularly in regards to project management and general admin duties
Qualifications
Level 4 Diploma in Recruitment Management (QCF)
CIPP Payroll Technician Certificate
Skills
Coherent public speaker with excellent written and oral communication skills
Expert knowledge in the technical and legal aspects of recruitment
Able to quickly form new professional relationships
Preparing interview tasks and activities for candidates and ensuring that they understand everything and feel comfortable at all times
Proficient use of Microsoft Office Suites; Word, Excel, Access and PowerPoint
Hobbies and interests
In my spare time, I enjoy going out and socialising and networking during events, festivals and special occasions. I also enjoy experimenting with cooking dishes from around the world and exploring new cultures through the power of food.
References
Mr Lucas Bond
Recruitment Coordinator, CCM
Address:
16 Grove Ln, Essex, ES4 7PQ
Tel:
0739 6731 8790
Email:
[email protected]
Mrs Kayleigh Hammond
Supervisor, People's Vault
Address:
7 Cold Rd, Suffolk, SQ1 3FZ
Tel:
0737 8943 7822
Email:
[email protected]
---
Preview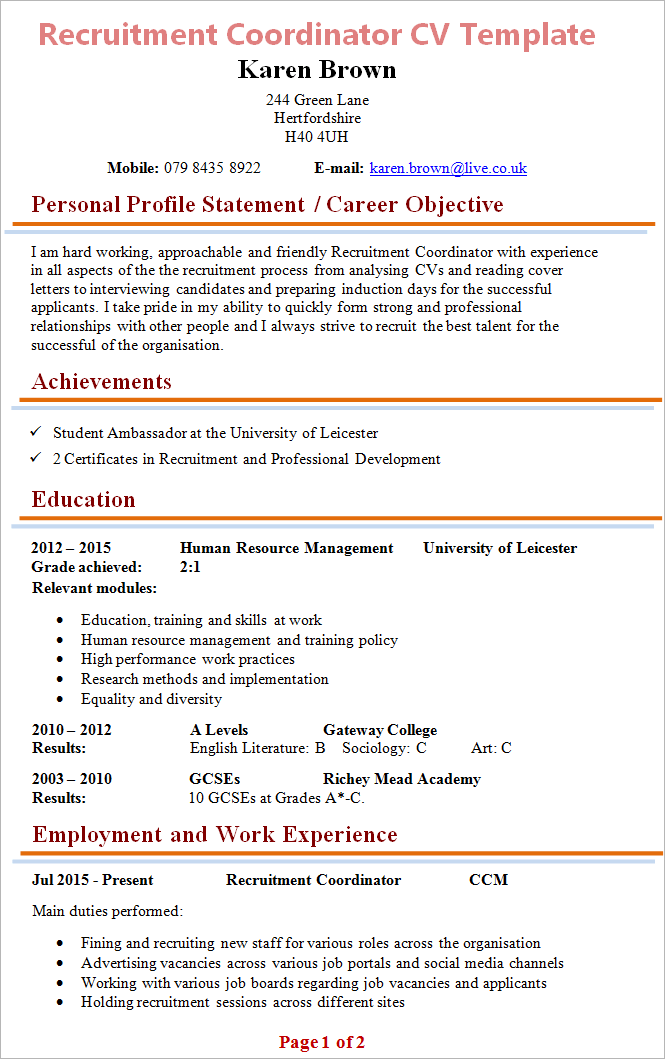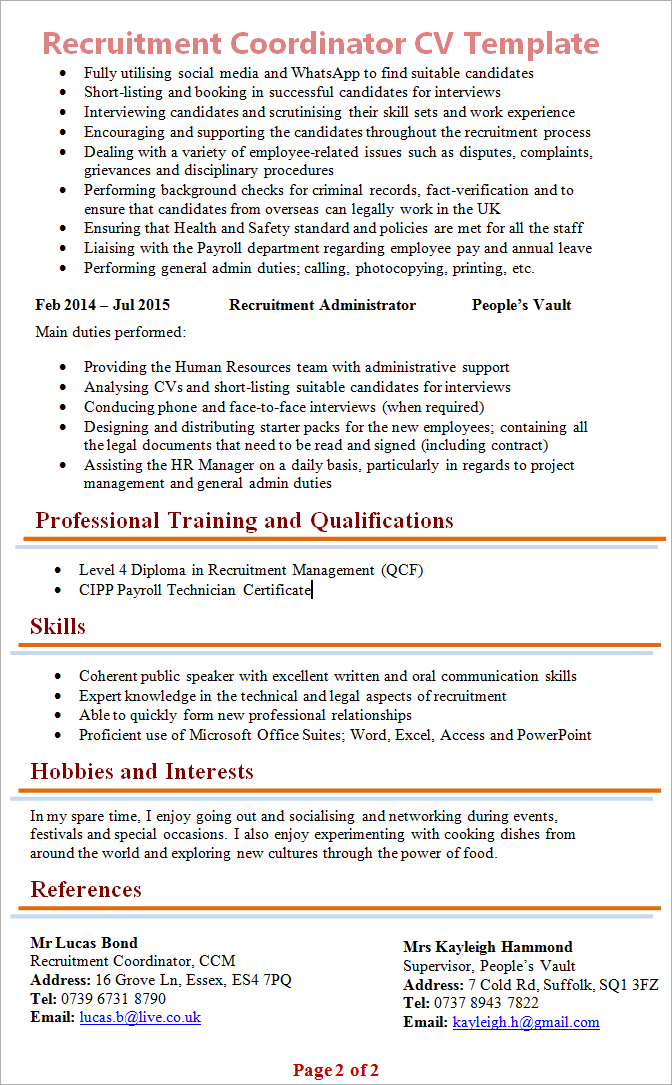 What makes this CV good and effective?
Structure and format: Well-organised with distinct sections (profile, experience, education, skills, etc.). A professional font is also used, making it easier for employers to read and locate important information.
Professional summary: The professional profile is a brief and impactful summary that captures the candidate's career focus and core competencies.
Tailoring to the job: Uses HR-related keywords and phrases from the job description, aligning the CV with the specific requirements of the role.
Showcasing skills: The CV has a dedicated section highlighting the candidate's essential skills that are required for the job, including technical, interpersonal and interviewing skills.
Experience: Demonstrates a successful track record in streamlining recruitment processes.
---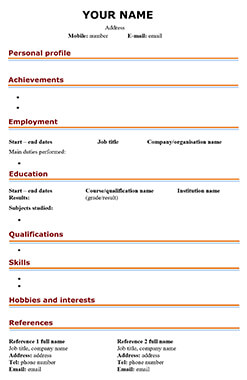 Are you writing your CV from scratch or is your CV template outdated? Download this professional CV template to impress employers!
Free
Save time and effort
Guaranteed correct CV structure
Word document (.docx) format
Fully customisable
How to save your CV as a PDF document:
Click on File > Save As > Select "PDF" from the drop-down menu.
---
Utilise a clean and professional layout: Adopt a conventional CV format. Choose a clean, easy-to-read font and maintain a consistent format throughout your CV.
Prioritise contact information: Place your contact information prominently at the top of the CV not on the second page of the document! Employers are busy people and do not have time to look for your contact details if they are placed in an obscure location.
Use bullet points for clarity: Organise information under each section using bullet points to enhance readability. Avoid using long sentences or big paragraphs.
Section order: Place your strongest sections (e.g., education, work experience and skills) near the top to grab the recruiter's attention quickly. The hobbies and references sections should be the last sections of your CV.
Consistent formatting: Maintain a consistent font type (e.g. Verdana) and font size (e.g., 11 or 12 points) for the entire document to ensure it looks professional. Bad formatting alludes to the applicant's lack of attention to detail.
---
Personal details
Your CV's personal details section should contain your full name, phone number, email address and address. Employers will use this information to contact you. Place this section at the top of your CV.
Example:
Katherine Johnson
87 Yellow Street, London, W1T 3EX

Mob: 020 1234 5678
Email:

[email protected]
Personal profile
This section should contain a concise summary of your skills, experiences and what you're looking to achieve in your career. It's your chance to make a strong first impression and convince the employer that you are a great fit for the job.
Read more: How to write compelling personal profile statements.
Recruitment coordinator personal profile example:
With a proven track record as a recruitment coordinator, I've successfully managed diverse recruitment functions, optimising candidate sourcing and interview processes. Through my efforts, I've achieved a 30% improvement in hiring efficiency and contributed to building high-performing teams that drive company success.
Achievements
Your CV's achievements section is where you show off your accomplishments and successes. It includes things like awards, promotions, good grades and other noteworthy accomplishments that make you stand out as a top candidate.
Example:
Streamlined the recruitment process, reducing time-to-fill by 15%.
Promoted to Senior Recruitment Coordinator within 18 months.
Trained and mentored junior team members, enhancing team productivity.
Successfully led a project to implement an ATS, improving hiring efficiency.
Employment and work experience
As the name suggests, this is where you list the details of your previous jobs and work experience. This can include all types of jobs here, including full-time, part-time, paid and voluntary positions.
| | |
| --- | --- |
| January 2020 – Present | Recruitment Coordinator Talent Solutions Ltd. |
Main duties and responsibilities performed:
Spearheaded the end-to-end recruitment process, from job posting to offer acceptance.
Collaborated with hiring managers to define job requirements and establish a clear candidate profile.
Conducted structured interviews with candidates
Successfully onboarded new hires, ensuring a smooth transition into their roles.
Developed and delivered recruitment training programs for junior team members.
Recruitment coordinator duties to add to your CV
Managing end-to-end recruitment processes, from job requisition to offer acceptance.
Sourcing, screening, and interviewing candidates to assess their qualifications and suitability.
Utilizing applicant tracking systems (ATS) and other recruitment software.
Coordinating interviews and assessments with candidates and hiring teams.
Conducting reference checks and background verifications for potential hires.
Managing job postings on various job boards and social media platforms.
Participating in job fairs, networking events, and employer branding initiatives to attract top talent.
Providing regular reports and updates to management on recruitment progress.
Education and training
In this section, you should include your university degrees, diplomas, A-levels, GCSEs or any other relevant certifications. For each qualification, you need to mention the name of the institution, the qualification earned and the date of completion.
Example:
| | | | |
| --- | --- | --- | --- |
| September 2014 – June 2018 | Bachelor of Science in Human Resource Management | University of Staffordshire | Degree Classification: 2:1. |
Subjects studied:
HR Strategy
Talent Acquisition
Organisational Behaviour
Employment Law
September 2012 – June 2014
Results: Business Studies (A), Psychology (B), Economics (B).
A-Levels
London College
Qualifications
You can list in this section any vocational training or certifications that are relevant to the role of a recruitment Coordinator.
Example:
CIPD Level 5 Diploma in Human Resource Management – HR Institute, 2019
Level 3 NVQ Diploma in Recruitment – The Open University, 2017
Professional in Human Resources (PHR) Certification – HR Certification Institute, 2014
Skills
The skills section of your CV should showcase your specific abilities and competencies that make you a strong fit for the role. It should contain a mix of hard and soft skills. Hard skills may include proficiency in applicant tracking systems (ATS), interviewing techniques and HR software. Soft skills are things like communication, interpersonal and teamwork skills.
Example:
Interviewing techniques: Conducted structured interviews and assessments, leading to a 25% improvement in candidate quality.
Team leadership: Managed a team of junior recruiters, consistently exceeding hiring targets.
HR software: Experienced in using HR software for candidate sourcing and HR process management.
Useful recruitment skills to add to your CV
Sourcing candidates: The ability to find and identify suitable candidates for job openings.
Interviewing techniques: Proficiency in conducting effective interviews to assess candidate suitability.
Applicant Tracking Systems (ATS): Knowledge of using software to manage and track candidate applications.
Employment law and compliance: Understanding and adherence to employment laws and regulations.
Negotiation: Skill in negotiating offers and terms with candidates.
Market research: Staying informed about industry trends and recruitment best practices.
Social media recruitment: Using social media platforms for candidate sourcing and branding.
Hobbies and interests (optional)
The hobbies and interests section of your CV offers a glimpse into your personal side and what you're passionate about outside of work. It provides a well-rounded picture of your character and can spark interesting conversations during interviews. Only include hobbies and interests that reflect positively on your character and add value to your application.
Example:
Outside of my professional life, I have a big passion for community involvement. I regularly volunteer at local charity events, which allows me to contribute my organisational and people skills to support good causes. I also enjoy playing team sports like football and basketball, which reflects my love for teamwork and collaboration.
References
The last section of your CV should contain the details of two individuals who know you well and who can vouch for your character and abilities to the employer. For each referee, provide their full name, job title, the company they work for, and their contact details, including their phone number and email address. It's important to obtain their consent before listing them as references and ensure that they're aware you're job hunting.
Read more: How to write references on a CV.
Example:
Mr. Elliot Lewis
HR Director, Visionary Tech Group
Address:
9 Powell Road, Birmingham, B2 5DF
Tel:
0161 987 6543
Email:
[email protected]
Ms. Hannah Vincent
Recruitment Director, Talent Solutions Ltd.
Address:
Avenue Street, Manchester, M13 9YZ
Tel:
078743820119
Email:
[email protected]
Note: If you do not wish to disclose your references on your CV, you should write, "References are available upon request."
---
Tailor your CV to the job you're applying for: Customise your CV for each job application by highlighting relevant skills and experiences. For example, if the job requires experience with a specific applicant tracking system (ATS), emphasise your proficiency with that system.
Use action verbs: Start each bullet point with a strong action verb. For example, "Implemented a new interview assessment process."
Highlight achievements: Showcase your accomplishments in previous roles with quantifiable results. For instance, "Reduced time-to-fill by 20%." Research has shown that facts, figures and numbers make CVs more impactful.
Include professional memberships: Mention memberships in HR-related organisations, like CIPD (Chartered Institute of Personnel and Development). If you not a member of any professional body, you should consider joining one because it will demonstrate your professionalism and commitment to your industry.
---
Conclusion
This is the end of our comprehensive guide on how to write a compelling Recruitment Coordinator CV.
We've provided you with valuable insights, real-world examples and essential tips to help you craft the perfect CV for your job application. By following these guidance, you'll be well on your way to securing the job of your dreams as a Recruitment Coordinator.
Best of luck in your job search!
Written by Sobhan Mohmand
Sobhan is a qualified Careers Advisor and Professional CV Writer with over 10 years of experience in helping job seekers get a job. He is a Member of the Careers Development Institute (CDI) and is listed on the official UK Register of Career Development Professionals. He holds a Level 6 Diploma in Career Guidance and Development (QCF).
OVERVIEW
SALARY RANGE
£19.000 – £29.000

ENTRY
Degree or Work Experience

WORKING HOURS
37+ hours per week
Competencies
Communication Skills
Ability to communicate effectively with customers, employees and staff alike

Listening Skills
Ability to listen to employee's concerns and complaints

Interpersonal Skills
Interpersonal skills to positively communicate and interact with others

Organisational Skills
Excellent organisation skills to balance a heavy workload

Writing Skills
Excellent writing skills to write clear and concise reports, contracts and letters

Professionalism
Dealing with employees and others in a courteous and professional manner