Jan 2011 – Dec 2013
Customer Services Assistant Fabulous Solutions
Main duties performed:
Assisting customers with their purchases
Assisting the Customer Service Manager in brainstorming new ways to provide better customer service and streamline the complaints process
Handling customer returns or cancellations in a professional manner
Liaising with multiple departments within the organisation, including manufacturing, sales and legal to efficiently settle complaints
Qualifications
Office of the Immigration Services Commissioner (OISC) Levels 1-3 qualified
E-Type qualified (Level 2 Distinction)
Currently undergoing CILEX Level 3 Diploma in Providing Legal Services
Skills
Organisational skills: Experienced in keeping organised, handling a heavy workload and prioritising different tasks in order of importance
Communication skills: Able to communicate with a broad range of people including students, families, solicitors and government officials
Attention to detail: Adept at spotting mistakes in application forms and reading between the lines concerning immigration statutes
Hobbies and interests
In my spare time, I enjoy my weekly paintball sessions with work colleagues, along with socialising with immediate and extended family. The rest of my free time is spent keeping up to date with the latest developments in national and international politics.
References
Mr Phil Thompson
Senior Immigration Advisor, VisaSense Ltd
Address:
8 Oliver St, Kent, KP18 4OY
Tel:
0773 2451 9831
Email:
[email protected]
Mrs Nicola White
Manager, Fabulous Solutions
Address:
2 Manor Road, Leeds, L26 3QS
Tel:
0782 7748 9273
Email:
[email protected]
Please note: the above CV Example is presented in the UK format and layout.
---
Preview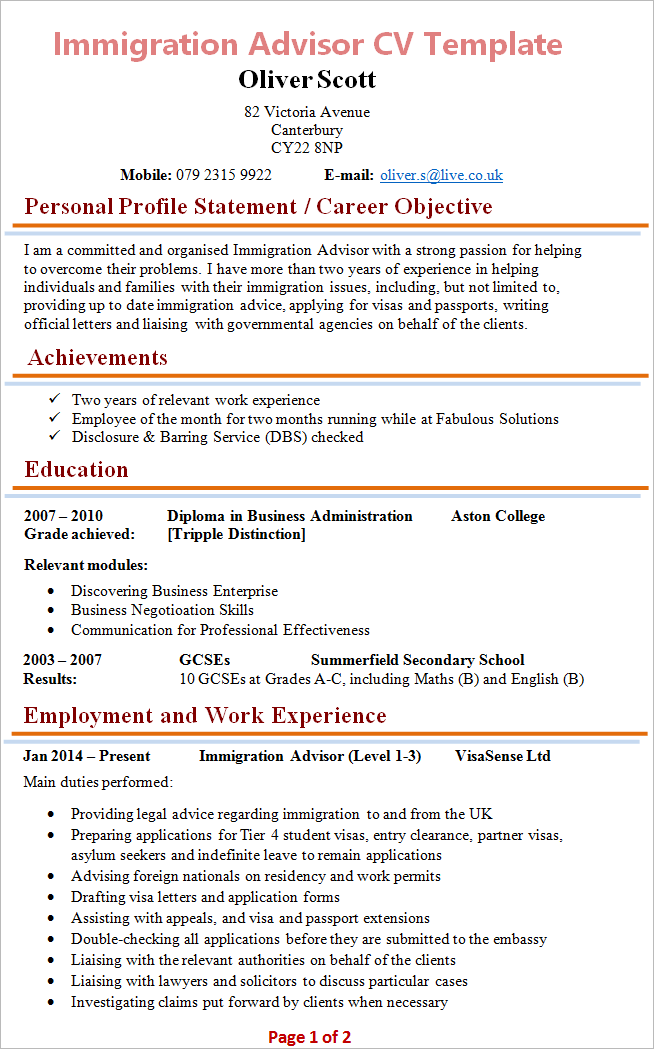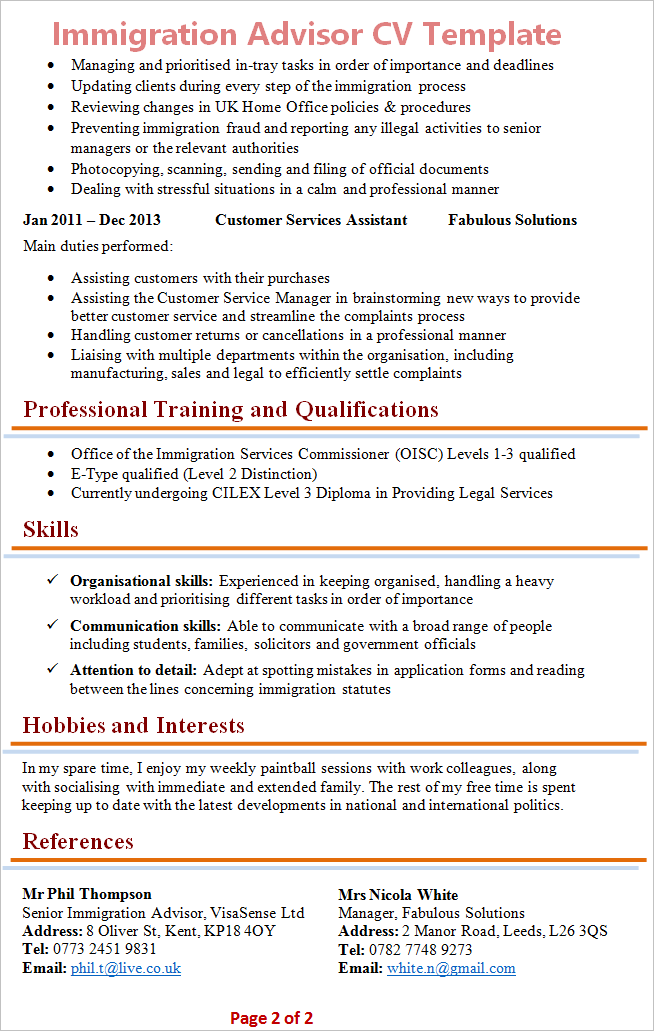 ---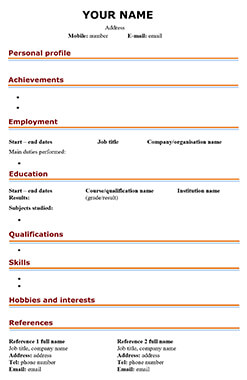 Are you writing your CV from scratch or is your CV template outdated? Download this professional CV template to impress employers!
Free
Save time and effort
Guaranteed correct CV structure
Word document (.docx) format
Fully customisable
How to save your CV as a PDF document:
Click on File > Save As > Select "PDF" from the drop-down menu.
---
Adopt a traditional CV format: A standard CV consists of the following 8 sections in order; personal profile, personal profile statement, achievements, education and qualifications, employment and work experience, hobbies and interests and, finally, references. It's best to stick to this (or similar) format to help employers find the information that they need at a glance. An unconventional CV format will catch them off guard and waste their time as they try to understand how you have structured your CV.
Keep an eye on the length of your CV: As a general rule of thumb, shorter CVs are better than longer CVs. Try to only include the most important and up-to-date information while omitting any irrelevant or old information such as very basic-level qualifications or irrelevant, part-time work experience done a long time ago. The maximum length of a CV should not exceed two sides of an A4 paper.
Use a professional font: You should opt for a CV font that is professional and mainstream. Good fonts that you can use include Times New Roman, Verdana, Helvetica, Georgia and Calibri. Also, make sure you use the correct font size which is not too small (10pt or smaller) or too big (13pt or bigger).
Use plenty of white space: White space, as its name indicates, refers to the white space around the text elements of your CV such as paragraphs and subheadings. White space is used in visual art to create some "breathing space" around text-dense elements, making it easier for people to scan, read and digest the content of the document. You can experiment with the spacing and margins of your paragraphs and subheadings to give your CV a clean, clear structure.
Avoid using long paragraphs: Employer surveys have shown that employers tend to scan CVs for the most important information rather than read them in great detail. Use short paragraphs, bullet points and subheadings to improve the scannability and readability of your CV, instead of long, chunky paragraphs.
---
Personal details


Let's start at the top with the personal details section.
This is going to be the first section of your CV and should contain your personal and contact details such as your name, address, telephone number and email address.
Some applicants also include their LinkedIn profile or the web address of their portfolio/blog. This is acceptable if it strengthens your job application.
Things not to include in this section (or anywhere else on your CV!):
Date of birth
Age
Gender
Marital status
Nationality (unless explicitly requested)
Example:
Personal profile


Next, you need to write a short introduction to your CV called a personal profile statement or CV summary. See your personal profile as a short "sales pitch" that informs the employer about your personal characteristics, abilities and experience.
Guidelines for writing an effective personal profile:
Keep it short and concise
Back up everything you say with facts, figures and examples
Immigration advisor/consultant CV personal profile:
I am a friendly and methodical immigration advisor with more than 3 years of experience in the law and legal industry. I have advised, supported and assisted more than three hundred clients with various immigration issues such as visas, residence permits, appeals, naturalisations, family reunions and court representations. I possess excellent organisational and time management skills, enabling me to handle a heavy workload and meet tight deadlines.
Achievements


Your achievements section, as its name suggests, contains a list of your achievements and accomplishments. See it as your badge of honour by which you wish to stand out from the other candidates and impress the employer.
Some examples of achievements to include on your CV:
Awards received
Promotions
Good grades
Qualifications gained
Relevant work experience
Elected for leadership or management positions (e.g. project manager)
Participated in charity events
Example:
3 years of relevant work experience
Managed a small team of three office staff
High customer retention rate
Employment and work experience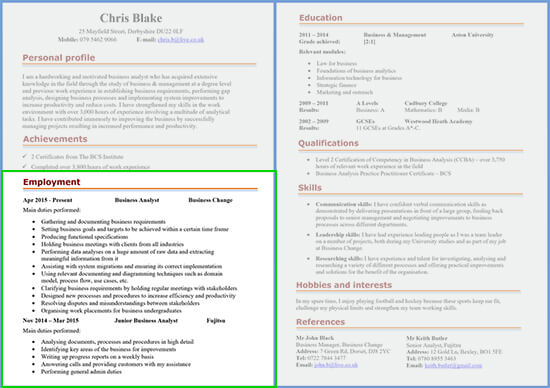 Next, you need to write details of your previous jobs and work experience.
The types of jobs to include in this section are full-time, part-time, voluntary and professional placement positions.
It's important that you also mention your key responsibilities, duties and/or achievements so that employers have a good understanding of what you did in these jobs and how they could be relevant to the job you're applying for.
| | |
| --- | --- |
| December 2020 – Present | Immigration consultant Bayfield Solicitors |
Main duties and responsibilities performed:
Advised and supported clients on all matters of immigration including visas, naturalisation, appeals and residence permits.
Conducted one-to-one immigration consultations with clients
Assisted clients with completing paperwork and application forms
Assisted clients with gathering the required documents
Checked application forms and documents, ensuring that they meet the strict requirements of the Home Office.
Liaised with other professionals for the benefit of clients
Kept up-to-date with the latest alterations in immigration laws
Immigration advisor/consultant duties to add to your CV
Provide information, advice and guidance on all matters related to immigration.
Process a range of different visa applications including business, family, settlement, study, transit and visitor visas.
Assist clients with gathering legal documents and completing application forms.
Manage a heavy caseload of clients.
Contact the immigration office on behalf of clients.
Appeal immigration decisions.
Represent clients in court.
Education and training


The education section contains details of your formal education and professional training qualifications (if applicable).
Things you can include in this section:
School-level qualifications such as GCSEs
College-level qualifications such as BTECs and A-Levels
University-level qualifications such as undergraduate and postgraduate degrees
Example:
| | | | |
| --- | --- | --- | --- |
| 2017-2020 | BSc International Tourism Management | University of Brighton | Degree classification: 2:1. |
Relevant Modules:
The Travel and Tourism Industry
Impacts of Tourism
International Business Analysis
Global Issues in Travel and Tourism
Employment Law
2015 – 2017
Results: Business (B), English (B) and Maths (B).
A-Levels
Southern Clark College
Qualifications
The qualifications section of your CV should contain a list of additional qualifications such as a first aid qualification.
Example:
Certificate in Information, Advice or Guidance – Level 2 – South Staff College
Skills


Studies have shown that skills-focused and achievement-focused CVs are much better received by employers than duties-focused CVs.
Applicants with achievement-focused CVs are three times more likely to be shorted for an interview compared to those applications with duties-focused CVs.
You should list some of your key skills and abilities in part of your CV, especially those that are relevant to the job you're applying for.
Example:
Comprehensive knowledge of immigration laws and the legal industry
Excellent interpersonal skills, demonstrated in my ability to work with a variety of clients, colleagues and third-party professionals
Strong IT skills, including Microsoft Office
Useful skills to add to your immigration/consultant advisor CV:
Organisational and time-management skills
Interpersonal skills to communicate with clients
Listening skills to pay attention to the concerns of the clients
Writing skills to write reports or fill in application forms
Proficiency in using the Microsoft Office suite
The ability to multi-task, handle a heavy workload and meet deadlines
Attention to detail to ensure no small details are missed
Hobbies and interests (optional)


The hobbies and interests section is often overlooked by candidates but, in certain circumstances, it can add value to your job application.
For example, mentioning that you participate in events for charity demonstrates to the employer that you care about good causes and want to help people, an excellent characteristic to have in an immigration consultant/advisor.
Note: only mention hobbies that are relevant to the job or those that add value to your CV.
Example:
In my free time, I enjoy doing online research and watching TV documentaries to keep up-to-date with the latest developments in my industry.
References


The last section of your CV contains the personal details of your references.
Your references are two people who know you well, have worked with you in the past and can vouch for your character, skills and abilities to the employer.
Who can be your reference?
Your current or previous employer, manager, teacher, tutor, coach, etc.
Who can't be your reference?
Friends or family members – this is because employers with to have an unbiased, professional opinion about you. It's highly unlikely that your mum, dad or best friend would be 100% honest and/or critical of you to the employer!
Example:
Mr Freddy Irwin
Managing Director, Bayfield Solicitors
Address:
24 Station St, Essex, E83 1PA
Tel:
07663578720
Email:
[email protected]
Mr Hamza Patel
Solicitor, Immigration Law Office Solicitors
Address:
6 Weston Rd, Dudley, D92 1LS
Tel:
078743562203
Email:
[email protected]
---
Showcase your expertise: As an immigration advisor/consultant, you should be someone who is well-grounded in all aspects of your job. Your CV should clearly reflect that you are an authority in your field. For example, don't just write "completed application forms" as one of your responsibilities because anyone can fill in an application form! Compare the previous statement with, "Completed visa and residency applications, including student visas, entry clearance, partner visas and indefinite leave to remain." Sounds much better, right?
Include a cover letter with your job application: You can boost the impact of your immigration advisor CV by sending with it a tailored, personalised cover letter. A cover letter is a one-page letter that informs the employer about the reason for your application, your key strengths and abilities and why they should consider you as a suitable candidate for the advertised role. Research has shown that most applicants don't send cover letters with their applications so this is your opportunity to make your application stand out from the crowd and secure a job interview.
---
You've now reached the end of this guide.

If you have followed all the guidelines and tips in this guide, you should now have an impressive immigration advisor/consultant CV that will get you job interviews in no time.

Good luck with your job hunt!

Written by Sobhan Mohmand

Sobhan is a qualified Careers Advisor and Professional CV Writer with over 10 years of experience in helping job seekers get a job. He is a Member of the Careers Development Institute (CDI) and is listed on the official UK Register of Career Development Professionals. He holds a Level 6 Diploma in Career Guidance and Development (QCF).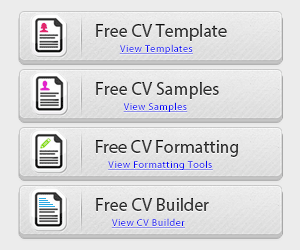 SPONSORED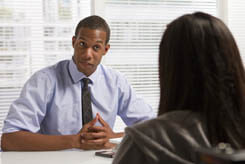 OVERVIEW
SALARY RANGE
£18.000 – £35.000

ENTRY
Degree or Relevant Work Experience

WORKING HOURS
37+ hours per week
Competencies
Communication Skills
Ability to communicate effectively with clients and legal professionals

Writing Skills
Excellent writing skills to write clear and concise reports

Eye for Detail
Providing accurate and consistent results with no mistakes

Specialist Knowledge
Expert knowledge in the legal aspects of the job

Customer Service
Ability to relate to customer's needs and offering appropriate advice and solutions

Telephone Manners
Ability to making phone calls in a clear and professional manner
Related Resources