I am a committed and organised Immigration Advisor with a strong passion for helping to overcome their problems. I have more than two years of experience in helping individuals and families with their immigration issues, including, but not limited to, providing up to date immigration advice, applying for visas and passports, writing official letters and liaising with governmental agencies on behalf of the clients.
| | |
| --- | --- |
| Jan 2014 – Present | Immigration Advisor (Level 1-3) VisaSense Ltd |
Main duties performed:
Providing legal advice regarding immigration to and from the UK
Preparing applications for Tier 4 student visas, entry clearance, partner visas, asylum seekers and indefinite leave to remain applications
Advising foreign nationals on residency and work permits
Drafting visa letters and application forms
Assisting with appeals, and visa and passport extensions
Double-checking all applications before they are submitted to the embassy
Liaising with the relevant authorities on behalf of the clients
Liaising with lawyers and solicitors to discuss particular cases
Investigating claims put forward by clients when necessary
Managing and prioritised in-tray tasks in order of importance and deadlines
Updating clients during every step of the immigration process
Reviewing changes in UK Home Office policies & procedures
Preventing immigration fraud and reporting any illegal activities to senior managers or the relevant authorities
Photocopying, scanning, sending and filing of official documents
Dealing with stressful situations in a calm and professional manner
Jan 2011 – Dec 2013
Customer Services Assistant Fabulous Solutions
Main duties performed:
Assisting customers with their purchases
Assisting the Customer Service Manager in brainstorming new ways to provide better customer service and streamline the complaints process
Handling customer returns or cancellations in a professional manner
Liaising with multiple departments within the organisation, including manufacturing, sales and legal to efficiently settle complaints
Qualifications
Office of the Immigration Services Commissioner (OISC) Levels 1-3 qualified
E-Type qualified (Level 2 Distinction)
Currently undergoing CILEX Level 3 Diploma in Providing Legal Services
Skills
Organisational skills: Experienced in keeping organised, handling a heavy workload and prioritising different tasks in order of importance
Communication skills: Able to communicate with a broad range of people including students, families, solicitors and government officials
Attention to detail: Adept at spotting mistakes in application forms and reading between the lines concerning immigration statutes
Hobbies and interests
In my spare time, I enjoy my weekly paintball sessions with work colleagues, along with socialising with immediate and extended family. The rest of my free time is spent keeping up to date with the latest developments in national and international politics.
References
Mr Phil Thompson
Senior Immigration Advisor, VisaSense Ltd
Address:
8 Oliver St, Kent, KP18 4OY
Tel:
0773 2451 9831
Email:
[email protected]
Mrs Nicola White
Manager, Fabulous Solutions
Address:
2 Manor Road, Leeds, L26 3QS
Tel:
0782 7748 9273
Email:
[email protected]
Please note: the above CV Example is presented in the UK format and layout.
Preview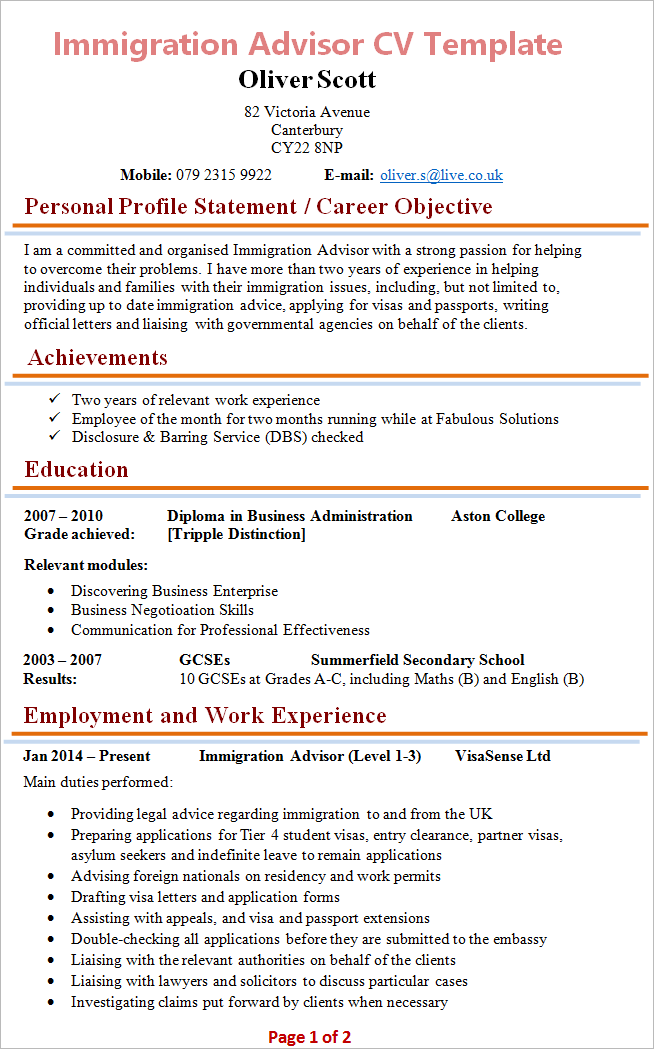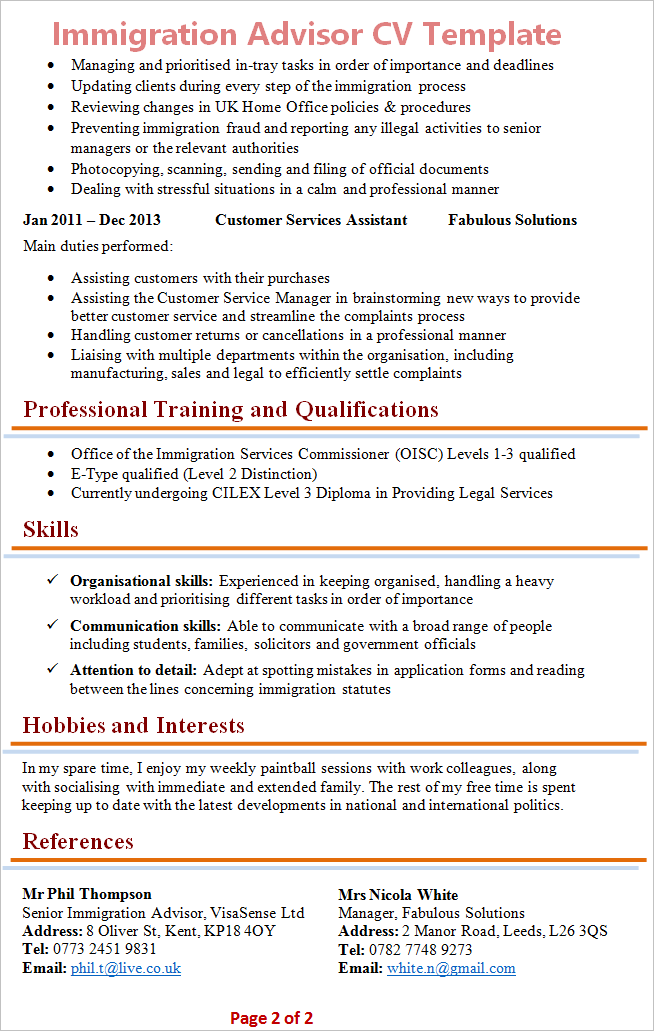 Download
Click here to download the above CV Sample (blank).
COLLECTION: You may also want to browse through our collection of Free CV Templates and download any of the editable CVs to create your own (available in Microsoft Word format and convertible to PDF).
Tips
Knowledgeable: An Immigration Advisor should be someone who is well-grounded in all aspects of their job and have an outstanding and up-to-date knowledge of the law. Your CV should clearly reflect that you are an authority to speak on these issues. For example, does the statement; "completing application forms" demonstrate a breadth of experience to the prospective employer? Certainly not! A better way to rewrite that is to say: "Completing visa and residency applications, including student visas, entry clearance, partner visas and indefinite leave to remain applications."
Good Luck!
Written by Sobhan Mohmand
Sobhan is a qualified Careers Advisor and Professional CV Writer with over 10 years of experience in helping job seekers get a job. He is a Member of the Careers Development Institute (CDI) and is listed on the official UK Register of Career Development Professionals. He holds a Level 6 Diploma in Career Guidance and Development (QCF).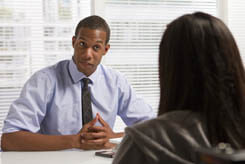 OVERVIEW
SALARY RANGE
£18.000 – £35.000

ENTRY
Degree or Relevant Work Experience

WORKING HOURS
37+ hours per week
Competencies
Communication Skills
Ability to communicate effectively with clients and legal professionals

Writing Skills
Excellent writing skills to write clear and concise reports

Eye for Detail
Providing accurate and consistent results with no mistakes

Specialist Knowledge
Expert knowledge in the legal aspects of the job

Customer Service
Ability to relate to customer's needs and offering appropriate advice and solutions

Telephone Manners
Ability to making phone calls in a clear and professional manner
Related Resources