I am a confident, hardworking and charismatic Barrister with excellent oral and written communication skills and the ability to think and process information logically and clearly. I have a strong understanding of the Law and strive to advise my clients on legal matters to the best of my ability. In my current job, I am closely involved with domestic and international human rights law, practice and policy. I have an ongoing passion for resolving legal cases, and I am currently looking to progress my career in a legal role working for an established and progressive company.
| | |
| --- | --- |
| May 2014 – Present | Barrister Farringdon Barristers Chambers (FBC) |
Main duties performed:
Giving advice, guidance and support to solicitors and clients
Carrying out legal research and drafting up legal documents
Understanding, interpreting and applying the law to individual cases
Offering strong and reliable advice with regards to clients' cases and explaining the strength of the arguments to be presented
Regularly communicating with clients related to the progress of their case(s)
Ensuring all cases are correctly prepared for court
Negotiating settlements between customers and third parties
Representing clients in court charged with a variety of crimes including sexual, drugs and violent offences
Examining and cross-examining witnesses
Keeping up to date with national and international current affairs, law and policy
Feb 2013 – Apr 2014
Legal Secretary FBC
Main duties performed:
Responding to all correspondents via a number of different platforms including email, telephone and in some cases social media
Organising online diaries and meetings between internal and external stakeholders
Preparing legal documentation and paperwork
Ensuring all records are stored correctly and made accessible to the correct individuals when needed
Processing legal documentation, including the delivery and collection from external partners
Carrying out general admin work
Qualifications
Bar Professional Training Course (BPTC)
NVQ Level 4 in Legal Advice
ECDL – British Computing Society
Skills
Excellent communication skills, both written and oral
Strong research and analytical skills, demonstrated in providing accurate advice to clients with a successful outcome
Excellent knowledge of the law, business practices and government regulations
Ability to work with confidential and sensitive information and adhering to the relevant Data Protection and Privacy laws
Able to work in high pressured environments and remaining calm and professional in all circumstances
Ability to work with people from all backgrounds
Hobbies and interests
In my spare time, I enjoy reading non-fiction books and watching reality TV programmes such as Judge Judy and Judge Rinder. I also enjoy going out to restaurants with my family and friends.
References
Mr Jayden Baker
Senior Law Consultant, FBC
Address:
13 Osborne Road, Walsall, DE1 2UH
Tel:
0223 2795 9964
Email:
[email protected]
Mr Isaac Morgan
Director, FBC
Address:
75 Nelson St, Wareham, W1 1RD
Tel:
0780 6648 8372
Email:
[email protected]
Please note: the above CV Example is presented in the UK format and layout.
Preview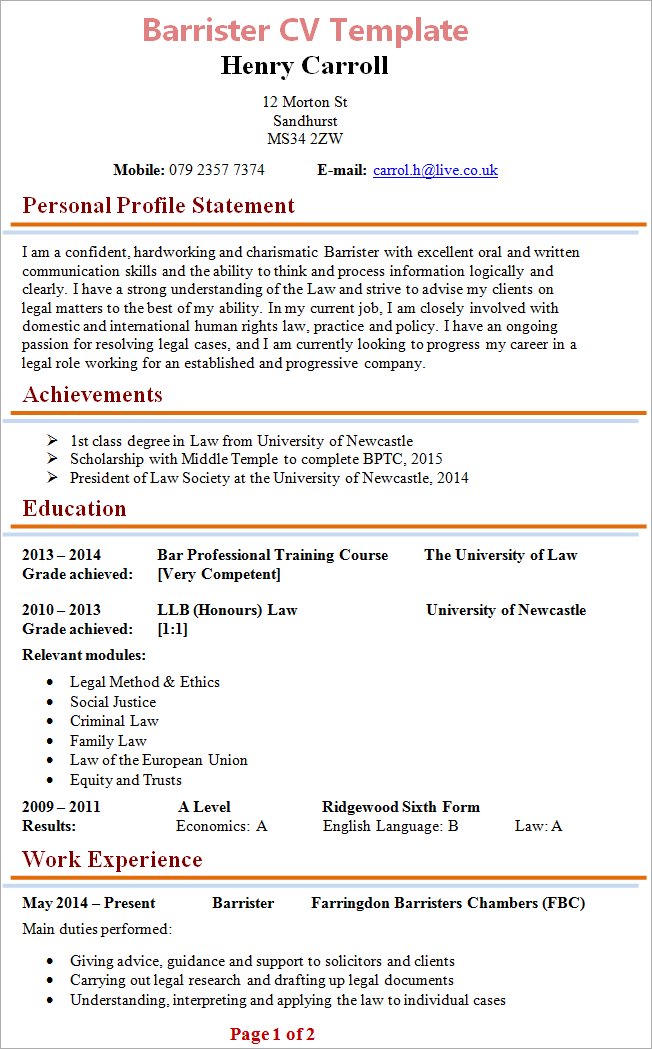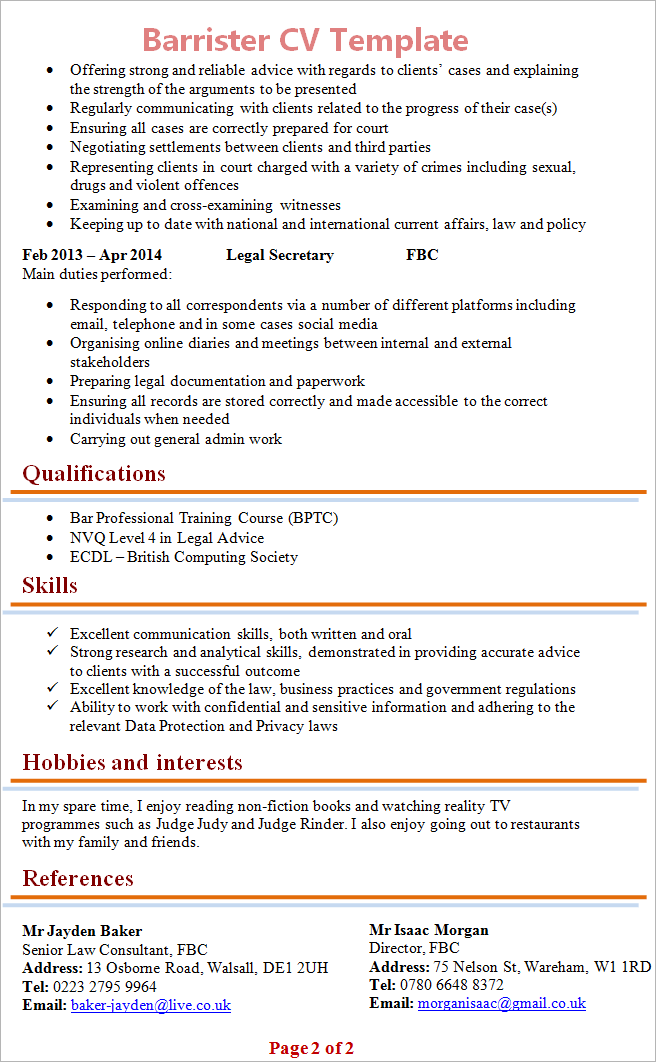 Download
Click here to download the above CV Sample (blank).
COLLECTION: You may also want to browse through our collection of Free CV Templates and download any of the editable CVs to create your own (available in Microsoft Word format and convertible to PDF).
Tips
CV length: It is generally recommended to limit the length of your CV to 2 A4 pages. For certain professionals with senior-level jobs and extensive work experience, it is acceptable to go into 3 pages whenever absolutely required. However, short and concise CVs are still favourable.
Good Luck!
Written by Sobhan Mohmand
Sobhan is a qualified Careers Advisor and Professional CV Writer with over 10 years of experience in helping job seekers get a job. He is a Member of the Careers Development Institute (CDI) and is listed on the official UK Register of Career Development Professionals. He holds a Level 6 Diploma in Career Guidance and Development (QCF).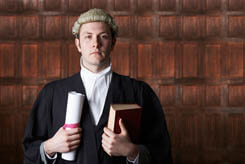 OVERVIEW
SALARY RANGE
£12.000 – £80.000

ENTRY
Degree and Relevant Work Experience

WORKING HOURS
38+ hours per week
Competencies
Communication Skills
Ability to communicate effectively with clients and legal professionals

Writing Skills
Excellent writing skills to write clear and concise legal documents, reports and statements

Specialist Knowledge
Possessing sound and specialist knowledge of the law

Attention to Detail
Paying attention to every aspect of the client's case and ensuring that no "small details" are overlooked

Organisational Skills
Excellent organisation skills to balance a heavy workload

Investigation
Ability to search and examine a matter in a focused manner
Related Resources