I am a hardworking, intelligent and customer and community focused Information Officer with more than three years of experience in managing medical, technical, statistical, financial and general information. I am a practical individual who enjoys working within a team and can also work very well without supervision. I have a passion for analysing data and presenting my findings to staff and customers alike.
| | |
| --- | --- |
| Feb 2013 – Present | Information Officer Leeds Council |
Main duties performed:
Acting as the first point of contact for public and media enquiries
Providing accurate and up-to-date information to the Council's stakeholders
Collating and analysing statistical information
Drafting and presenting reports in a variety of formats
Turning raw data into information and presenting the findings in the form of a report to the management board
Handling highly sensitive information in accordance with regulations
Classifying and storing information, using Microsoft Word and Access
Writing reports, publications and material for the Council's website
Conducting online searching and information retrieval
Entering and maintaining data into databases and information systems
Crisis media management
Managing Public Relations campaigns
Drafting and proofreading press releases (when required)
Handling "Freedom of Information" requests
Organising and attending meetings and outreach
Informing the public regarding public services and entitlements
Providing Council Tax and Housing Benefit advice
Assisting the public in completing government forms
Arranging translations of leaflets into other languages
Liaising with other council departments and external agencies
Assisting with the writing of bids and grant proposals
Performing general administrative tasks such as filing and photocopying
Complying with confidentiality and data protection procedures at all times
Feb 2012 – Feb 2013
Information Assistant Hampshire Library
Main duties performed:
Collecting, collating, analysing and distributing data and reports
Processing information into brochures, posters, leaflets and emails
Creating an intranet for the staff to use
Organising and participating in community meetings
Giving presentations to small groups of library visitors/members
Enrolling members of the public to the library
Providing advice and guidance to staff and library members
Writing content for the monthly newsletter
Keeping the Library's database accurate and up to date
Training staff on the Library's Management Information System (MIS)
Adhering to Data Protection regulations
Ensuring the Library is kept tidy at all times
Qualifications
First Aid at Work
ECDL (IT qualification)
Level 2 Equality and Diversity
Skills
Excellent data management and interpretation skills
Outstanding analytic and research skills
The ability to manage time efficiently, multi-task and work to deadlines
Hobbies and interests
I love to read and write stories, and I have had over 15 short stories published online. I am currently in the process of writing my first novel. In my other spare time, I enjoy going out with friends and participating in social events.
References
Mr Spencer Turner
Chief Information Officer, Leeds Council
Address:
18 Bury Rd, Hamlet, GL54 3FU
Tel:
000 1411 4304
Email:
[email protected]
Mr Archie Thomson
Senior Librarian, Hampshire Library
Address:
56 Trinity Crescent, Sorting, PO32 0JE
Tel:
000 7293 5246
Email:
[email protected]
Please note: the above CV Example is presented in the UK format and layout.
Preview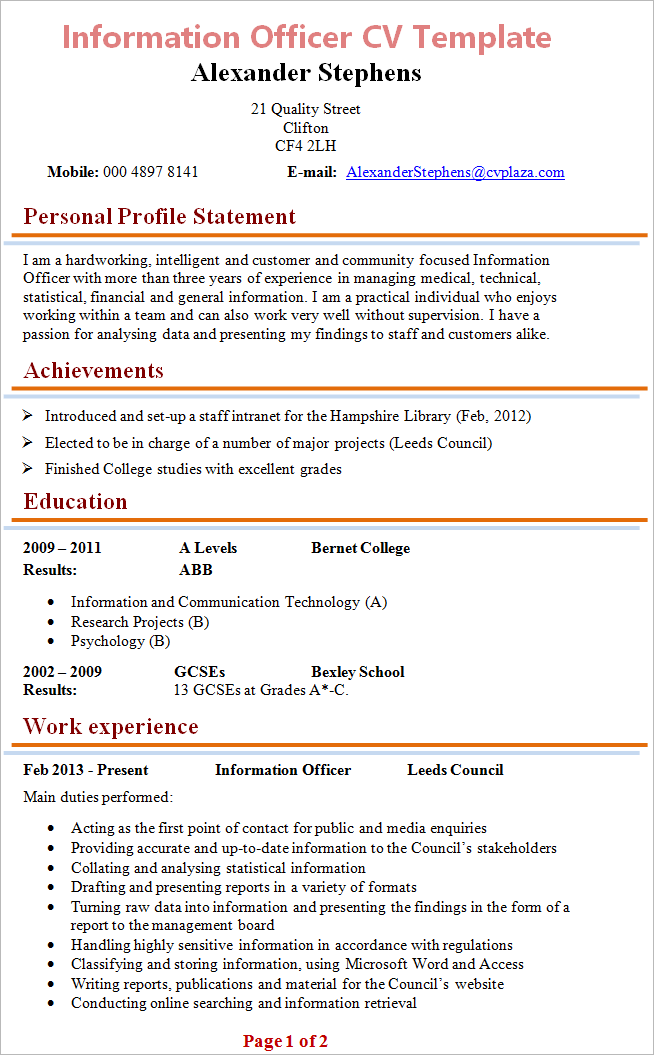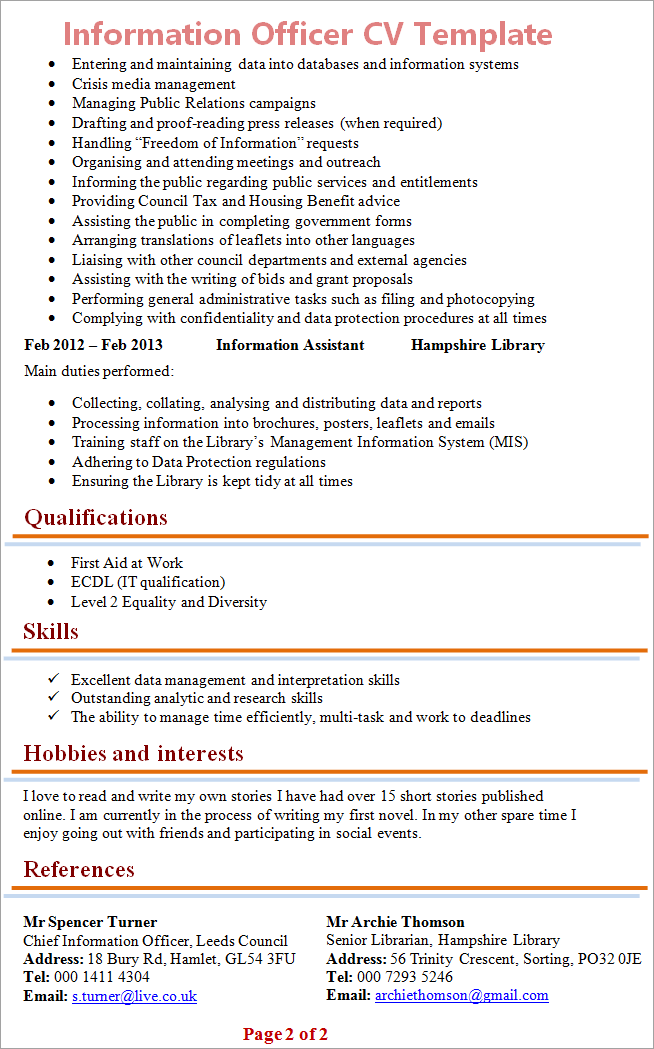 Download
Click here to download the above CV Sample.
COLLECTION: You may also want to browse through our collection of Free CV Templates and download any of the editable CVs to create your own (available in Microsoft Word format and convertible to PDF).
Top CV Tips and Guidelines
Presenting and conveying information is one of the most important aspects of this job and should make it clear on your CV that you have experience of doing this (even if it was on projects in College or University).
You should demonstrate excellent research and analytical skills by giving real-life examples of how you utilised these skills when it comes to gathering, analysing, distributing and presenting information.
CV with No Experience: It is adventitious, in fact, it is usually an essential requirement, that you have some kind of experience with information-related processes. Volunteering in entry-level positions such as Information Assistant or Library Assistant will enable you to get a feel of a job and gain good work experience which will prepare you for the Information Officer job.
Good Luck!
Written by Sobhan Mohmand
Sobhan is a qualified Careers Advisor and Professional CV Writer with over 10 years of experience in helping job seekers get a job. He is a Member of the Careers Development Institute (CDI) and is listed on the official UK Register of Career Development Professionals. He holds a Level 6 Diploma in Career Guidance and Development (QCF).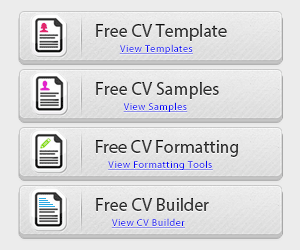 SPONSORED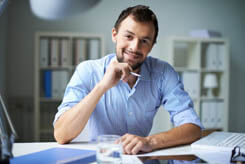 OVERVIEW
SALARY RANGE
£20.000 – £45.000

ENTRY
Degree or Relevant Work Experience

WORKING HOURS
38+ hours per week
Competencies
Communication Skills
Ability to communicate effectively with others and having the ability to communicate ideas and concepts clearly and effectively

Writing Skills
Excellent writing skills to write clear and concise reports

Analytical Skills
Analysing and processing a great variety of data

Attention to Detail
Ensuring that no "small details" are overlooked

Investigation
Ability to search and examine a matter in a focused manner

Reading
Ability to read large amount of information without compromising on accuracy
Related Resources