Feb 2012 – Feb 2013
Information Assistant Hampshire Library
Main duties performed:
Collecting, collating, analysing and distributing data and reports
Processing information into brochures, posters, leaflets and emails
Creating an intranet for the staff to use
Organising and participating in community meetings
Giving presentations to small groups of library visitors/members
Enrolling members of the public to the library
Providing advice and guidance to staff and library members
Writing content for the monthly newsletter
Keeping the Library's database accurate and up-to-date
Training staff on the Library's Management Information System (MIS)
Adhering to Data Protection regulations
Ensuring the Library is kept tidy at all times
Qualifications
First Aid at Work
ECDL (IT qualification)
Level 2 Equality and Diversity
Skills
Excellent data management and interpretation skills
Outstanding analytic and research skills
The ability to manage time efficiently, multi-task and work to deadlines
Hobbies and interests
I love to read and write stories, and I have had over 15 short stories published online. I am currently in the process of writing my first novel. In my other spare time, I enjoy going out with friends and participating in social events.
References
Mr Spencer Turner
Chief Information Officer, Leeds Council
Address:
18 Bury Rd, Hamlet, GL54 3FU
Tel:
000 1411 4304
Email:
[email protected]
Mr Archie Thomson
Senior Librarian, Hampshire Library
Address:
56 Trinity Crescent, Sorting, PO32 0JE
Tel:
000 7293 5246
Email:
[email protected]
---
Preview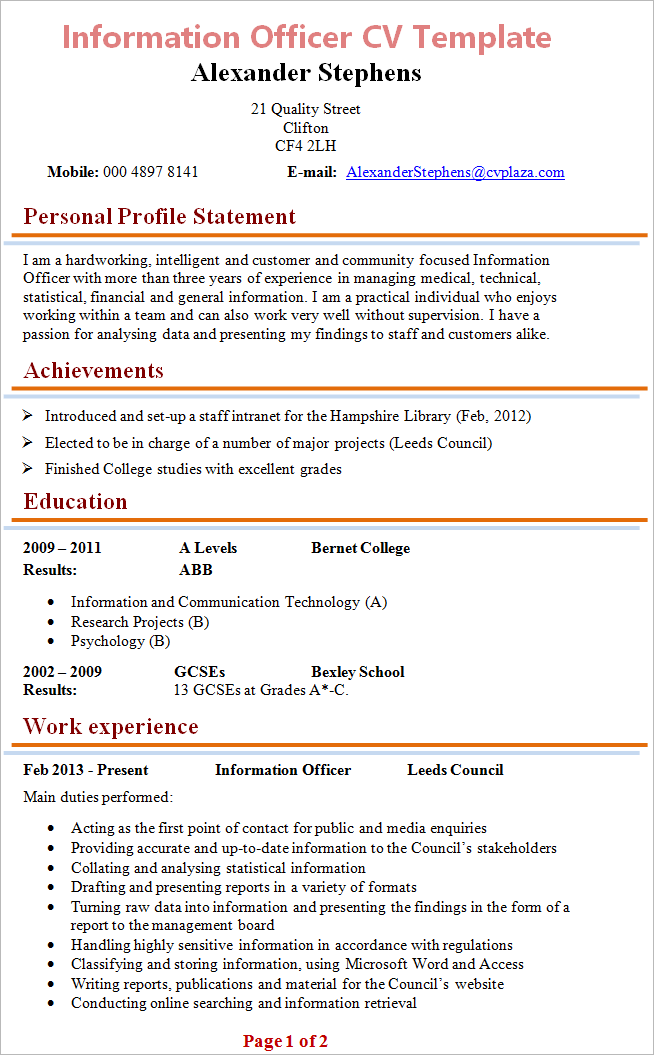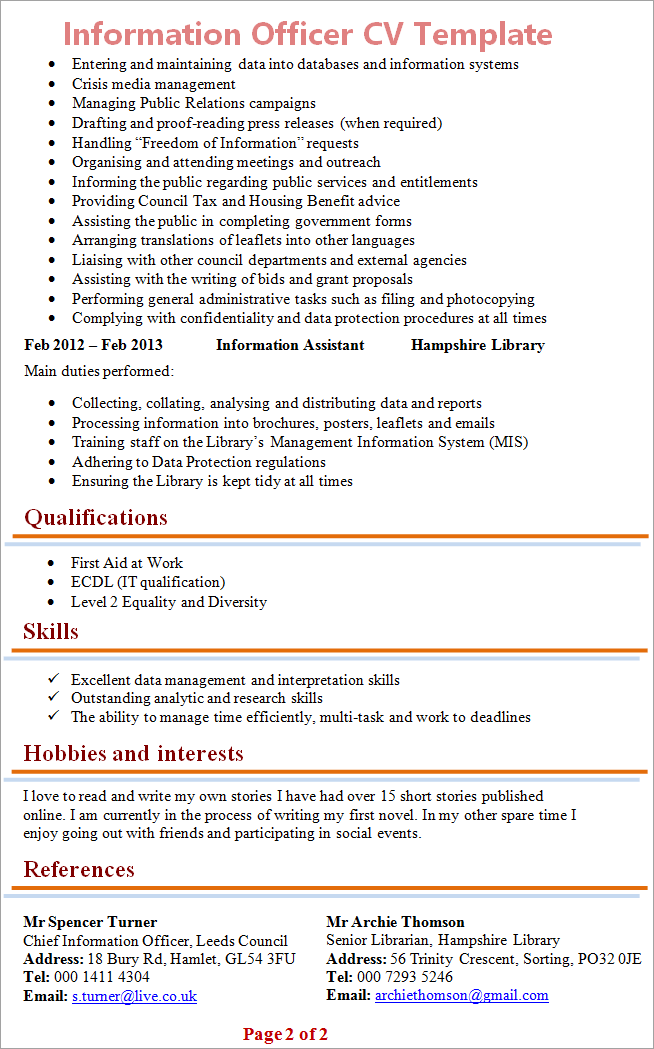 ---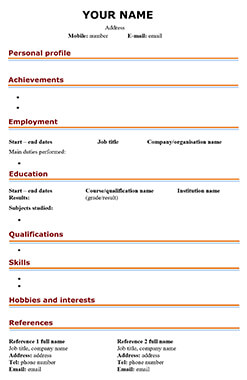 Are you writing your CV from scratch or is your CV template outdated? Download this professional CV template to impress employers!
Free
Save time and effort
Guaranteed correct CV structure
Word document (.docx) format
Fully customisable
How to save your CV as a PDF document:
Click on File > Save As > Select "PDF" from the drop-down menu.
---
Optimise layout: Utilise a clean and professional layout, ensuring a logical flow of information. Use clear headings and bullet points to enhance readability.
Structure the different sections: Organise your CV into distinct sections such as "Personal Profile," "Professional Summary," "Skills," "Work Experience," "Education," and "Qualifications." Ensure each section is clearly labelled and follows a consistent format.
Tailor for the role: Customise your CV for the Information Officer position, highlighting relevant skills, experience, and achievements specific to data management and information systems.
Use action-oriented language: Use dynamic action verbs (e.g., streamlined, implemented, analysed) to convey your responsibilities and achievements effectively.
Consistent formatting: Maintain consistency in font styles, sizes, and formatting throughout the CV for a polished and professional appearance.
Proofread thoroughly: Ensure your CV is error-free by proofreading carefully. Errors can detract from your professionalism, so take the time to review and edit.
---
Personal details
The personal details section of your CV contains essential information such as your full name, contact details, including address, phone number and professional email, as well as any relevant personal details such as a LinkedIn profile.
It should not contain any irrelevant or overly sensitive personal details such as date of birth, marital status and national insurance number.
Example:
Gary Lewis
153 Pine Lane, Liverpool, L3 3LL

Mob: 04567 890 123 Email:

[email protected]
Personal profile
The personal profile section of your CV is a brief introduction that provides a snapshot of who you are professionally.
This section should include a concise summary of your key skills, relevant experience and career goals, creating a compelling narrative that encourages the reader to delve deeper into your CV.
To write an effective profile, keep it concise, ideally within 3-5 lines, focusing on key skills and achievements relevant to the job. Use action-oriented language, avoid generic buzzwords, and tailor the content to showcase your unique strengths in a brief yet impactful manner.
Read more: Personal qualities to include on a CV.
Information officer personal profile example:
As an experienced information officer, I excel in ensuring data accuracy and implementing robust information management systems. My track record includes spearheading a data validation project, resulting in a 20% reduction in errors. Proficient in SQL and cybersecurity, I bring a strategic approach to safeguarding data integrity and fostering efficient information flow.
Achievements
In the achievements section of your CV, you showcase your proudest moments and standout accomplishments.
These bullet points tell the reader about your tangible contributions, such as awards received, promotions earned, academic achievements or any noteworthy projects you've led.
By highlighting these key milestones, you provide a concrete demonstration of your capabilities and the positive impact you can bring to a prospective employer.
As the saying goes, if you want to predict someone's future, look at their past.
Example:
Achieved a first-class honours degree in Information Systems, demonstrating academic excellence.
Implemented a streamlined data validation process, reducing errors by 20%.
Attained an academic excellence award for outstanding performance in Information Management coursework.
Maintained a 98% data accuracy rate through rigorous quality control measures.
Work experience
The employment section of your CV is where you detail your work history, providing a chronological account of your professional experience.
Include relevant full-time, part-time, contract, freelance, internships, volunteer work, work placements, apprenticeships, consulting roles, and remote positions, tailoring each entry to showcase relevant achievements and responsibilities.
| | |
| --- | --- |
| May 2020 – Present | Information Officer Tech Solutions Ltd. |
Main duties and responsibilities performed:
Spearheaded the implementation of a data validation process, resulting in a 15% reduction in errors.
Collaborated with cross-functional teams to develop and maintain data governance policies.
Conducted regular training sessions for staff on data security best practices.
Oversaw the creation and maintenance of comprehensive documentation for information management processes.
Achievement: Implemented a robust data validation process, reducing errors by 15% and enhancing overall data accuracy.
Information officer duties to add to your CV
Managing and maintaining databases to ensure accurate and secure storage of information.
Implementing data governance policies and procedures to uphold data integrity and compliance.
Conducting regular audits and assessments to identify and mitigate potential data security risks.
Collaborating with IT teams to troubleshoot and resolve data-related issues promptly.
Developing and delivering training sessions to educate staff on data security best practices.
Overseeing the creation and enforcement of data access control policies.
Leading initiatives to streamline data management processes for increased efficiency.
Providing technical support for data-related queries and assisting in data retrieval.
Contributing to the development and implementation of information management strategies.
Keeping abreast of industry trends and emerging technologies to ensure the organisation's information systems remain cutting-edge and secure.
Education
The education section of your CV should be presented in reverse chronological order, meaning you start with your most recent qualifications.
List your university degrees first, including the degree title, university name and graduation year. After that, you can detail any relevant A-Levels, GCSEs or other qualifications, providing a clear overview of your academic journey.
Remember to include the grades or predicted grades to give the reader a comprehensive understanding of your educational achievements.
Read more: How to write the education section of a CV (with examples).
Example:
| | | | |
| --- | --- | --- | --- |
| September 2016 – July 2019 | BSc Information Management | University of Sunderland | Degree Classification: 2:1. |
Subjects Studied:
Data Analysis and Interpretation
Information Security
Database Management
IT Project Management
September 2014 – June 2016
Results: Computer Science (A), Mathematics (B) and Physics (B).
A-Levels
Birmingham College
Qualifications & training
In your CV, the professional training and qualifications section outlines your relevant educational background, certifications, and any specialised training you've undertaken to showcase your expertise in a particular field.
For an information officer, this section might include qualifications such as a degree in Information Management, certifications in data security protocols like CISSP (Certified Information Systems Security Professional), and training in database management systems such as SQL.
Example:
Level 6 BSc (Hons) in Information Management – University of Edinburgh
Certified Information Systems Security Professional (CISSP) – International Information System Security Certification Consortium (ISC)
PRINCE2 Foundation and Practitioner – Axelos
Certified Data Protection Officer – British Computer Society (BCS)
ITIL Foundation Certification – AXELOS
MSc in Cybersecurity and Information Assurance – University of Manchester
Level 5 Diploma in Information Technology Management – Chartered Institute for IT (BCS)
Skills and competencies
Your CV's skills and competencies section provides a quick snapshot of your expertise and enables prospective employers to understand how well you align with the job requirements.
Include a mix of technical skills such as proficiency in data protection and cybersecurity tools, along with soft skills like effective communication and problem-solving.
This ensures that your CV not only reflects your technical proficiency but also demonstrates your suitability for the collaborative and strategic aspects of the Information Officer role.
Example:
Information security: Demonstrated proficiency in safeguarding information assets through the implementation of security policies and procedures. Implemented and managed intrusion detection systems, reducing security incidents by 15% over the past year.
Communication and collaboration: Strong interpersonal and communication skills fostered through collaboration with cross-functional teams. Conducted training sessions on information security awareness, ensuring a company-wide understanding of best practices.
10 useful Information officer skills to add to your CV
Data protection and compliance: Expertise in implementing and ensuring adherence to data protection regulations, such as GDPR, to safeguard sensitive information.
Information security management: Proven ability to develop and manage comprehensive information security strategies to protect organisational assets from cyber threats.
Risk assessment and mitigation: Skilful in identifying and assessing risks associated with information management, with a track record of implementing effective risk mitigation strategies.
Cybersecurity tools proficiency: Hands-on experience with a range of cybersecurity tools, including intrusion detection systems, firewalls, and antivirus solutions.
Project management (PRINCE2): Certified project management skills with a successful track record of leading information management projects from initiation to completion.
Communication and collaboration: Strong interpersonal and communication skills, fostering collaboration with cross-functional teams and ensuring effective information sharing.
Analytical skills: Proficient in data analysis, interpretation, and decision-making, using analytical skills to identify vulnerabilities and enhance information security.
Incident response: Rapid and effective response to security incidents, ensuring minimal impact and implementing measures to prevent future occurrences.
Access control and identity management: Implementing and managing access control measures and identity management systems to safeguard sensitive information.
Regulatory compliance: Staying updated on changes in data protection and cybersecurity regulations to ensure ongoing compliance.
Hobbies & interests
In the Hobbies and Interests section of your CV, you provide a glimpse into your personal interests outside of work, showcasing aspects of your personality and potential compatibility with the company culture.
Include hobbies that showcase your teamwork, problem-solving, or leadership skills. For instance, participation in team sports like football can highlight your collaborative nature, while engaging in strategic board games may indicate analytical thinking.
Ensure that the hobbies you list align with the values and culture of the organisation, adding a personal touch to your professional profile.
Read more: Best hobbies and interests to put on a CV.
Example:
I am an avid technology enthusiast with a passion for staying abreast of the latest advancements in information management systems. In my free time, I enjoy exploring cybersecurity trends and participating in coding challenges to enhance my skills. Additionally, I am an active member of a local tech community, where I contribute to discussions on data privacy and effective information dissemination strategies.
Professional references
The professional references section of your CV includes contact details for individuals who can vouch for your work experience, skills, and character, providing prospective employers with insights into your professional capabilities.
This section is optional, but you may choose to include it if you want to provide additional credibility to your application or if the employer specifically requests references.
Example:
Rebecca Turner
IT Security Analyst, CyberShield Solutions Ltd
Address:
42 Oakwood Avenue, Manchester M14 5TF
Tel:
07700 123456
Email:
[email protected]
Henry Mitchell
Information Manager, Digital Insights Ltd
Address:
33 Birch Lane, Birmingham B15 2RT
Tel:
07533 112233
Email:
[email protected]
Note: If you do not wish to disclose your references on your CV, you should write, "References are available upon request."
---
Highlight key skills: Showcase your expertise in information management, data security, and systems administration, ensuring these skills are prominent in your CV to grab the employer's attention. You can do this in a dedicated section entitled "Skills."
Incorporate key words: Integrate industry-specific keywords from the job description to ensure your CV passes through applicant tracking systems and reaches the hands of hiring managers.
Highlight project management: If applicable, detail your involvement in information-related projects, emphasising your ability to manage tasks efficiently and meet project deadlines.
Utilise a clean format: Organise your CV in a clean and professional format, making it easy for employers to skim through and quickly identify your qualifications.
---
Conclusion
This is the end of our comprehensive guide on crafting a compelling Information Officer CV.
By following the provided example and incorporating the tailored tips, you are now equipped to showcase your skills and experiences effectively.
Good luck with your job search!
Written by Sobhan Mohmand
Sobhan is a qualified Careers Advisor and Professional CV Writer with over 10 years of experience in helping job seekers get a job. He is a Member of the Careers Development Institute (CDI) and is listed on the official UK Register of Career Development Professionals. He holds a Level 6 Diploma in Career Guidance and Development (QCF).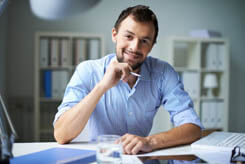 OVERVIEW
SALARY RANGE
£20.000 – £45.000

ENTRY
Degree or Relevant Work Experience

WORKING HOURS
38+ hours per week
Competencies
Communication Skills
Ability to communicate effectively with others and having the ability to communicate ideas and concepts clearly and effectively

Writing Skills
Excellent writing skills to write clear and concise reports

Analytical Skills
Analysing and processing a great variety of data

Attention to Detail
Ensuring that no "small details" are overlooked

Investigation
Ability to search and examine a matter in a focused manner

Reading
Ability to read large amount of information without compromising on accuracy
Related Resources