I am a talented, creative and experienced Editor with a strong passion for words and images, and producing engaging content for print, the web and social media. I have worked on a number of different magazines and websites both in a freelance capacity and as an employed member of the editorial team. My duties included, but were not limited to, creating news stories, writing feature articles, proofreading and editing existing content, sourcing images, conducting interviews and commissioning content. I firmly believe that my first class degree in English Literature, my MA in Creative Writing and my relevant work experience in the field hold me in good stead to become a great asset to your organisation.
| | | | |
| --- | --- | --- | --- |
| 2008 – 2009 | MA in Creative Writing | The University of Manchester | Grade achieved: [67% overall] |
Relevant Modules:
Forms of Writing
Editing as Collaborative Practice
Dissertation
| | | | |
| --- | --- | --- | --- |
| 2005 – 2008 | BA (Hons) in English Literature | University of Swansea | Grade achieved: [1st Class] |
Relevant Modules:
Debating Texts: Theory in Literature
Nonfiction writing
Sociolinguistics
2003 – 2005
Results: English: A Science: B Maths: B
A Levels
Peak District College
| | |
| --- | --- |
| Jan 2011 – Present | Editor (web) The Guardian |
Main duties performed:
Suggesting stories and generating headlines
Selecting, sourcing and producing high-quality content for the website
Using Microsoft Word and Adobe Acrobat Reader to track changes for the editorial team and client feedback
Correcting grammatical mistakes, subject-verb agreement and syntax
Reviewing every story before sending it for approval
Overseeing the overall layout (style, structure, etc.) of particular pages on the website, and deciding which stories and images should feature prominently
Sourcing images from a variety of primary and secondary sources
Uploading images and other digital materials to the CMS
Using Search Engine Optimisation (SEO) techniques to ensure that the stories rank high in the Search Engine Result Pages (SERPs)
Brainstorming ideas with fellow Editors and Senior Content Managers
Using social media, such as Facebook, Instagram and Twitter to boost the profile of the website and engage with target audiences
Setting publication standards
Booking rooms, organising meetings and conducting interviews
Recruiting and managing content producers and reporters
Sept 2009 – Dec 2010
Writer High Gear Magazine
Main duties performed:
Received briefs from Editor detailing topic, writing style and word count
Reviewed the latest cars and their specifications
Complied with media law and other ethical guidelines
Performed general admin duties including making phone calls, photocopying, filing and scanning documents
Qualifications
Level 3 Advanced Editing – Society for Editors and Proofreaders (2015)
Microsoft Office Specialist – Expert (2009)
Skills
Journalism: I am experienced in developing engaging content and using social media, such as Facebook and Twitter, to engage and interact with audiences.
Competent typist: Able to type at 72 words per minute with 99% accuracy.
Attention to detail: Able to spot even the tiniest typographical error while skimming through numerous articles on a daily basis.
Technical skills: I am proficient in various computer programs and systems, including Adobe Photoshop, MS Office, Quark Xpress, InDesign and various Content Management Systems such as WordPress, Joomla! and Drupal.
Hobbies and interests
In my spare time, I enjoy long walks on the beach and playing football with my associates. Additionally, I like blogging about various topics that are close to my heart, including business, health and fitness and current affairs.
References
Mrs Hannah Lambert
Director, The Guardian
Address:
14 Emery St, Devon, DE4 7XT
Tel:
0723 4533 4579
Email:
[email protected]
Mr Eric Warden
Editor, High Gear Magazine
Address:
75 Antony Rd, Leeds, L80 5JE
Tel:
0980 5721 8900
Email:
[email protected]
Please note: the above CV Example is presented in the UK format and layout.
Preview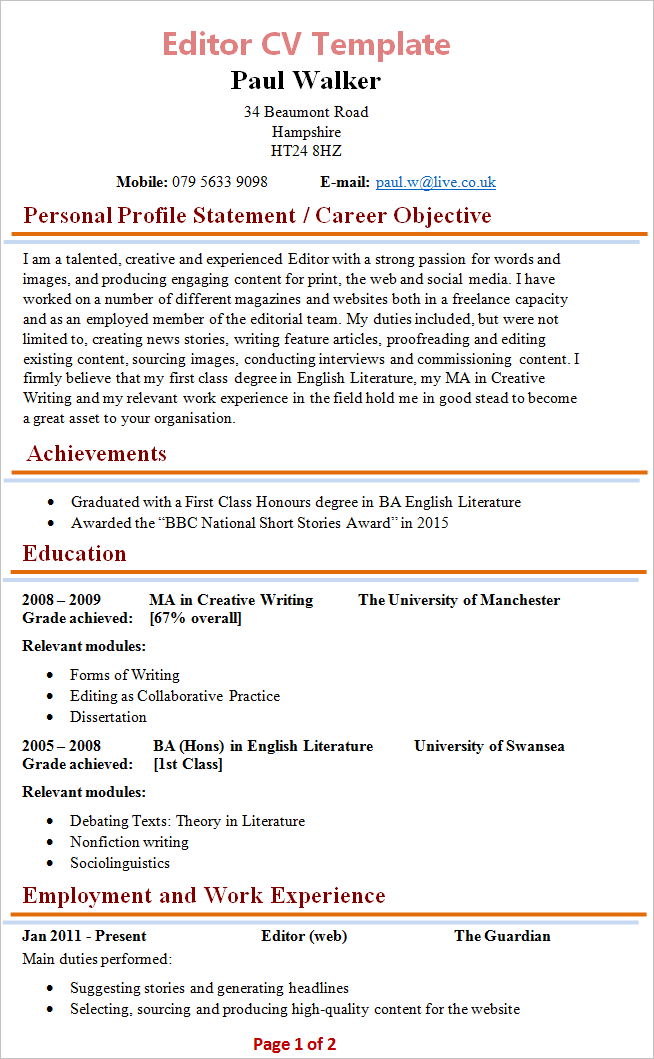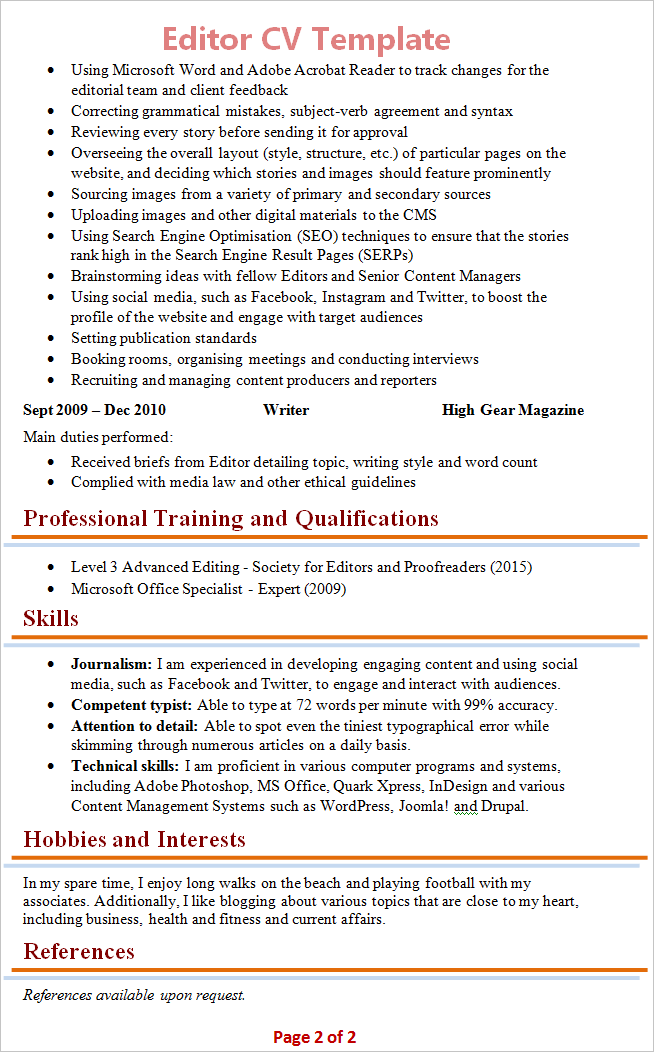 Download
Click here to download the above CV Sample (blank).
COLLECTION: You may also want to browse through our collection of Free CV Templates and download any of the editable CVs to create your own (available in Microsoft Word format and convertible to PDF).
Tips
Creativity: It isn't fair to assume that an Editor's job is just about proofreading or improving other people's work. A much-overlooked attribute of a successful Editor is creativity; the ability to come up with novel ideas, eye-catching headlines and engaging visuals. Your CV should, therefore, hint at your creativity or your ability to "think outside the box" and come up with interesting ideas.
Good Luck!
Written by Sobhan Mohmand
Sobhan is a qualified Careers Advisor and Professional CV Writer with over 10 years of experience in helping job seekers get a job. He is a Member of the Careers Development Institute (CDI) and is listed on the official UK Register of Career Development Professionals. He holds a Level 6 Diploma in Career Guidance and Development (QCF).
OVERVIEW
SALARY RANGE
£18.000 – £45.000

ENTRY
Degree and Relevant Work Experience

WORKING HOURS
37+ hours per week
Competencies
Communication Skills
Excellent communication skills to communicate and liaise with colleagues, interviewees, officials, clients and the general public

Computing Skills
Having advanced knowledge of word processing, spreadsheets, and presentation software

Editing
Preparing a written piece for publication by correcting and modifying the content

Attention to Detail
Ensuring that no "small details" are overlooked when writing or editing an article

Creativity
Ability to "think outside the box" and come up with novel ideas

Time Management
Identifying critical and less critical activities and tasks and prioritising accordingly
Related Resources