I am a resourceful, hardworking and confident IAG Officer with extensive experience in dealing with internal and external stakeholders at all levels. My high degree of passion for customer service and community work has enabled me to have an unparalleled track record in project management, student recruitment and customer relations.
| | |
| --- | --- |
| Dec 2013 – Present | IAG Officer Bird College |
Main duties performed:
Providing information, advice and guidance to current and past students
Act as the first point of contact for any student services issues
Helping students with their studies
Providing job application support (e.g. writing a CV, Cover Letter, etc.)
Advising students on any finance, funding or benefits issues and eligibility
Helping with the organising of events (graduation, open day, etc.)
Assisting with UCAS applications (such as personal statements)
Recruiting students (from the initial interview and assessment to enrolment)
Promoting health and safety, equality and diversity policies of the College
Setting individual Action Plans
Organising and running group and drop-in sessions
Sending course information to prospective students (and external organisations)
Finding work placements and internships for students
Partaking in the design and production of various promotional materials
Undertaking general administrative work in the Student Services office
July 2013 – Dec 2013
IAG Advisor West London Academy
Main duties performed:
Providing information and support to students throughout their studies
Helping students to find local companies, community centres and shops
Entering information onto the company's information management system
Conducting interviews with prospective students
Checking qualifications
Providing impartial Careers Advice (e.g. career progression and opportunities, best job search practices, CV and Cover Letter writing, etc)
Advertising job opportunities to students
Establishing and maintaining effective relationships with employers
Assisting with the organisation of the Academy's Open Days
Providing admin support to the rest of the team
Qualifications
Level 2 NVQ in Advice and Guidance – City & Guilds
Level 2 Award in Information, Advice or Guidance – QCF
European Computer Driving Licence (ECDL) – BCS
Skills
Outstanding communication and interpersonal skills
The ability to relate to student issues and proposing resolutions
Exceptional time management and organisational skills
IT (Microsoft Office and typing speed of 65 words per minute)
Professional approach to dealing with complaints from students
Hobbies and interests
In my free time I love spending quality time with my family and friends; exploring new aspects of life and taking part in social events. I am also a volunteer at my local library where I help visitors find the items & services that they are looking for.
References
Mr Muhammad Khan
IAG Manager, Bird College
Address:
38 Wrestle Rd, Pleat, FK7 8LH
Tel:
0000 268 2239
Email:
[email protected]
Mr Kai John
Head of Student Services, WL Academy
Address:
2 Broomfield Rd, CV7 2ZZ
Tel:
0000 352 4678
Email:
[email protected]
Please note: the above CV Example is presented in the UK format and layout.
Preview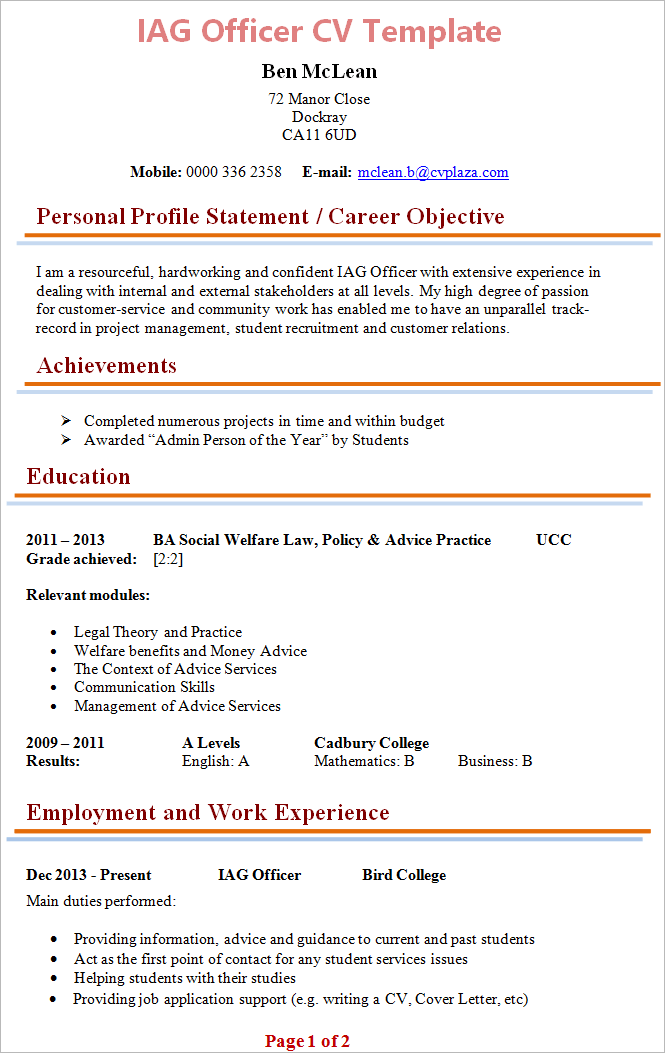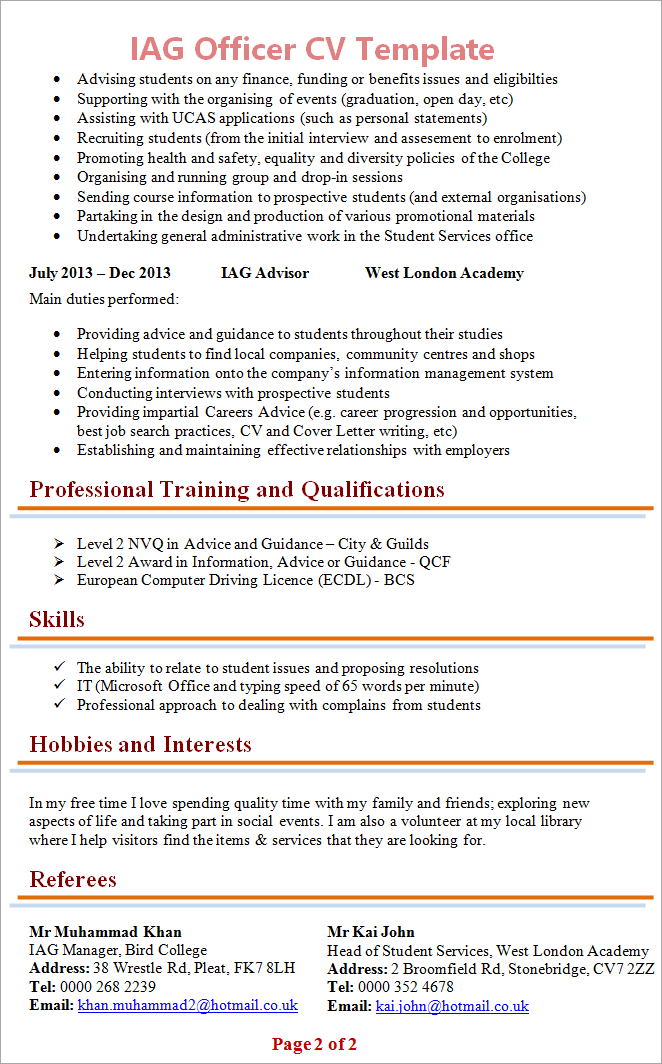 Download
Click here to download the above CV Sample (blank).
COLLECTION: You may also want to browse through our collection of Free CV Templates and download any of the editable CVs to create your own (available in Microsoft Word format and convertible to PDF).
Tips
The most important duty of an IAG Officer is to give impartial advice to students or customers who need to make informed decisions about their futures. You should, therefore, ensure that your CV covers all the aspects or skills which are required in order to do this; communication skills (face-to-face, over the phone and through email), professionalism and respect for privacy, courtesy, sensitivity and being able to motivate and encourage people to take appropriate action.
Good Luck!
Written by Sobhan Mohmand
Sobhan is a qualified Careers Advisor and Professional CV Writer with over 10 years of experience in helping job seekers get a job. He is a Member of the Careers Development Institute (CDI) and is listed on the official UK Register of Career Development Professionals. He holds a Level 6 Diploma in Career Guidance and Development (QCF).
OVERVIEW
SALARY RANGE
£18.000 – £30.000

ENTRY
Degree or Work Experience

WORKING HOURS
38+ hours per week
Competencies
Communication Skills
Ability to communicate effectively with clients or students

Computing Skills
Having basic knowledge of computers and Microsoft Office

Listening Skills
Ability to listen to clients or students when providing information, advice and guidance

Caring
Having a caring approach to address client's needs and problems

Customer Service
Ability to relate to customer's needs and offering appropriate solutions

Public Speaking
Ability to speak in front of a large audience in a clear and audible fashion
Related Resources