I am a skilled, dedicated and hardworking Mail Sorter with over three years of work experience in this field. I am exceptionally good at achieving targets and meeting deadlines, and I have a natural drive to complete any task that I have been assigned.
| | |
| --- | --- |
| Sept 2011 – Present | Mail Sorter Royal Mail |
Main duties performed:
Offloading of mail bags from delivery trucks and vans
Loading bags onto vans (after sorting)
Sorting mail, packets, parcels and other deliverable items
Sorting incoming and outgoing packages by postcode
Scanning items on PDA's (for Next Day Tracked and Special Delivery)
Logging of the sorted mail to the system database
Ensuring that items are ready for dispatch on the given timetable
Separating 1st Class and 2nd Class mail
Categorising items (Standard, Next Day, Signed For, Recorded)
Weighting parcels and large items
Partook in the training of Integrated Mail Processors (IMPs)
Providing assistance for other colleagues (if and when required)
Conducting inspections on products
Searching directories to find correct addresses (if and when required)
Lifting, carrying and pushing heavy objects in the distribution warehouse
Always adhering to Health and Safety Regulations in the workspace
Feb 2011 – Sept 2011
Parcel Sorter TNT
Main duties performed:
Working as part of a team to get parcels ready for delivery on time
Sorting parcels into correct categories
Bagging and labelling items for its destination
Quality control to check for any damages, scratches, etc.
Scanning tracked items using a handheld scanner
Manually weighing of parcels
Distributing parcels to the right bays or dispatch areas after sorting
Education
2008 – 2010
Results: English: B Maths: C Business: C
A Levels
East Sunderland College
2001 – 2008
GCSEs
Bretton Woods Community School

Relevant Modules:

English: B
Maths: C
ICT: C
Science: D
Geography: A
Business: C
History: C
Art: B
Qualifications
Using mail sorting machines in the warehouse – Royal Mail
Level 2 Health and Safety in the Workplace
Skills
Excellent scanning and sorting skills
Exceptional ability to work for long periods while standing
Hand sorting mail and parcels with high speed and accuracy
Outstanding ability to work under pressure and in a fast-paced workplace
Excellent attention to detail
Ability to work flexible at short notice and with excellence
Hobbies and interests
I enjoy going to the gym, spending time my family and friends and I love being outdoors in the garden reading my favourite books. I am an energetic individual who enjoys a wide range of sports such as table tennis, badminton and cricket.
References
Mr Declan Bartlett
Sorting Manager, Royal Mail
Address:
4 Red Lane, Easton, TS6 6WP
Tel:
0209 3387 2274
Email:
[email protected]
Mr Sebastian Peacock
Assistant Manager, TNT
Address:
62 Station Rd, Summer, CT3 6NN
Tel:
0253 2346 9767
Email:
[email protected]
Please note: the above CV Example is presented in the UK format and layout.
Preview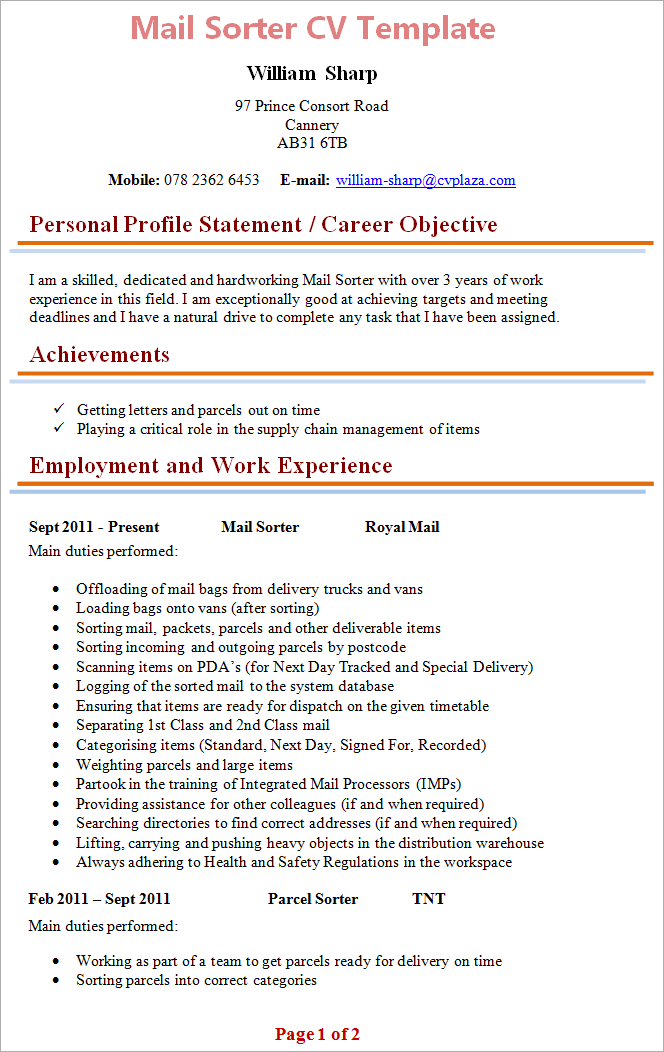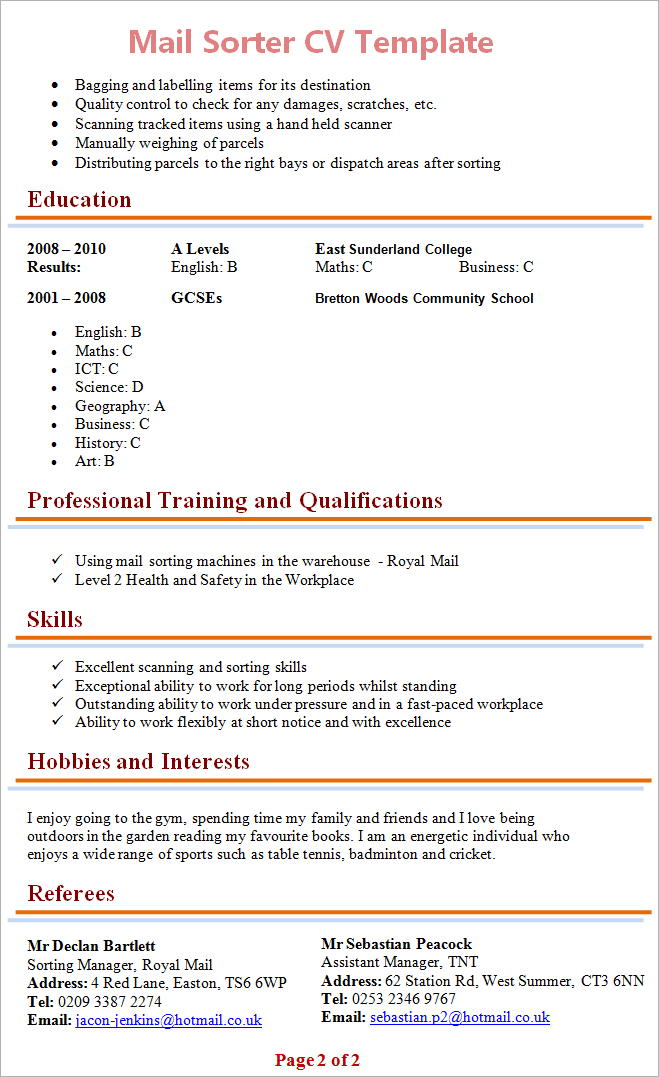 Download
Click here to download the above CV Sample (blank).
COLLECTION: You may also want to browse through our collection of Free CV Templates and download any of the editable CVs to create your own (available in Microsoft Word format and convertible to PDF).
Tips
The Mail Sorter role is a good example of entry-level jobs that do not require any specific or high-level of education. It is therefore advisable to focus more on your previous work experience and skills rather than your educational achievements; place the Personal Profile, Achievements and Employment sections of your CV ahead of the Education section.
The length of your CV should be ideally between 1 and 2 pages max. If you're a school leaver or a person who hasn't "done" much in their career, then a 1-page CV should suffice, and there is no need to try to fill the 2 pages.
Good Luck!
Written by Sobhan Mohmand
Sobhan is a qualified Careers Advisor and Professional CV Writer with over 10 years of experience in helping job seekers get a job. He is a Member of the Careers Development Institute (CDI) and is listed on the official UK Register of Career Development Professionals. He holds a Level 6 Diploma in Career Guidance and Development (QCF).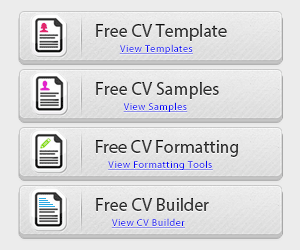 SPONSORED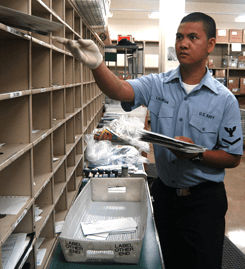 OVERVIEW
SALARY RANGE
Minimum wage

ENTRY
Work Experience

WORKING HOURS
35+ hours per week
Competencies
Perseverance
Ability to stay motivated despite facing obstacles and setbacks

Multitasking
Ability to multitask in a busy work environment

Time Management
Allocating one's own time in a systematic manner to complete work efficiently

Strength
Physical strength for lifting and handling goods, parcels, letters and equipment

Fitness
The condition of being physically fit and healthy and being able to stand for a long period of time without a break

Attention to Detail
Ensuring that no "small details" are overlooked
Related Resources