Feb 2011 – Sept 2011
Parcel Sorter TNT
Main duties performed:
Working as part of a team to get parcels ready for delivery on time
Sorting parcels into correct categories
Bagging and labelling items for their destination
Quality control to check for any damages, scratches, etc.
Scanning tracked items using a handheld scanner
Manually weighing parcels
Distributing parcels to the right bays or dispatch areas after sorting
Education
2008 – 2010
Results: English: B Maths: C Business: C
A Levels
East Sunderland College
2001 – 2008
GCSEs
Bretton Woods Community School

Relevant Modules:

English: B
Maths: C
ICT: C
Science: D
Geography: A
Business: C
History: C
Art: B
Qualifications
Using mail sorting machines in the warehouse – Royal Mail
Level 2 Health and Safety in the Workplace
Skills
Excellent scanning and sorting skills
Exceptional ability to work for long periods while standing
Hand sorting mail and parcels with high speed and accuracy
Outstanding ability to work under pressure and in a fast-paced workplace
Excellent attention to detail
Ability to work flexibly at short notice and with excellence
Hobbies and interests
I enjoy going to the gym and spending time with my family and friends, and I also love being outdoors in the garden reading my favourite books. I am an energetic individual who enjoys a wide range of sports such as table tennis, badminton and cricket.
References
Mr Declan Bartlett
Sorting Manager, Royal Mail
Address:
4 Red Lane, Easton, TS6 6WP
Tel:
0209 3387 2274
Email:
[email protected]
Mr Sebastian Peacock
Assistant Manager, TNT
Address:
62 Station Rd, Summer, CT3 6NN
Tel:
0253 2346 9767
Email:
[email protected]
---
Preview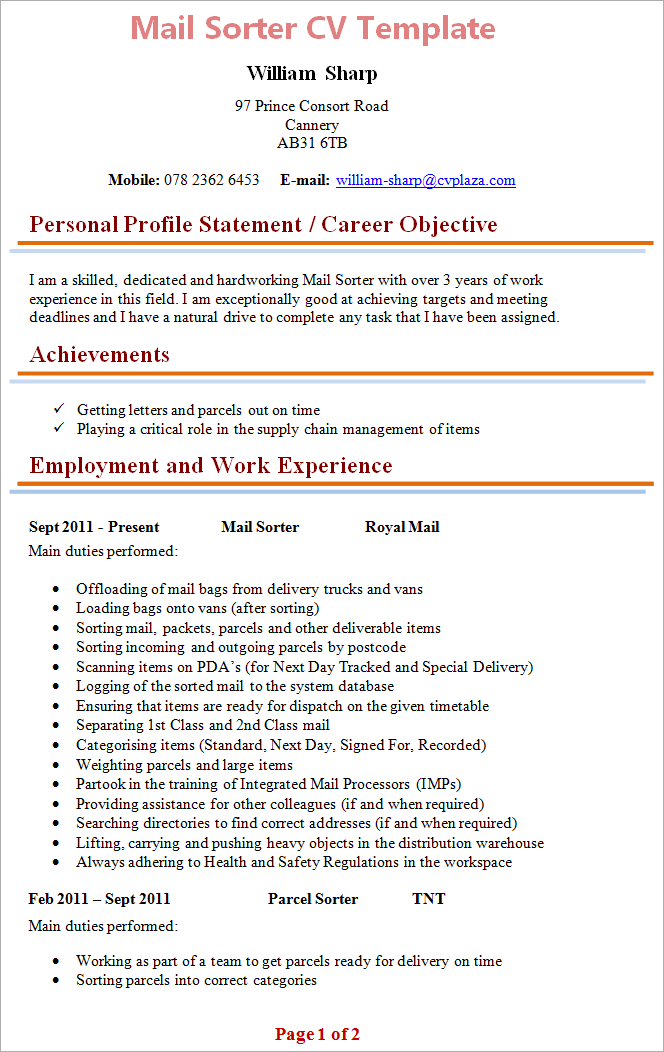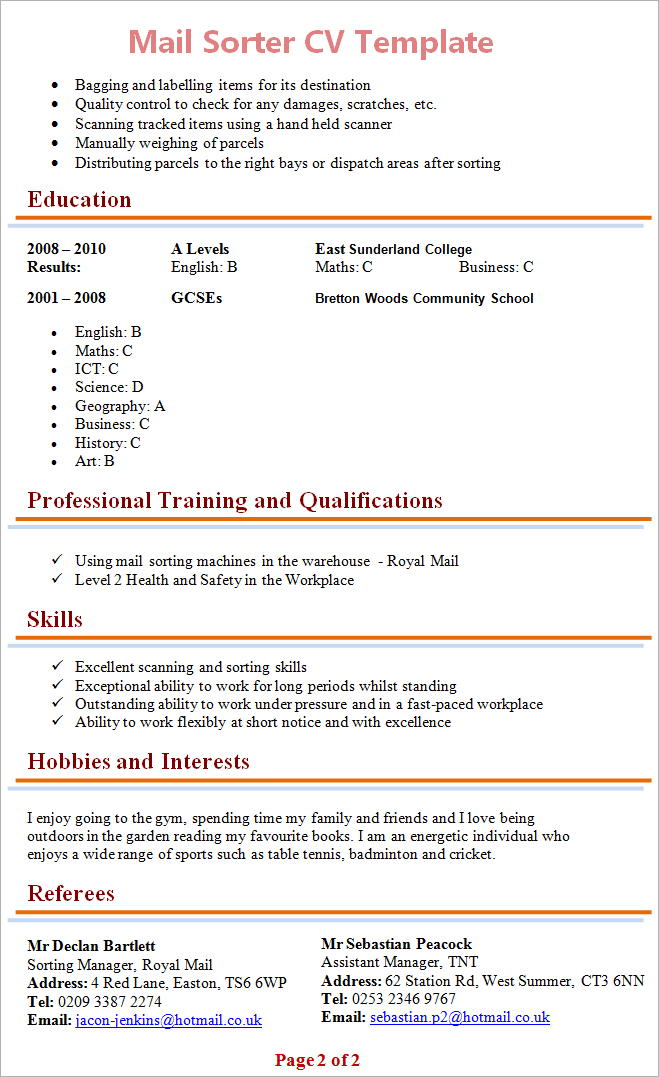 What makes this CV good and effective?
Structured and organised: The CV follows a clear and logical structure. It includes sections for personal details, personal profile, key skills, work experience and education, making it easy for recruiters to navigate. Consistent use of bullet points and headings enhances readability.
Work experience: The work experience section is comprehensive, focusing on roles directly related to mail sorting and related tasks. Each job entry offers specific details about responsibilities and achievements, showcasing the candidate's expertise. They have also correctly placed their experience above their education because that is a greater selling point.
Keywords: The candidate has strategically incorporated industry-specific keywords throughout the CV, including terms like "mail sorting", "sorting machines" and "postal regulations." This optimisation ensures the CV is more likely to be recognised by applicant tracking systems (ATS) and appeals to hiring managers.
Hobbies and interests: The candidate has used their hobbies section to mention a number of sports and physical activities they are involved in, portraying themselves as an active, fit and healthy individual who is physically fit to meet the needs of the mailroom sorter role.
Headings: The CV contains a number of distinct and prominent headings, making it easier for the employer to navigate the sections and find the key information that they need. The horizontal lines below the headings make them more visually appealing.
---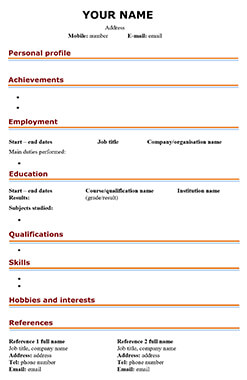 Are you writing your CV from scratch or is your CV template outdated? Download this professional CV template to impress employers!
Free
Save time and effort
Guaranteed correct CV structure
Word document (.docx) format
Fully customisable
How to save your CV as a PDF document:
Click on File > Save As > Select "PDF" from the drop-down menu.
---
Include a header with contact details: Place your name, phone number, address and email address in a header at the top of the CV for easy access. This way, your CV will never "get lost in the system" and busy employers will be able to find your contact details quickly.
Utilise a clean design: Some applicants, mistakenly, try to compensate for their lack of work experience or qualifications by submitting elaborate and fancy CVs that they hope will impress employers. This is not a good idea, stick to a simple, clean design that ensures your CV is easy on the eyes and doesn't distract from your content.
Keep it concise: Strive to keep your CV concise and focused on the most relevant information. Avoid lengthy paragraphs and irrelevant details. Strive for a one-page CV, but if necessary, extending it to a maximum of two pages is acceptable. Research indicates that shorter CVs tend to be more effective.
Proofread for spelling and grammar mistakes: Thoroughly proofread your CV to eliminate any errors, ensuring it's free from typos and grammatical mistakes. Consider using an online grammar checker like Grammarly that offers a free version or ask a friend, teacher or family member to double-check your CV for you.
---
Personal information
Your CV's personal information section is where you provide essential details about yourself to potential employers.
It should contain your full name and contact information (address, phone number, email).
Employers use these details to contact you so make sure there are no missing digits in your phone number or typos in your email address.
Also, remember to use a professional email like [email protected] instead of [email protected].
Example:
Jack Simpson
345 Burchfield Avenue, Sheffield, S3 3SS

Mob: 08976 543 210 Email:

[email protected]
Profile statement
The personal profile section of your CV is a brief, concise statement about you.
It typically highlights your key skills, experience and career goals, providing potential employers with a quick overview of what you bring to the table.
It should be tailored to the specific job you're applying for and grab the employer's attention, making them want to read the rest of your CV.
Read more: Best personal profile examples.
Mail sorter personal profile example:
As an experienced Mail Sorter with a proven track record, I excel in efficiently processing and distributing large volumes of mail. My attention to detail and accuracy have led to a 20% reduction in mail delivery errors in my previous role at Royal Mail. I am committed to ensuring the smooth and timely flow of mail operations.
Achievements
The achievements section of a CV, typically highlights your notable accomplishments, awards or significant contributions in your career, education or life in general.
The purpose of this section is to grab the attention of the employers.
List your achievements in bullet points.
Example:
Successfully sorted and distributed an average of 500 pieces of mail daily.
Awarded "Employee of the Month" for outstanding performance.
Designed and implemented a training program for new hires.
Maintained a perfect attendance record throughout my career.
Completed a professional development course on mail-handling techniques.
Employment and work experience
When crafting the employment and work experience section of your CV, focus on showcasing your relevant work experience.
Start each job entry with a concise job title, company name and employment dates.
Describe your key responsibilities and achievements using bullet points, emphasising quantifiable results where possible.
Keep it concise, clear and engaging to make a strong impression on potential employers.
| | |
| --- | --- |
| July 2021 – Present | Mail Sorter Royal Mail |
Main duties and responsibilities performed:
Efficiently sorted and organised incoming mail and parcels for timely distribution.
Collaborated with team members to meet daily delivery targets, ensuring accuracy and speed.
Utilised mail processing machinery, such as automated sorters, to enhance productivity.
Achieved a 99% accuracy rate in sorting, contributing to the company's excellent service record.
Mail sorter duties to add to your CV
Efficiently sort and organise incoming mail and parcels for distribution.
Operate mail processing machinery, such as automated sorters and conveyors.
Ensure accuracy in the sorting process to prevent mail and package errors.
Collaborate with team members to meet daily delivery targets and deadlines.
Inspect and identify damaged or undeliverable items and take appropriate actions.
Maintain a clean and organised work area to facilitate smooth sorting operations.
Handle sensitive or confidential information with discretion and security.
Assist in the loading and unloading of mail and parcels from delivery vehicles.
Monitor and report any equipment malfunctions or maintenance needs.
Contribute to a safe working environment by following health and safety protocols.
Educational background
In the education section of your CV, you need to give details of your formal qualifications such as A-Levels, GCSEs, diplomas or any other relevant educational achievements.
Example:
| | | | |
| --- | --- | --- | --- |
| 2020-2021 | BTEC in Logistics and Supply Chain Management (Level 2) | City College London | Grade achieved: Merit. |
Subjects studied:
Introduction to Logistics
Warehouse Operations
Transportation and Distribution
Inventory Management
2015 – 2019
Results: Achieved 7 GCSEs with grades A to C, including English and Mathematics.
GCSEs
London High School
Qualifications & training
In this section, you'll list your professional qualifications and vocational training to highlight your relevant skills for the role.
Example:
Level 2 NVQ Certificate in Postal and Courier Services – British Postal Service Training Academy
Forklift Truck Operator License – National Logistics Certification Board
Health and Safety in the Workplace – City & Guilds
Level 3 Diploma in Logistics and Warehousing – London Institute of Logistics
First Aid Certification – Red Cross UK
Skills and competencies
In the skills and competencies section of your CV, you'll showcase your abilities and competencies that are relevant to the job you're applying for.
Your skills should include practical attributes such as attention to detail, efficient sorting, knowledge of postal regulations and proficiency with mail processing equipment.
Additionally, emphasise soft skills like time management, teamwork and adaptability, as these are crucial for a smooth and efficient mail sorting operation.
Example:
Efficient sorting: Proficient in accurately and efficiently sorting incoming mail, with a track record of handling high volumes within tight deadlines. For example, consistently processed over 1,000 letters per hour during the peak holiday season at Royal Mail.
Attention to detail: Meticulous in ensuring the correct sorting and delivery of mail items, minimising errors and complaints. For instance, reduced misrouted packages by 15% by double-checking addresses at BCD Parcels Ltd.
Useful mailroom sorter skills to add to your CV
Technology proficiency: Familiar with sorting machinery and computer systems for tracking and documentation.
Team collaboration: Effective in working as part of a team to maintain a smooth workflow in the mailroom.
Physical stamina: Capable of lifting, moving and handling heavy mail bags and packages.
Customer service: Provides excellent service when dealing with delivery inquiries and concerns.
Adaptability: Able to adjust to changing work conditions and schedules.
Health and safety compliance: Adheres to safety protocols and ensures a safe work environment.
Data entry: Accurate and efficient data entry skills for tracking mail and packages.
Attention to security: Ensures the confidentiality and security of sensitive mail and packages.
Maintenance skills: Basic maintenance and troubleshooting of sorting machinery.
Hobbies & interests
The hobbies and interests section of your CV contains personal activities and passions that reflect your character and may offer insights into your suitability for the job.
Remember to select hobbies and interests that are relevant to the job or demonstrate transferable skills, as this section can help you make a memorable and well-rounded impression on potential employers.
For a mail sorter role, consider mentioning hobbies like precision-oriented activities (e.g., assembling models or puzzles) or participating in sports that require attention to detail (e.g., archery), as they can demonstrate skills relevant to the job.
Example:
I have a strong attention to detail, which extends beyond the workplace. In my free time, I enjoy precision-based hobbies such as model building and coin collecting. These activities further enhance my ability to maintain accuracy and focus in my role as a Mail Sorter.
Referees
The references section of your CV typically contains the contact information of individuals who can vouch for your professional qualifications and character, such as former employers or colleagues.
You don't need to include this section on your CV at this stage of the hiring process unless specifically requested by the employer.
But if you choose to include it, list at least two references, provide their full names, job titles, companies they work for, phone numbers and email addresses, and make sure they are individuals who can speak positively about your work and character.
Example:
Vincent Lewis
Postal Supervisor, Swift Mail Services
Address:
456 Bentley Avenue, Manchester, M5 3CD
Tel:
+44 987 654 3210
Email:
[email protected]
Rebecca Harrison
Operations Manager, XYZ Logistics
Address:
23 River Drive, London, EC1 2AB
Tel:
+44 123 456 7890
Email:
[email protected]
---
Highlight relevant skills: Showcase essential skills like attention to detail, organisational abilities and time management, which are crucial for efficient mail sorting. You can add a dedicated "Skills" section to your CV or mention these skills in the "Personal Profile" and "Employment History" sections.
Use action verbs: Start bullet points with strong action verbs like "managed", "sorted", "organised" or "implemented" to make your achievements more impactful.
Software proficiency: Mention any software or technology skills relevant to mail sorting, such as familiarity with sorting machines or tracking software.
Volunteer work: If you have volunteered in roles requiring organisational skills, include this to demonstrate your commitment beyond paid work. Volunteering is also highly recommended if you don't have any relevant work experience, it will give your CV a big boost.
Consistency in formatting: Maintain a consistent and professional format throughout your CV, with uniform fonts, headings and bullet points. Remember, an eye for detail is very important for this role so you must ensure that the CV you submit is polished and professional.
---
Conclusion
This is the end of our comprehensive guide on how to write a Mail Sorter CV.
You should now have a clear understanding of how to structure your CV, highlight your relevant achievements and tailor it to the specific job you're applying for.
By following the guidelines and utilising the provided examples, you're well-equipped to create the perfect CV that will make a lasting impression on potential employers and increase your chances of securing the job you desire.
Best of luck in your job search!
Written by Sobhan Mohmand
Sobhan is a qualified Careers Advisor and Professional CV Writer with over 10 years of experience in helping job seekers get a job. He is a Member of the Careers Development Institute (CDI) and is listed on the official UK Register of Career Development Professionals. He holds a Level 6 Diploma in Career Guidance and Development (QCF).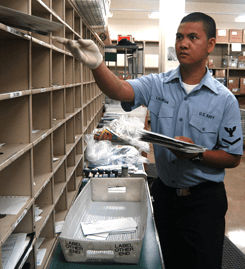 OVERVIEW
SALARY RANGE
Minimum wage

ENTRY
Work Experience

WORKING HOURS
35+ hours per week
Competencies
Perseverance
Ability to stay motivated despite facing obstacles and setbacks

Multitasking
Ability to multitask in a busy work environment

Time Management
Allocating one's own time in a systematic manner to complete work efficiently

Strength
Physical strength for lifting and handling goods, parcels, letters and equipment

Fitness
The condition of being physically fit and healthy and being able to stand for a long period of time without a break

Attention to Detail
Ensuring that no "small details" are overlooked
Related Resources