Sept 2010 – Nov 2011
Warehouse Assistant Argos
Main duties performed:
Accepting, moving, checking and storing incoming goods on a daily basis
Loading and unloading vans, lorries and other transport vehicles
Printing of delivery barcodes, delivery notes and customer address labels
Packaging and labelling products before they are sent out
Selecting the space for storage and arranging for goods to be stored in their appropriate places
Rewriting labels and reorganising stock on a regular basis
Communicating orders to the rest of the team
Keeping the working environment clean and safe for everyone to work in
Liaising by radio to customer desk
Regularly checking equipment to ensure that they are in working order
Working night shifts to help cope with demand (if and when required)
Keeping an eye on stock rotation
Dealing with customer enquiries regarding damaged or missing goods
Qualifications
Forklift truck license
BTEC level 1 Workskills (QCF) – PASS
Fire Safety Training – passed with 80%
Full UK driving license and own car
First aid qualification from St John's Ambulance
Skills
Can lift, load and unload heavy goods and materials
Can work methodically and at speed without compromising on quality
Able to maintain a safe, clean and tidy working environment
Comfortable working with computer databases for inputting and retrieving data
Hobbies and interests
Aside from my interest in storage and logistics of goods, I enjoy socialising with my friends and family over the weekends. I regularly go to the gym to keep fit and healthy, and I still get involved every summer with Help the Hospice and Argos partnership events to raise money for charity.
References
Mr Jack Slater
Warehouse Manager, Watermill Industries
Address:
8 Clock Rd, Smethwick, SJ4 1YQ
Tel:
0743 5678 6784
Email:
[email protected]
Mr Muhammad Ali
Stock Officer, Argos
Address:
2 Green Ln, Leeds, LJ2 37E
Tel:
0740 5673 4568
Email:
[email protected]
Please note: the above CV Example is presented in the UK format and layout.
---
Preview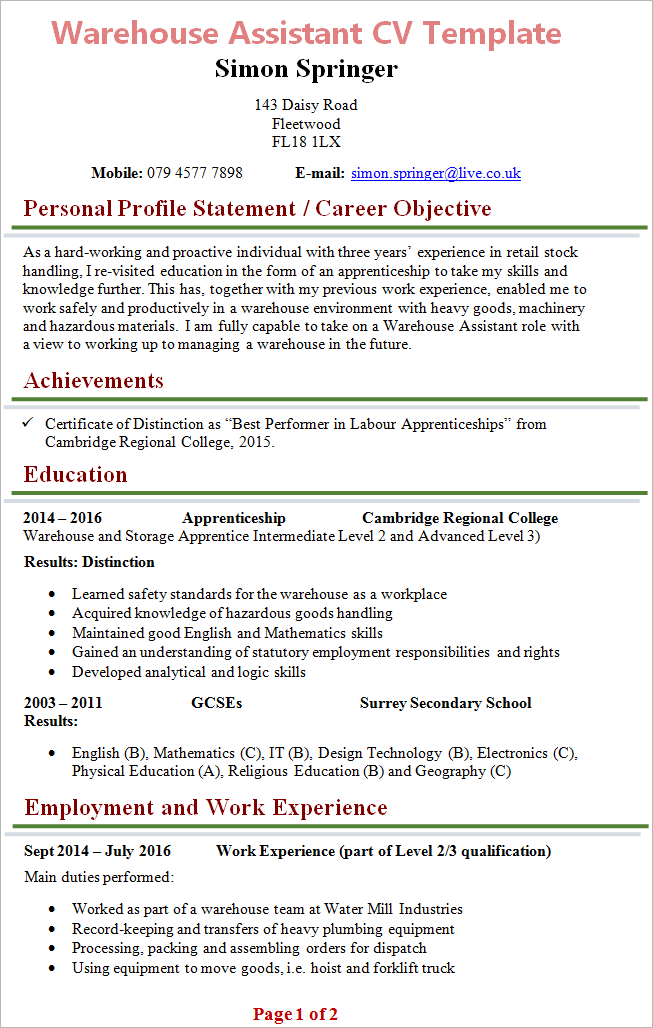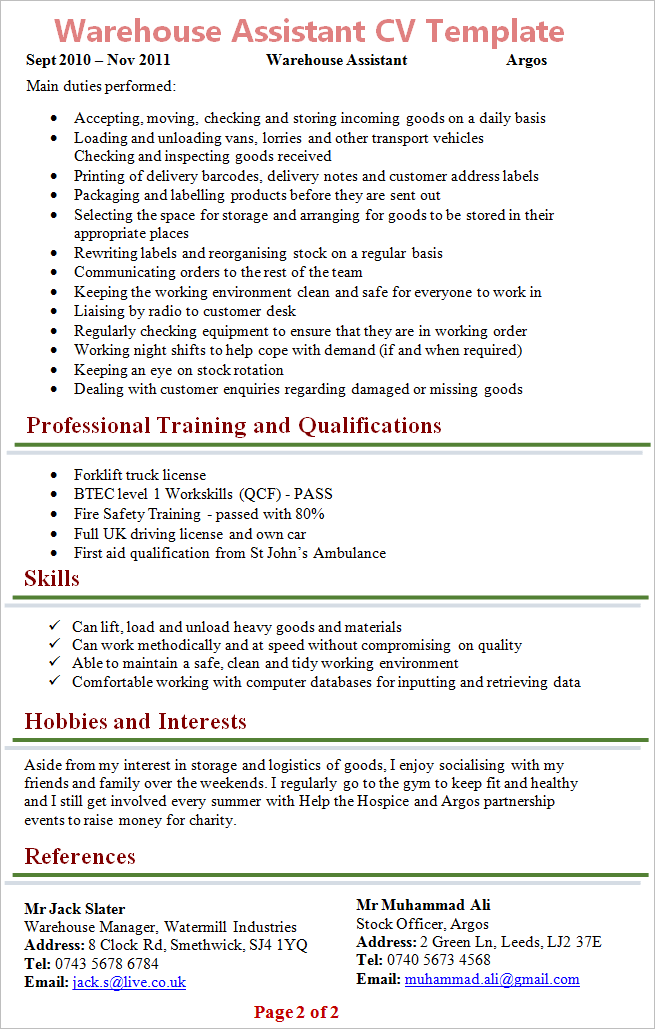 ---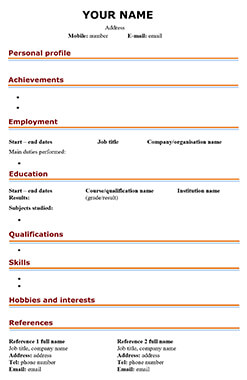 Are you writing your CV from scratch or is your CV template outdated? Download this professional CV template to impress employers!
Free
Save time and effort
Guaranteed correct CV structure
Word document (.docx) format
Fully customisable
How to save your CV as a PDF document:
Click on File > Save As > Select "PDF" from the drop-down menu.
---
Give priority to your strengths: A standard CV follows a common format and structure; the CV starts with your personal details at the top, followed by your personal profile, achievements, education, employment, skills, hobbies and references. However, depending on your circumstances, you can rearrange some of these sections such as placing the employment section before the education section. This is highly recommended if your work experience is more relevant and impressive than your formal education and qualifications.
Make your CV short and sweet: There are no specific entry requirements for warehouse assistant jobs so you do not need to have a lot of information on your CV to secure this position. Focus on your key education, skills and work experience that will strengthen your CV. A concise one-page CV will be ideal and there is no need to fill another page with irrelevant "fluff." A maximum of 2 A4 pages is acceptable too but nothing than that more.
Use a professional font such as Times New Roman or Arial: Do not use fancy or difficult-to-read fonts as those will distract from the content of your CV. You can find a list of traditional, high-legibility fonts here.
Use short sentences, bullet points and clearly defined subheadings: This will improve the scannability and readability of your CV, ensuring that nothing important is missed by the employer when reading your CV.
---
Personal details


The top of your CV contains your personal details.
What to include in this section:
Your name
Address
Telephone number
Email address
LinkedIn profile (optional)
What not to include in the personal details section:
Date of birth
Age
Gender
Photograph
National insurance number
Marital status
Salary expectations
Example:
Matthew Roberts
28 South Street, Williston, W48 3JD
Mob: 07978397463 Email:

[email protected]
Personal profile


A personal profile statement (also called a CV summary) is a short paragraph that tells the employer about your key characteristics, abilities, experience and why they should consider you as a candidate for the advertised position.
Guidelines:
Length: A perfect personal profile should not be longer than 3-4 sentences, anything longer than that and the employer may lose interest and not read it entirely. Try to say more in fewer words!
Evidence: Back up everything you say with real-life examples.
Highlight your strengths: Mention your key strengths and achievements such as relevant work experience, promotions, improved business, working on your own initiative, etc. Try not to copy and paste information from the other sections of your CV; instead, briefly highlight some key points in your personal profile and expand on those points in more detail in the relevant parts of your CV.
Warehouse assistant CV personal profile example:
I am a hardworking and methodical warehouse assistant with over two years of experience in the industry. I thrive working in a busy work environment and I have picked, packed and dispatched high-volume orders, consistently exceeding warehouse performance targets. I am familiar with various stock management systems including scanners, printers and stock ordering software. I am eager to learn and I take a serious approach to meeting the expectations of both my supervisors and clients.
Achievements


Next, list down some of your achievements and accomplishments to improve the impact of your CV and increase the chances of being shortlisted for an interview.
Examples of achievements:
Awards received (at work or in school, college or university)
Promotions
Relevant work experience
Good grades
Solved a problem
Increased sales/business
Improved efficiency
Met deadlines
Elected for leadership positions
Excellent customer feedback
Example:
Consistently meeting and exceeding warehouse performance targets.
Achieved good grades in college studies.
Employment and work experience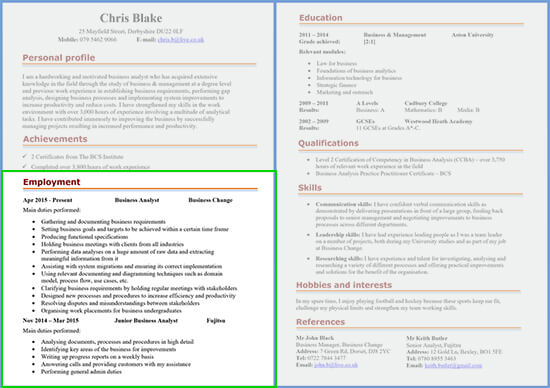 The employment and work experience section, as its name suggests, should contain details about your previous jobs, including full-time, part-time and voluntary positions.
Each entry should contain the following information:
Start and end dates
Job title
Company/organisation name
Day-to-day tasks, responsibilities and/or achievements
| | |
| --- | --- |
| May 2020 – Present | Warehouse assistant 360 Logistics |
Main duties and responsibilities performed:
Picking customer orders
Packaging and boxing up items according to the specified packing guidelines
Making and printing labels
Loadings and unloading goods and materials
Inspecting items for damage or faults
Organising and managing goods in the stockrooms
Performed general IT admin duties
Adhering to health and safety and general warehouse housekeeping duties
Warehouse assistant duties to add to your CV
Pick and pack customer orders.
Load, unload, lift and relocate goods.
Inspect, organise, scan and label items.
Order, replenish and dispatch stock.
Check-in and out deliveries.
Work within a busy industrial environment.
Work effectively as part of a team.
Ensure the warehouse is clean and tidy at all times.
Use a forklift for stacking pallets.
Education and training


Next, list down details of your education to date and any qualifications you hold.
You can include:
University-level degrees
College-level qualifications such as BTECs and A-Levels
School-level qualifications such as GCSEs or equivalent
Vocational education and training courses
Write each entry in reverse chronological order (most recent first).
Example:
2018-2020
Results: Maths (B), Information Technology (C) and English (C).
A-Levels
East Sutton Academy
2016 – 2018
Results: 6 GCSEs at Grades A*-C, including Maths and English.
GCSEs
Newfield School
Qualifications
The qualifications section of your CV should contain a list of additional qualifications that you have gained on top of the education that you have listed in the previous section. Mostly, these are professional training qualifications.
Example:
Level 2 Certificate in the Principles of Warehousing
NCFE Level 1 Certificate in Warehousing and Storage
Skills


The skills section should contain a bullet-pointed list of your skills, talents and abilities.
Try to include a mixture of both soft skills (e.g. communication or organisational skills) and hard skills (e.g. operating a forklift or using specialist warehouse systems).
Example:
Excellent customer service skills, demonstrated in fulfilling orders to the complete satisfaction of managers and clients.
Ability to work under pressure in a fast-paced work environment
Excellent interpersonal skills, demonstrated in my current job by working with a variety of people from all backgrounds.
Strong IT skills (including Microsoft Office)
Excellent knowledge of health and safety at work
Useful skills to add to your warehouse assistant CV
Scanning, labelling and tracing items in the warehouse
Organising stock into their correct locations
Loading and unloading vans, trucks and lorries
Managing the inventory and ordering stock when required
Excellent teamwork and collaboration skills
Operating a forklift in a safe manner
Ability to work in a fast-paced work environment
Hobbies and interests (optional)


The hobbies and interests section is often overlooked but it is quite an important part of your CV, especially if you lack relevant work experience or don't have many qualifications.
You should use your hobbies and interests to add more value to your CV.
Mention some of your relevant hobbies or interests that positively highlight some of your skills, abilities and passions. For example, playing a sport like football or going regularly to the gym shows the employer that you are fit and healthy, an essential requirement for being a successful warehouse assistant.
Example:
In my free time, I enjoy watching TV and reading non-fiction books. I also regularly exercise at my local gym and play badminton with my friends at weekends.
References


In this section, write the details of at least one or two referees who know you well, have worked with you before and who can vouch for you to the prospective employer. Your referee could be a former employer, manager, teacher, tutor, etc.
Example:
Mr Brandon Wallace
Warehouse Manager, 360 Logistics
Address:
63 Castle Road, York, Y2 4FH
Tel:
07663570293
Email:
[email protected]
Mr Gerald Silver
Director, Forward Goods Ltd.
Address:
19 Walden Road, Bristol, B82 2VM
Tel:
07874356777
Email:
[email protected]
Note: Don't use your friends and family members as your references! Employers want to get a professional and unbiased opinion about you and your abilities.
---
Focus on your transferable skills: Do you want to apply for a warehouse assistant job but you don't have work experience? Don't worry, just focus on your transferable skills on your CV. Transferable skills are skills you can take from one job to another, for example, communication, collaboration and problem-solving skills. Look for examples in your life where you have used certain transferable skills and highlight how they will be useful for the advertised position.
Highlight your physical strength and fitness: This is a physically demanding job that involves heavy lifting, standing and walking a great deal. Try to highlight on your CV that you are physically fit and strong, such as in the hobbies and interests section or in your personal profile statement.

---

You've now reached the end of this guide.

If you have followed all the guidelines and tips in this guide, you should now have an impressive warehouse assistant CV that will get you job interviews in no time.

Good luck with your job hunt!

Written by Sobhan Mohmand

Sobhan is a qualified Careers Advisor and Professional CV Writer with over 10 years of experience in helping job seekers get a job. He is a Member of the Careers Development Institute (CDI) and is listed on the official UK Register of Career Development Professionals. He holds a Level 6 Diploma in Career Guidance and Development (QCF).

SPONSORED

OVERVIEW

SALARY RANGE
£12.000 – £18.000

ENTRY
Entry-level position

WORKING HOURS
37+ hours per week

Competencies

Attention to Detail
Providing accurate and consistent results with no mistakes

Teamwork
Working with others in a supportive and constructive manner

Practical Skills
Having practical and hands-on experience of working in a warehouse environment with goods, products, tools and equipment

Determination
Having a positive attitude in all aspects of your job and the dertermination to do the job to the best of your ability

Flexibility
The flexibility to handle different jobs, tasks and projects when required

Strength
Physical strength for lifting and handling goods and equipment

Related Resources