As a hard-working and proactive individual with three years' experience in retail stock handling, I re-visited education in the form of an apprenticeship to take my skills and knowledge further. This has, together with my previous work experience, enabled me to work safely and productively in a warehouse environment with heavy goods, machinery and hazardous materials. I am fully capable of taking on a Warehouse Assistant/Operative role with a view to working up to managing a warehouse in the future.
| | | | |
| --- | --- | --- | --- |
| 2014 – 2016 | Apprenticeship | Cambridge Regional College | Warehouse and Storage Apprentice Intermediate Level 2 and Advanced Level 3) |
Relevant Modules:
Learned safety standards for the warehouse as a workplace
Acquired knowledge of hazardous goods handling
Maintained good English and Mathematics skills
Gained an understanding of statutory employment responsibilities and rights
Developed analytical and logic skills
2003 – 2011
Results: English (B), Mathematics (C), IT (B), Design Technology (B), Electronics (C), Physical Education (A), Religious Education (B) and Geography (C)
GCSEs
Surrey Secondary School
| | |
| --- | --- |
| Sept 2014 – July 2016 | Work Experience (part of Level 2/3 qualification) |
Main duties performed:
Worked as part of a warehouse team at Water Mill Industries
Record-keeping and transfers of heavy plumbing equipment
Processing, packing and assembling orders for dispatch
Using equipment to move goods, i.e. hoist and forklift truck
Sept 2010 – Nov 2011
Warehouse Assistant Argos
Main duties performed:
Accepting, moving, checking and storing incoming goods on a daily basis
Loading and unloading vans, lorries and other transport vehicles
Printing of delivery barcodes, delivery notes and customer address labels
Packaging and labelling products before they are sent out
Selecting the space for storage and arranging for goods to be stored in their appropriate places
Rewriting labels and reorganising stock on a regular basis
Communicating orders to the rest of the team
Keeping the working environment clean and safe for everyone to work in
Liaising by radio to customer desk
Regularly checking equipment to ensure that they are in working order
Working night shifts to help cope with demand (if and when required)
Keeping an eye on stock rotation
Dealing with customer enquiries regarding damaged or missing goods
Qualifications
Forklift truck license
BTEC level 1 Workskills (QCF) – PASS
Fire Safety Training – passed with 80%
Full UK driving license and own car
First aid qualification from St John's Ambulance
Skills
Can lift, load and unload heavy goods and materials
Can work methodically and at speed without compromising on quality
Able to maintain a safe, clean and tidy working environment
Comfortable working with computer databases for inputting and retrieving data
Hobbies and interests
Aside from my interest in storage and logistics of goods, I enjoy socialising with my friends and family over the weekends. I regularly go to the gym to keep fit and healthy, and I still get involved every summer with Help the Hospice and Argos partnership events to raise money for charity.
References
Mr Jack Slater
Warehouse Manager, Watermill Industries
Address:
8 Clock Rd, Smethwick, SJ4 1YQ
Tel:
0743 5678 6784
Email:
[email protected]
Mr Muhammad Ali
Stock Officer, Argos
Address:
2 Green Ln, Leeds, LJ2 37E
Tel:
0740 5673 4568
Email:
[email protected]
Please note: the above CV Example is presented in the UK format and layout.
Preview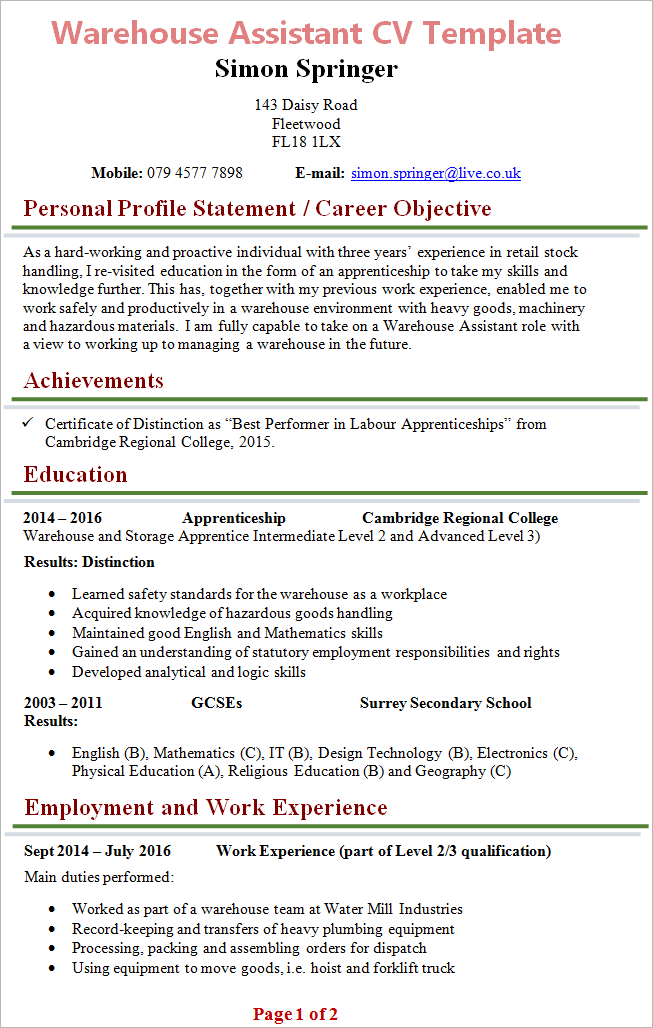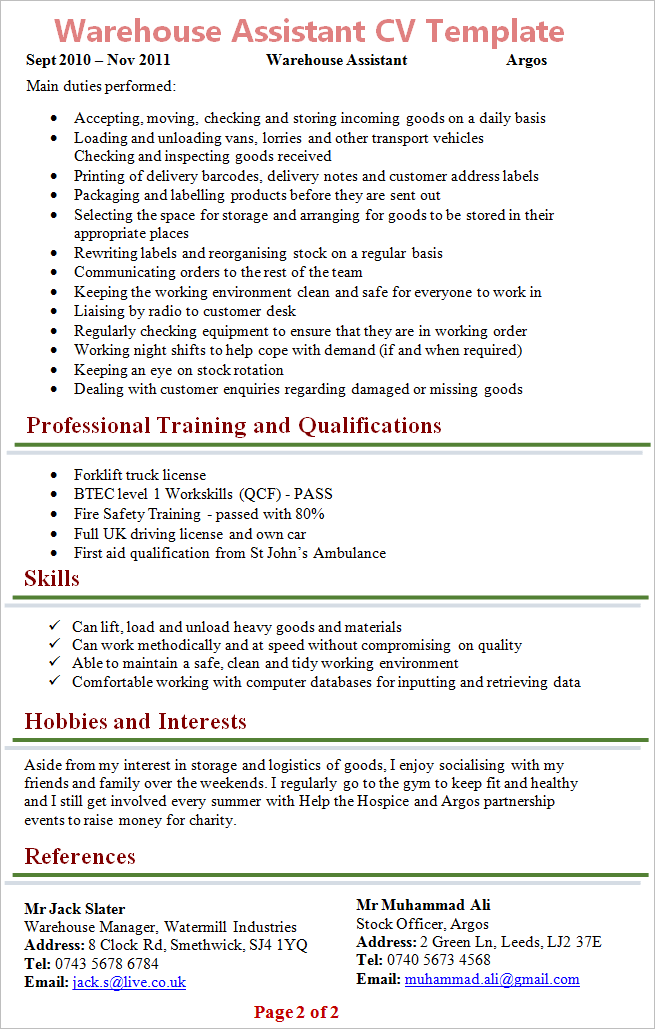 Download
Click here to download the above CV Sample (blank).
COLLECTION: You may also want to browse through our collection of Free CV Templates and download any of the editable CVs to create your own (available in Microsoft Word format and convertible to PDF).
Tips
CV length: The general rule regarding the length of a CV is to make it as short and concise as possible. If you haven't got a lot of previous work experience or education; your CV should be 1 A4 page long. This is perfectly fine and acceptable, and there is no need to fill another page with useless "fluff"; it is not the length but the content that really matters.
Good Luck!
Written by Sobhan Mohmand
Sobhan is a qualified Careers Advisor and Professional CV Writer with over 10 years of experience in helping job seekers get a job. He is a Member of the Careers Development Institute (CDI) and is listed on the official UK Register of Career Development Professionals. He holds a Level 6 Diploma in Career Guidance and Development (QCF).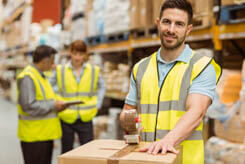 OVERVIEW
SALARY RANGE
£12.000 – £18.000

ENTRY
Entry-level position

WORKING HOURS
37+ hours per week
Competencies
Attention to Detail
Providing accurate and consistent results with no mistakes

Teamwork
Working with others in a supportive and constructive manner

Practical Skills
Having practical and hands-on experience of working in a warehouse environment with goods, products, tools and equipment

Determination
Having a positive attitude in all aspects of your job and the dertermination to do the job to the best of your ability

Flexibility
The flexibility to handle different jobs, tasks and projects when required

Strength
Physical strength for lifting and handling goods and equipment
Related Resources