Feb 2015 – Sept 2015
Logistics Intern AT&T
Main duties performed:
Collecting and analysing data related to goods, materials and personnel
Reporting any technical issues or problems to the Logistics Manager
Producing clear and concise reports based on the data which had been found
Presenting the findings back to senior members of staff and
Carrying out general admin work, including filing and photocopying
Qualifications
Level 5 Diploma in Supply Chain Management – IoSCM
Supply Chain Professional Practitioner Award – CILT
Skills
Excellent proven track record of oral and written communication skills
Diplomatic and courteous approach to dealing with clients and suppliers
Having expert knowledge of both the theoretical and practical sides of logistics
Having the flexibility to adapt to a variety of situations, working well under pressure and dealing with unforeseen circumstances in a professional manner
Leading a team with a successful outcome
Hobbies and interests
I have recently taken up swimming, and I am currently training to swim the English Channel for charity in July of next year. This example demonstrates that I enjoy pushing myself to achieve the best possible results in everything I do; in every aspect of my life. I also enjoy going out to dine and socialising with my friends and family.
References
Mrs Lauren Mills
Director, L'Oréal
Address:
7 Arthur Rd, Kent, KI4 7DA
Tel:
0783 7977 4577
Email:
[email protected]
Mr Owen Sanderson
Logistics Manager, AT&T
Address:
9 Cold Rd, Leeds, L90 7FP
Tel:
0794 5677 7685
Email:
[email protected]
---
Preview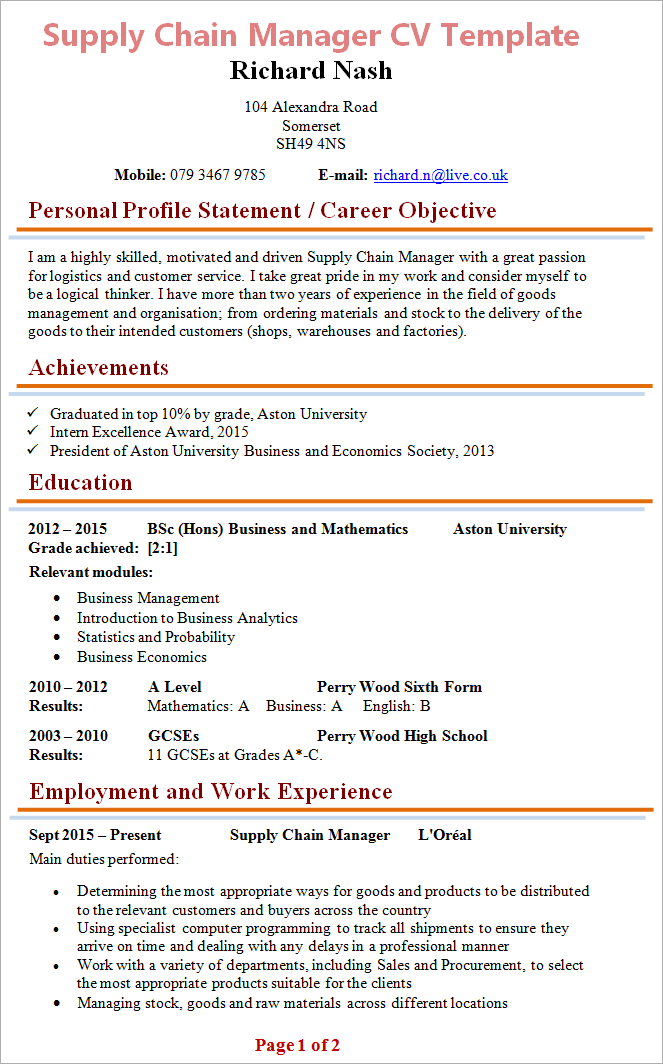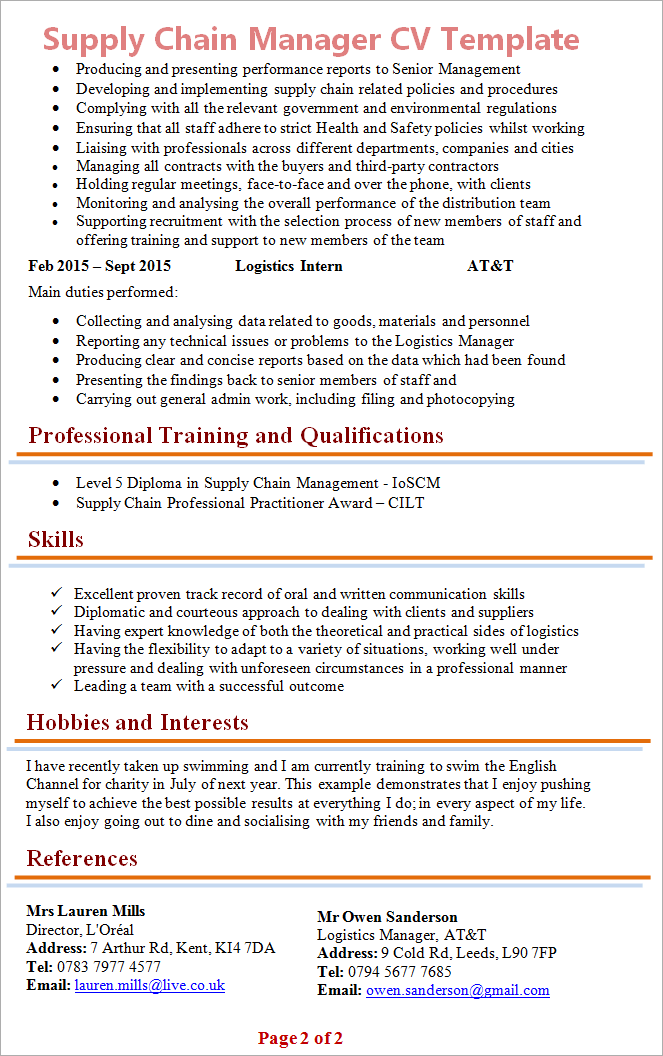 What makes this CV good and effective?
Structure: The CV is logically structured with clear headings for each section, making it easier for employers to locate the information that they seek.
Format: The formatting is consistent and easy to read, using a professional font and bullet points for lists.
Content: It focuses on relevant experience, qualifications and achievements. It does not contain any outdated work experience entries or irrelevant personal details.
Strong opening: The CV starts with a powerful opening, grabbing the reader's attention and encouraging them to continue reading.
Experience: Detailed descriptions of previous roles in supply chain management, showing a progressive career path.
Keywords: Key industry-specific and job-specific keywords are included, which will help it get shortlisted by ATS systems.
---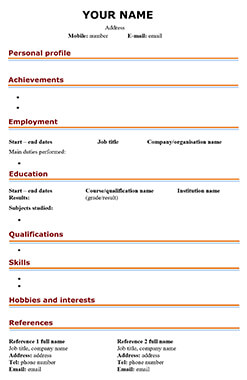 Are you writing your CV from scratch or is your CV template outdated? Download this professional CV template to impress employers!
Free
Save time and effort
Guaranteed correct CV structure
Word document (.docx) format
Fully customisable
How to save your CV as a PDF document:
Click on File > Save As > Select "PDF" from the drop-down menu.
---
Use clear headings: Employ clear and bold headings for each section, such as "Professional Experience," "Education," and "Skills."
Consistent font and size: Stick to a professional font like Verdana, Cambria, Garamond or Helvetica, and use a consistent font size (e.g., 10-12 points) throughout the document. Using various typefaces and font sizes will make the CV look cluttered and unprofessional.
Showcase technical skills: If you have proficiency in supply chain software or tools like SAP, mention them to demonstrate your technical capabilities.
One-page or two-page max: Keep your CV concise and to the point. Ideally, it should be one page, but if you have extensive experience, limit it to two pages.
Proofread for errors: Carefully proofread your CV to eliminate typos and grammatical mistakes. Errors can detract from your professionalism.
---
Personal information
The personal information section of your CV ensures that employers can easily reach out to you and know who you are at a glance. It should include your full name, contact details like phone number and email address and your address.
Example:
Benjamin Turner
9 Cedar Road, Newcastle, NE1 1FF

Mob: 0333 999 8888
Email:

[email protected]



Personal profile
The personal profile, often referred to as a personal statement or summary, is a brief introductory section at the beginning of your CV. It provides a snapshot of who you are as a professional and what you can bring to a potential employer.
To write an effective personal profile:
1. Be concise: Keep it short, typically no more than 2-3 sentences.
2. Highlight your key strengths: Mention your core skills, qualifications and what sets you apart. This is your opportunity to make a strong first impression.
3. Tailor it: Customise the personal profile for the specific job you're applying for. Highlight the skills and experiences that are most relevant to that role.
Supply chain manager personal profile example:
Experienced Supply Chain Manager with a successful track record of optimising logistics, reducing operational costs by 15%, and achieving 98% on-time deliveries. Proven expertise in vendor relationship management and implementing lean supply chain practices. Eager to lead supply chain operations at XYZ Logistics Ltd to drive efficiency and profitability.
Achievements & awards
The achievements section of your CV should contain accomplishments that highlight your successes. They should demonstrate your skills and abilities and can come from all aspects of your life; education, employment and personal life.
Example:
Successfully reduced logistics costs by 15% through process optimisation.
Led a team to achieve a 98% on-time delivery rate, exceeding targets.
Awarded "Supply Chain Graduate of the Year" in 2021.
Promoted to Senior Supply Chain Manager within one and a half years.
Completed a high-profile project on time and under budget, saving £34,000.
Work experience
Your CV's work experience section is where you detail your professional background. It should include specific details about your roles, such as job titles, company names, dates of employment and descriptions of your responsibilities and accomplishments.

April 2017 – Present

Supply Chain Manager
ABC Logistics Ltd.
Main duties and responsibilities performed:
Led a team of 12 professionals to streamline supply chain processes, resulting in a 20% reduction in lead times and a 15% decrease in operational costs.
Implemented advanced inventory management techniques, improving accuracy by 98% and reducing excess stock levels by 25%.
Successfully negotiated new vendor contracts, saving the company £100,000 annually.
Oversaw a 99% on-time delivery rate, ensuring high customer satisfaction and repeat business.
Established strong vendor relationships.
Introduced a JIT (Just-In-Time) inventory system, reducing storage costs and improving efficiency.
Supply chain manager duties to add to your CV
Strategic planning: Developing and executing supply chain strategies to enhance operational efficiency and meet business goals.
Inventory management: Overseeing inventory levels, optimising stock control and ensuring minimal excess stock while meeting demand.
Vendor relationship management: Building and maintaining strong relationships with suppliers to ensure timely deliveries and favourable terms.
Cost reduction: Implementing cost-effective measures, negotiating contracts and reducing operational expenses while maintaining quality.
Quality control: Ensuring that all products and materials meet quality standards and implementing quality assurance processes.
Education
The education section of your CV should be organised in reverse chronological order, starting with your most recent qualifications. You can include a variety of qualifications such as degrees, A-levels, GCSEs, diplomas, or any other relevant educational achievements.
Read more: How to Write a Degree on a CV (+ Examples).

Example:
| | | | |
| --- | --- | --- | --- |
| September 2009 – July 2012 | Bachelor of Science in Supply Chain Management | University of Manchester | Degree classification: First Class Honours. |
Subjects studied:
Supply Chain Strategy
Logistics and Inventory Management
Operations Research
Business Ethics and Sustainability
September 2007 – June 2009
Results: Business Studies: A, Economics: B, Mathematics: B.
.
A-Levels
City College, Birmingham
Qualifications
In this section, you'll include your professional qualifications and training.
Example:
Level 5 Diploma in Supply Chain Management – Chartered Institute of Procurement and Supply (CIPS)
Certified Supply Chain Professional (CSCP) – Association for Supply Chain Management (ASCM)
PRINCE2 Practitioner – Axelos
Diploma in Warehouse and Inventory Management – Institute of Supply Chain Management
Skills and abilities
In the "Skills and abilities" section of your CV, you should include a list of your relevant skills, competencies and abilities that make you a strong candidate for the role.
Example:
Supply chain strategy: Developed and executed supply chain strategies resulting in a 15% reduction in logistics costs.
Inventory optimisation: Implemented efficient inventory management techniques, reducing excess stock by 20%.
Project management: Led high-profile supply chain projects, consistently completing them on time and within budget.
Data analysis: Utilised data analytics to identify areas for improvement, increasing overall supply chain efficiency.
Useful supply chain management skills to add to your CV
Supply chain strategy: Developing and executing strategies to optimise supply chain operations and meet business goals.
Logistics management: Efficiently managing transportation, warehousing and distribution to ensure on-time deliveries.
Team leadership: Leading and developing supply chain teams to achieve departmental goals and objectives.
Customer service orientation: Focusing on delivering high levels of customer satisfaction through timely and accurate deliveries.
Quality management systems: Implementing and maintaining quality management systems (e.g., ISO standards).
Cost reduction: Implementing cost-effective measures and negotiating contracts to reduce operational expenses.
Personal interests (optional)
The hobbies and interests section of your CV provides a glimpse into your personality and can help you connect with potential employers on a more personal level.
You can include hobbies that highlight your skills, qualities or experiences relevant to the job. For a Supply Chain Manager CV, you might mention interests like "Solving complex logistics puzzles", "Participating in Lean Six Sigma workshops", or "Volunteering with supply chain organisations," as they show your passion for the field and your continuous commitment to professional development.

Example:
In my free time, I enjoy studying logistics and supply chain innovations, staying updated on industry trends and participating in local business networking events. These interests drive my commitment to excellence in supply chain management.
Referees
In your CV's referees section, you list two individuals who can confirm your professional skills and character, such as past employers, supervisors, colleagues or mentors who know you and are familiar with your work.
Example:
Rhiannon Smith
Operations Director, Stellar Logistics Ltd
Address:
42 Maple Avenue, London, SW1A 2DE
Tel:
+44 20 1234 5678
Email:
[email protected]
Harvey Evans
Senior Supply Chain Analyst, Global Connections Group
Address:
17 Birch Street, Manchester, M2 4FH
Tel:
+44 161 9876 5432
Email:
[email protected]
Note: If you do not wish to disclose your references on your CV, you should write, "References are available upon request."
---
Highlight achievements: Showcase your accomplishments, such as optimising warehouse operations, reducing logistics costs by 15% or implementing efficient inventory management systems.
Use action-oriented language: Begin your bullet points with powerful verbs like "managed", "implemented", "oversaw" and "streamlined" to convey your proactive approach to supply chain management. They also give the impression that you doer and an achiever.
Show adaptability: Illustrate your ability to adapt to changing market conditions, like adjusting sourcing strategies during supply chain disruptions.
Emphasise technological proficiency: Mention your familiarity with supply chain software and tools, such as SAP, Oracle or WMS systems.
Demonstrate data analysis: Mention your ability to analyse data and utilise key performance indicators (KPIs) to improve supply chain performance.
---
Conclusion
This is the end of our guide on crafting a standout Supply Chain Manager CV.
We've provided you with examples, step-by-step instructions and valuable tips to ensure your CV shines. You should now feel confident to create the perfect CV that effectively showcases your expertise, impresses employers and sets you on the path to a successful career in supply chain management.
Good luck in your job search!
Written by Sobhan Mohmand
Sobhan is a qualified Careers Advisor and Professional CV Writer with over 10 years of experience in helping job seekers get a job. He is a Member of the Careers Development Institute (CDI) and is listed on the official UK Register of Career Development Professionals. He holds a Level 6 Diploma in Career Guidance and Development (QCF).
OVERVIEW
SALARY RANGE
£30.000 – £50.000

ENTRY
Degree and Work Experience

WORKING HOURS
38+ hours per week
Competencies
Logistics
Having excellent understanding of Supply Chain and Logistics Management

Management
Strong management skills to lead a team through tough decisions and circumstances

Communication Skills
Excellent communication skills to liaise with drivers / suppliers / teams / customers

Organisational Skills
Methodically running different projects and meeting deadlines

Observation Skills
Paying excellent attention to deliveries, stock, goods, materials and personnel under direct supervision

Hands-on
Having hands-on experience with using equipment and handling goods and materials
Related Resources