Sobhan Mohmand, Career Expert

2 Apr 2021
Tip: Use the Data Entry CV Template below as an example to help you write your own personal and fully-tailored CV.
Scott Crawford
43 Warner Close
Gilford
GL7 8UL
Mob: 079 6144 1956
Email: [email protected]
Personal Profile Statement / Career Objective
I am a hard-working, methodical and driven individual with more than three years of experience in the Data Entry field and with the ability to input and manage data accurately, with great speed and in high volumes. I am able to demonstrate effective communication and organisational skills; work on my own initiative, both independently and within a team. I have the excellent ability to organise and prioritise my workload to achieve set goals and deadlines in the most efficient manner.
Achievements
Professional level typing speed (79 wpm – words per minute with 98% accuracy)
Promotion to Data Entry Administration within the 3-months probation period
Education
| | | | |
| --- | --- | --- | --- |
| 2009 – 2013 | BTEC National Diploma in IT | Lipson Community College | Grade achieved: DDM (Distinction, Distinction, Merit) |
Relevant Modules:
Information Systems
Computer Systems
Advanced Database Skills
Advanced Spreadsheet Skills
Impact of the Use of IT on Business Systems
2002 – 2009
Results: 8 GCSEs Grades A*-C.
GCSEs
Primrose High School
Employment and Work Experience
| | |
| --- | --- |
| Mar 2012 – Present | Data Entry Administrator Amazon |
Main duties performed:
Being the first point of contact for data-related queries
Dealing with customers and clients via email and telephone
Manual entering and verification of customer records and orders
Assisting with the investigation and rectification of system errors
Data input and manipulation in Excel spreadsheets and Access databases
Ensuring the Data Protection Act is adhered to at all times
Ensuring the safety and security of the company's data systems
Occasionally carrying out various administration tasks (filing, printing, etc.)
| | |
| --- | --- |
| Dec 2011 – Mar 2012 | Data Entry Clerk Amazon |
Main duties performed:
Data input, storage, manipulation, interpretation and backup
Converting raw data into useful information
Creating reports for management
Running statistical analysis on data batches
| | |
| --- | --- |
| Feb 2011 – Dec 2011 | Data Input Assistant A&P Solutions |
Main duties performed:
Manual data input from paper-based sources into the electronic system
Using spreadsheets to manipulate data (charts, tables, etc)
Ensuring all the information on the system is accurate and up-to-date
General office duties such as serving tea, answering the phone and emails
Professional Training and Qualifications
European Computer Driving Licence (ECDL) – BCS
e-Type (typing quickly and accurately without looking at the keyboard) – BCS
Computer Literacy and Information Technology qualification (CLAIT) – OCR
Skills
Excellent data entry skills (for both accuracy and speed);
Professional typing skills (79 wpm – words per minute – with 98% accuracy)
Attention to detail without compromising the tasks' speed and performance
Excellent IT skills and hands-on knowledge of spreadsheets and databases
Perseverant and patient when dealing with repetitive tasks
Hobbies and interests
I am a very sporty individual, and I enjoy taking part in a variety of sports such as Badminton and Tennis as I think maintaining a healthy lifestyle is very important. In my spare time, I also enjoy computing and socialising with my friends and family.
References
Mr Jamie Fowler
Data Administration Team Leader, A&P Solutions
Address:
6 Bridge Street, Preston, PR3 3JN
Tel:
0223 0180 6896
Email:
[email protected]
Mr Joshua Alexander
Data Entry Manager, Amazon
Address:
83 North Promenade, London, LN11 2DA
Tel:
0080 5371 4539
Email:
[email protected]
Please note: the above CV Example is presented in the UK format and layout.
Preview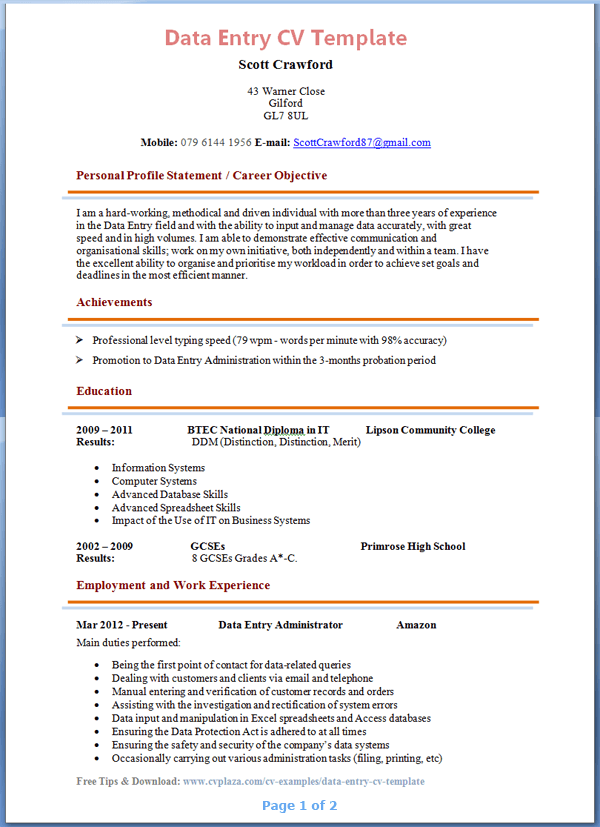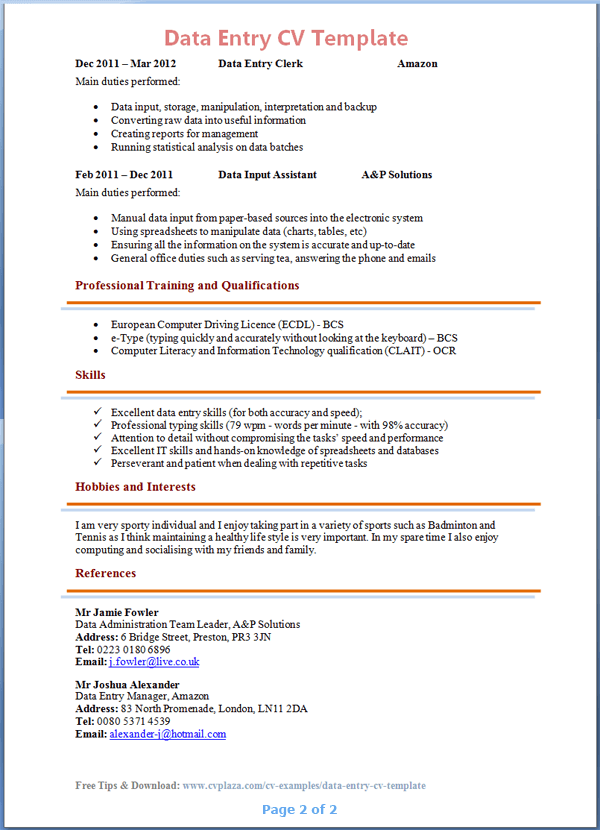 Download
Click here to download the above CV Sample.
COLLECTION: You may also want to browse through our collection of Free CV Templates and download any of the editable CVs to create your own (available in Microsoft Word format and convertible to PDF).
Top CV Tips and Guidelines
Research: The first thing that you need to do is to research the job role properly before you can start writing your CV or even considering to apply for the job. Having a read through the National Careers Service's Data Entry Clerk job description is a good starting point.
Working in the data entry field can be extremely repetitive and tedious at times, and it is highly recommended that you convey the message that you are an all-rounded person who also has a good personal life besides work. This will reassure the prospective employers that you have a healthy and balanced lifestyle which is critical to high performance and productivity.
CV with No Experience: The good news is that most data entry jobs do not require you to have prior work experience although you will be expected to be computer literate. If, however, the job vacancy specifies that previous work experience is required you may want to use your College/University projects as examples where you did data inputting, manipulation and presentation.
Make your CV results-oriented because, at the end of the day, you will be judged on the results you deliver not about how fast your data inputting skills are. Demonstrate this by real-world examples where possible.
Good Luck!
Written by Sobhan Mohmand
Sobhan is a qualified Careers Advisor and Professional CV Writer with over 10 years of experience in helping job seekers get a job. He is a Member of the Careers Development Institute (CDI) and is listed on the official UK Register of Career Development Professionals. He holds a Level 6 Diploma in Career Guidance and Development (QCF).