I am a confident, competent and driven Economist with over four years working experience for both public and private sector organisations. I am competent in the use of various statistical software and I have experience in financial modelling, investment analysis, valuation of transactions, business planning and market trends analysis.
| | | | |
| --- | --- | --- | --- |
| 2010-2011 | MSc Economics | University of Exeter | Grade achieved: Distinction |
Relevant Modules:
Macroeconomics
Microeconomics
Game Theory & Industrial Organisation
Advanced Econometrics
2006 – 2009
Results: [2:1]
BSc (Hons) Economics
Keele University

Relevant Modules:

Introduction to Financial Markets
Elementary Statistical Theory
Advanced Economic Analysis
| | |
| --- | --- |
| Jan 2014- Present | Economist 360 Analyses |
Main duties performed:
Produced in-depth research papers on economic trends and forecasts
Producing and presenting strategic reports to senior management, key decision makers, fellow economists, company directors and government officials in order to assist them in making medium to long-term decisions
Presented papers during local & international conferences and meetings
Developing risk models which take into consideration a number of variables such as growth, inflation and current debt levels
Providing tailored research to clients on topics of their choosing
Performing in-depth research and trend analysis into major financial markets
Conducting cost/benefit analysis on projects and business endeavours
Examining growth rates, risk factors and forecasts on behalf of clients
Converting data into meaningful information
Writing press releases regarding current economic issues
Drafting of monthly and quarterly market reviews and currency outlooks
Performing cost management analysis on private companies
Participation in investment projects on behalf of the organisation
Preparing financial charts and tables for analysis and presentations
Performing budget management and monitoring duties
Gathering intelligence on various economic issues affecting the markets
Conducting detailed business feasibility studies
Providing macroeconomic forecasts for the Treasury
Supervised junior members of staff in their day-to-day tasks
Jul 2011- Dec 2013
Assistant Economist Excellent Finance Ltd
Main duties performed:
Developed a Microsoft Access database to store data
Conducted statistical analysis using software such as SAS & SPSS
Researched on the latest economic trends affecting the markets
Performed general financial analysis
Prepared reports for senior managers and clientele
Presented key reports to relevant authorities via reports and verbal presentations
Performed fact-checking tasks of documents
Qualifications
Ordinary Member of the Royal Economic Society
IBM SPSS Statistics Level 1 v2
Level 2 ECDL – BCS
Skills
Business acumen: I have the ability to effectively analyse business financials and data, forecast any future business opportunities and encourage progression in key areas of the organisation.
Computer skills: Computer literate and fully conversant in the use of a variety of statistical software, including SAS, SPSS and Minitab.
Numeracy Skills: Adept at performing mathematical operations and making sense of complex economic and financial statements and data.
Time management Skills: Capable of multi-tasking, prioritising tasks and utilising the available resources in order to get the job done on time and in the most efficient manner.
Hobbies and interests
In my spare time, I enjoy meeting up with my friends and family, and I currently volunteer as a guest columnist for my local paper, The Daily Herald. I also enjoy reading business and economics magazines such as the Economist and Financial Times.
References
Mr Aidan Smith
Economist, 360 Analyses
Address:
1 Carrington St, Kent, LE72 0PR
Tel:
0823 3521 5425
Email:
[email protected]
Mr Ben Burton
Manager, Excellent Finance Ltd
Address:
53 Chimney Lane, Cornwall, SW8 4JU
Tel:
0780 8932 4361
Email:
[email protected]
Please note: the above CV Example is presented in the UK format and layout.
Preview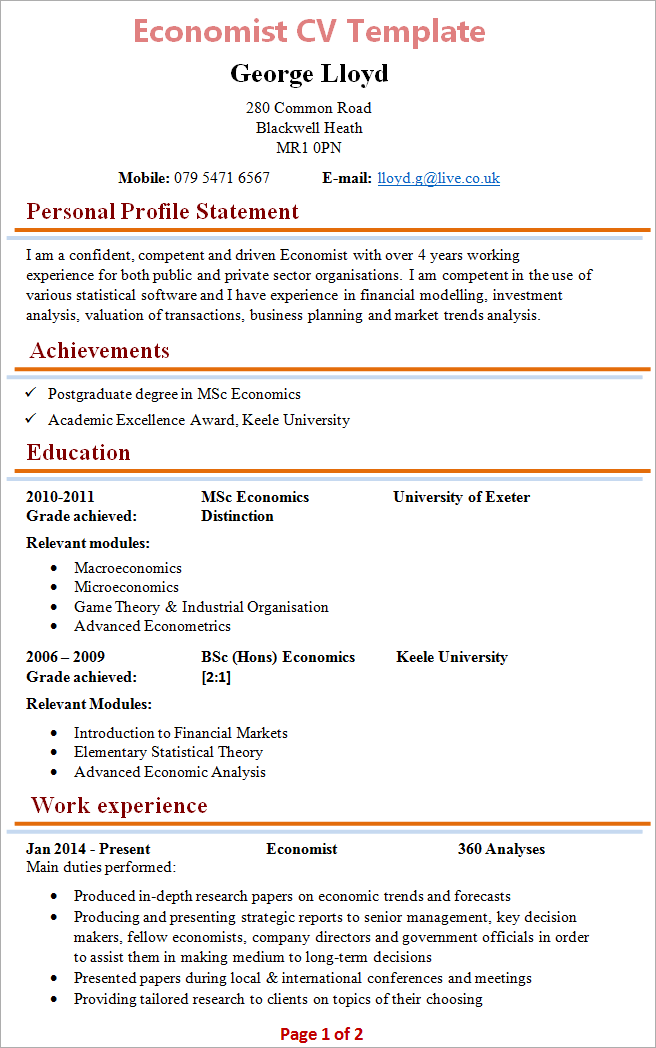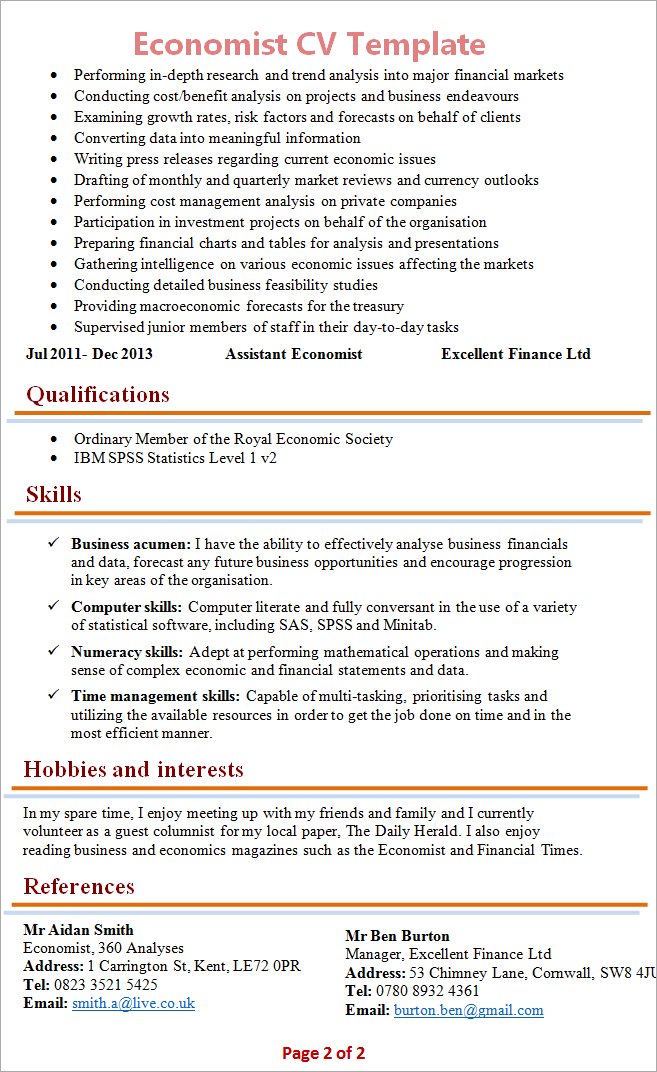 Download
Click here to download the above CV Sample (blank).
COLLECTION: You may also want to browse through our collection of Free CV Templates and download any of the editable CVs to create your own (available in Microsoft Word format and convertible to PDF).
Tips
Work experience: Securing a job as an Economist has become more competitive over the years and the successful candidates are almost always those who have the most work experience in the field. It is essential that your CV contains many real-world examples of your skills, abilities and previous work experiences that will enable you to be successful at this job.
Good Luck!
Written by Sobhan Mohmand
Sobhan is a qualified Careers Advisor and Professional CV Writer with over 10 years of experience in helping job seekers get a job. He is a Member of the Careers Development Institute (CDI) and is listed on the official UK Register of Career Development Professionals. He holds a Level 6 Diploma in Career Guidance and Development (QCF).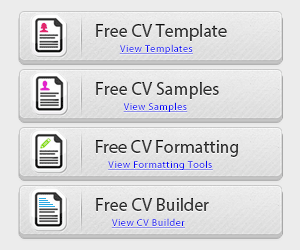 SPONSORED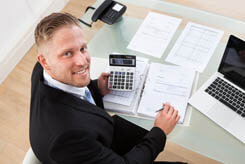 OVERVIEW
SALARY RANGE
£25.000 – £50.000

ENTRY
Degree and Relevant Work Experience

WORKING HOURS
38+ hours per week
Competencies
Communication Skills
Ability to communicate effectively with clients

Numeracy Skills
Excellent numeracy skills to make accurate financial projections

Commercial Awareness
Having a sound commercial awareness and knowledge of business conventions, practises and strategies

Computing Skills
Having excellent knowledge of computers and analytical software

Analytical Skills
Ability to analyse complex business finances and market information

Eye for Detail
Ensuring that no "small details" are overlooked when performing financial analysis
Related Resources
Economist CV Template