Sobhan Mohmand, Career Expert

2 Feb 2021
57 Davison Road
Redditch
RN8 4BP
18 April 2017
Ms Chloe Walsh
Manager
Farley Borough Council
284 Shakespeare Road
Tamworth
SW1H 0QD
Dear Ms Walsh,
Re: Recycling Officer (Ref: GH42)
I was very excited to see the vacancy for Recycling Officer at the Farley Borough Council in the local newspaper, and I am confident that I fulfil all the requirements needed.
I am very enthusiastic about protecting the environment, and I am convinced believe that everyone has to be properly educated about the environmental issues facing our society in the 21st century. Habitually recycling, for example, has scientifically been proven to cut waste, save people money and protect the planet's fragile ecosystems. I have acquired in-depth knowledge of the complex challenges facing our planet throughout my university studies in Environmental Science at the University of Wales. I wish to utilise this knowledge to bring about real change in areas that fall under your Council's responsibility.
I possess excellent communication, persuasion and creative problem-solving skills. I have been working as a voluntary Environmental Campaigner for six months and learned to perform tasks under pressure and prioritise a heavy workload. I am more than capable of working independently as well as in a team, and I always enjoy overcoming challenges.
I would love to be a part of the recycling team at Farley Borough Council, to make a tangible difference in the community. My experience as a voluntary worker has made me more aware of the environmental issues and taught me many transferable skills such as public speaking.
Thank you for taking your time to consider my application. Please do not hesitate to contact me on 06729 937 182 if you have any questions regarding my CV or application.
Yours sincerely,
~ Signature goes here ~
Cameron Gibson.
Preview + comments: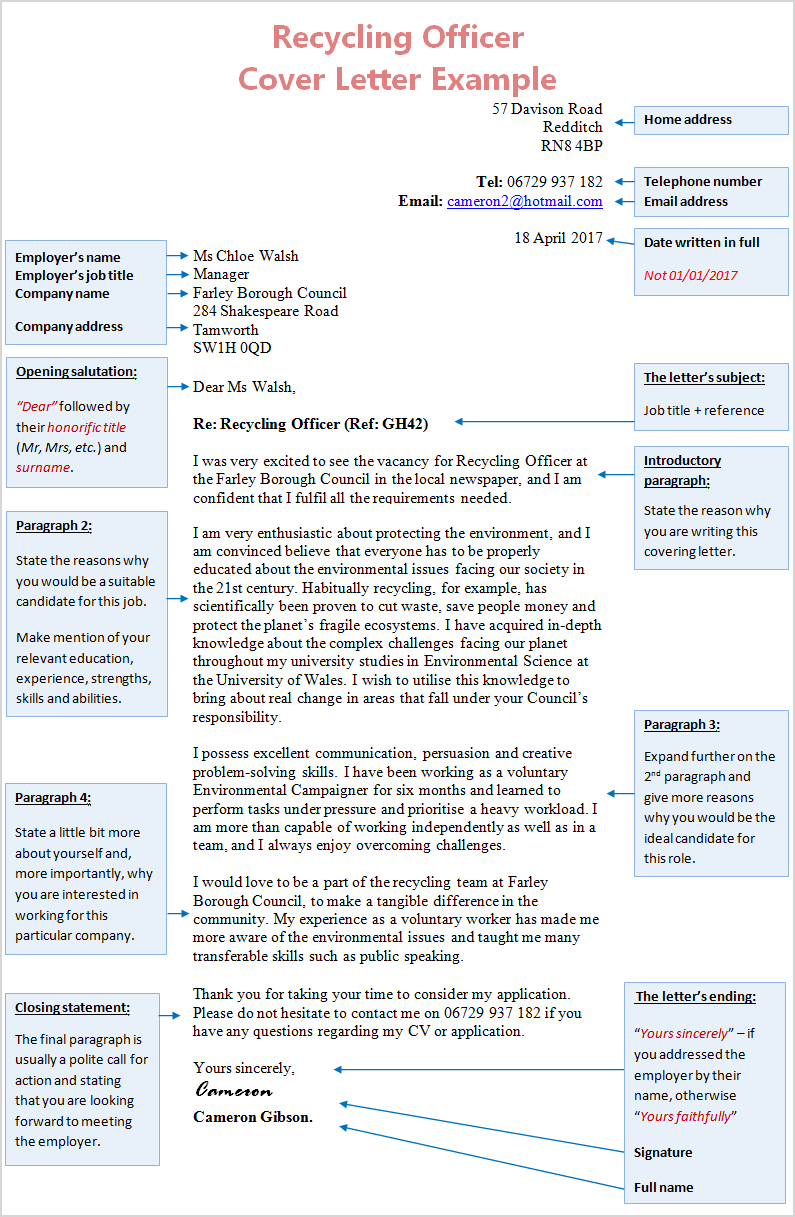 Written by Sobhan Mohmand
Sobhan is a qualified Careers Advisor and Professional CV Writer with over 10 years of experience in helping job seekers get a job. He is a Member of the Careers Development Institute (CDI) and is listed on the official UK Register of Career Development Professionals. He holds a Level 6 Diploma in Career Guidance and Development (QCF).