I am a hard working, confident, creative and self-driven (Graduate) Communications Assistant with over three years of work experience seeking a long-term position in the Marketing and Communications sectors. I have an excellent track-record of supporting operations of companies and making a significant and tangible difference to their performances.
| | | | |
| --- | --- | --- | --- |
| 2009 – 2012 | BA Business Studies BSc (Hons) | Aston University | Classification: [2:1] |
Relevant Modules:
Brand Strategy
Functions of Organisations
Marketing Fundamentals
Introduction to Visual Basic
2007 – 2009
Results: DDM
BTEC Higher Nationals in Business
Redding College
Relevant Modules:
Organisations and Behaviour
Business Decision-Making
Marketing Planning and Intelligence
Managing Communications, Knowledge and Information
Advertising and Promotion in Business
Employee Relations
The Internet and E-Commerce
Business Ethics
| | |
| --- | --- |
| Mar 2013 – Present | Communications Assistant Nottingham Trent University |
Main duties performed:
Creating and developing student case studies for marketing purposes
Collecting and uploading student profiles on the University website
Coordinating and organising events (e.g. Open Days, Graduation, etc.)
Liaising with design agencies to produce leaflets, banners, and prospectuses.
Writing and publishing press releases and news stories
Editing and proof-reading marketing materials (both online and hardcopy)
Managing and updating the departmental staff intranet
Ensuring all the information on the website is accurate and up to date
Supporting the administrative teams with their internal communications
Organising meetings between internal and external stakeholders
Providing accurate information to students, parents and staff
Writing articles tailored particularly towards a student audience
Managing Social Media Campaigns
Assisting with PR campaigns
Organising external visits and arranging meetings
Conducting interviews with staff, students and potential employees
Assisting with administration tasks
Dec 2012 – Mar 2013
Marketing Trainee NEXT Teaching Centre
Main duties performed:
Uploading images, stories and information on the CMS
Contributing to the marketing of the organisation's products and services
Search Engine Optimisation (SEO) to improve the website's ranking
Managing Facebook and Google Adwords Campaigns
Getting testimonials from customers and publishing it on the website
Performing market research
Producing press releases
Communicating with clients, press, suppliers and members of the public
General Admin duties; phoning, filing, photocopying, etc.
Qualifications
Level 3 in Literacy
Level 2 Better Communication Skills at Work – Hemsley Fraser
Level 2 Award in Effective Team Member Skills – ILM
Skills
Exceptional communications skills (both oral and written)
Confident and professional in dealing with people from all levels of seniority
Excellent IT Skills (Microsoft Office; e-Mail, CMSs, etc.)
Hobbies and interests
In my spare time, I like to surf the web, watching movies and socialising with my friends, family and colleagues. I have a big passion for helping with the organisation of events/activities which is one of the reasons why I volunteer at a local School.
References
Mr Ryan Ali
Marketing Manager, Nottingham Trent University
Address:
76 Northgate St, Thalamus, HS2 5GB
Tel:
0206 4855 2347
Email:
[email protected]
Mr James Black
Officer Manager, NEXT Teaching Centre
Address:
6 Fox Lane, Blackley, GL56 1DW
Tel:
0253 3472 3245
Email:
[email protected]
Please note: the above CV Example is presented in the UK format and layout.
Preview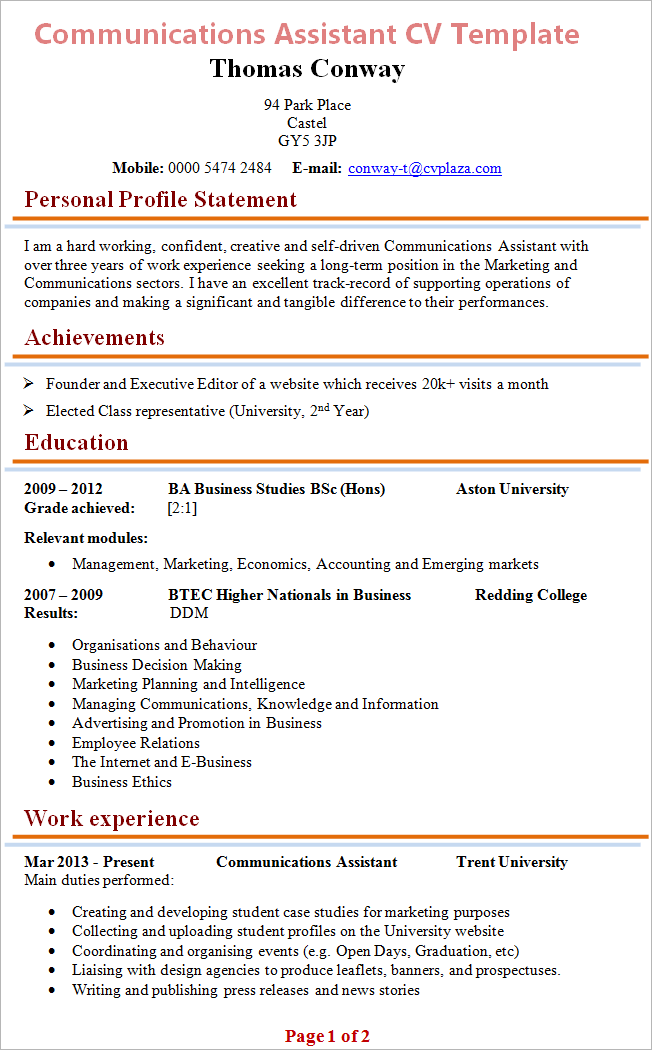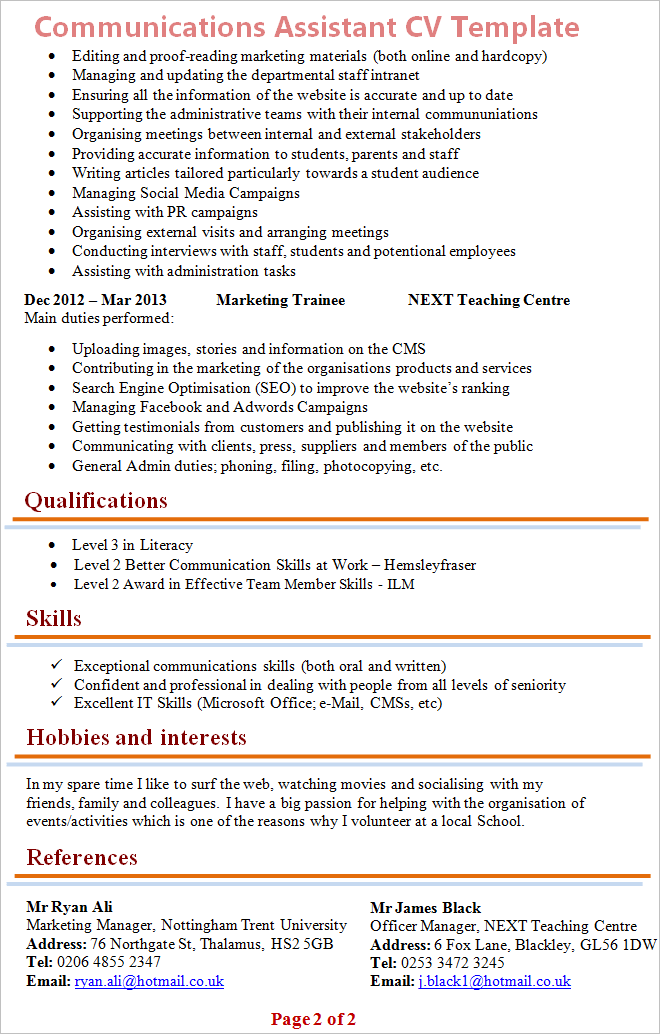 Download
Click here to download the above CV Sample.
COLLECTION: You may also want to browse through our collection of Free CV Templates and download any of the editable CVs to create your own (available in Microsoft Word format and convertible to PDF).
Tips
Ask yourself: does your CV demonstrate that you have excellent communication skills? Arguably the most important aspect of this role is communicating with a variety of different people through several of different communications channels (online, face-to-face or through email). It is your job to reassure the prospective employer looking through your CV that you possess this vital attribute for the job and that you are a "people person" – refer to the CV example above to see how you can achieve this.
The first impression is vital for securing any job, but this is especially the case for this position since you will be entrusted with interacting, conveying, publishing and speaking on behalf of the company to a variety of internal and external stakeholders through different mediums and channels. There is little tolerance for embarrassing the company or putting it into a negative light, and therefore the prospective employers will always ask themselves at any interaction: "Is this the articulate, professional and loyal candidate that I am looking for?" Tip: Ensure that you are professional and considerate at all times when dealing with the prospective employer!
Good Luck!
Written by Sobhan Mohmand
Sobhan is a qualified Careers Advisor and Professional CV Writer with over 10 years of experience in helping job seekers get a job. He is a Member of the Careers Development Institute (CDI) and is listed on the official UK Register of Career Development Professionals. He holds a Level 6 Diploma in Career Guidance and Development (QCF).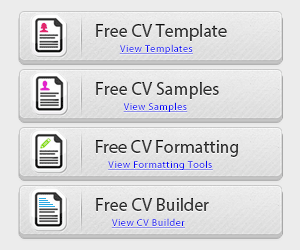 SPONSORED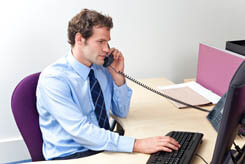 OVERVIEW
SALARY RANGE
£15.000 – £25.000

ENTRY
Degree or Relevant Work Experience

WORKING HOURS
37+ hours per week
Competencies
Communication Skills
Ability to communicate ideas and concepts clearly and effectively to a wide range of audiences

Telephone Manners
Making phone calls in a clear and professional manner

Writing Skills
Excellent writing skills to write clear and concise reports, statements, press releases and articles

Listening Skills
Excellent listening skills during meetings and other business interactions

Professionalism
Demonstrating a professional conduct at all times

Public Speaking
Ability to speak in front of a large audience in a clear and audible fashion
Related Resources