I am a high confident, motivated, articulate and tech-savvy Graduate with over two years experience in Digital Marketing and Online Communications. I consistently strive to work to the best of my ability and deliver professional standards at all times and in all circumstances. My key strengths are; communications (both oral and written), social media and the ability to relate to customers in a digital environment.
| | |
| --- | --- |
| Feb 2013 – Present | Digital Marketing Assistant University of Surrey |
Main duties performed:
Collate, proofread, publish and update entries on the University website/intranet;
Data entry of student/staff profiles, expenditure, resources and website analytics;
Provide administrative support to sub-groups within the School of Engineering;
Produce documentation for new members of staff and work experience students;
Liaise with relevant academics, in particular, programme directors, to create and/or update the materials for the forthcoming UG and PG prospectuses;
Work closely with senior academics to prepare marketing materials, e.g. leaflets, brochures and booklets, to promote the University to external stakeholders;
Promote the University to external stakeholders on events, open days;
Liaise with relevant students and staff to create digital profiles on the website;
Liaise with external suppliers to get materials ready, printed and delivered.
Nov 2012 – Feb 2013
Web Assistant AKC Accountants
Main duties performed:
Being solely responsible for the content management of the company's website
Market research on competitors and drawing up marketing strategies
Interpret and present Google Analytics data and reports
Submit stories to major search engines for indexing
Monitor website's traffic and conversion rates on a daily basis
Jul 2012 – Nov 2012
Online Marketing Assistant Olympus 1&1 Ltd.
Main duties performed:
Create, edit and update website entries and pages
Responsible for the company's social media accounts (Facebook and Twitter)
Making small tweaks to the design and structure of the website
General Administrative duties such as answering phones and filing
Qualifications
Fast Track Digital Marketing course (two days)
ECDL (European Computer Driving Licence)
Skills
Skilled in the use and utilisation of various Content Management Systems (CMS) such as WordPress, Joomla! and Drupal.
Specialist in Search Engine Optimisation (SEO) and Google Analytics
Excellent communication and interpersonal skills
Excellent copywriting and proofreading skills
Social Media (Facebook, Twitter, LinkedIn, etc.)
Hobbies and interests
I enjoy socialising with friends and family, watching TV (BBC Click, The Gadget Show, documentaries), reading self-improvement books, and computing.
References
Mr Oliver Connolly
Digital Marketing Manager, University of Surrey
Address:
19 Batley Road, Middleton, SY8 5FR
Tel:
0223 2759 5740
Email:
[email protected]
Mr Thomas Richards
Director, AKC Accountants
Address:
4 London Road, Sandwell, SP3 6LH
Tel:
0580 5757 4195
Email:
[email protected]
Please note: the above CV Example is presented in the UK format and layout.
Preview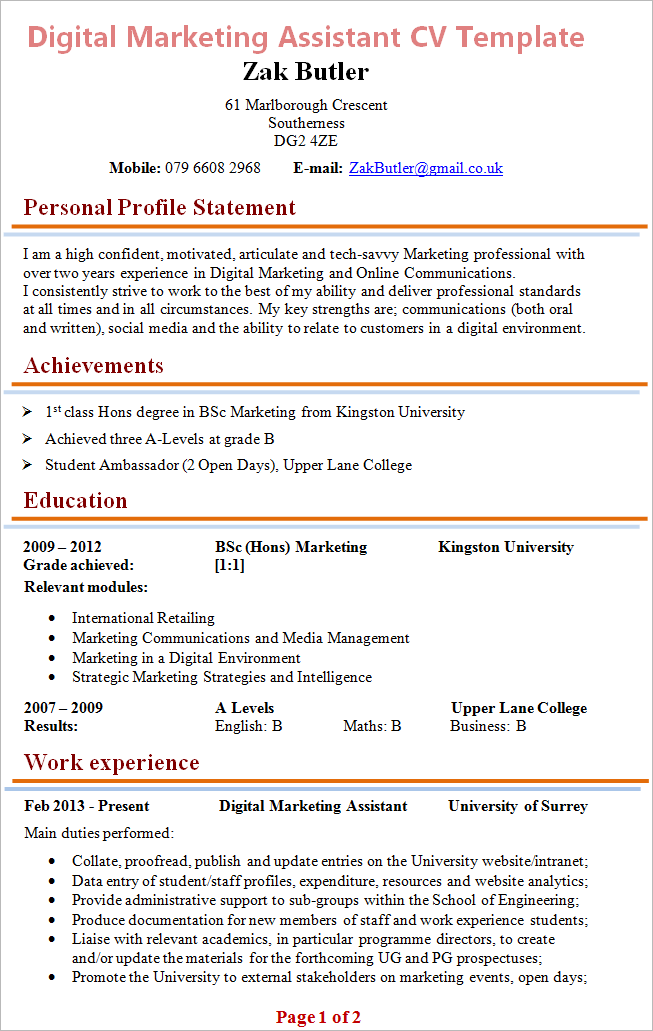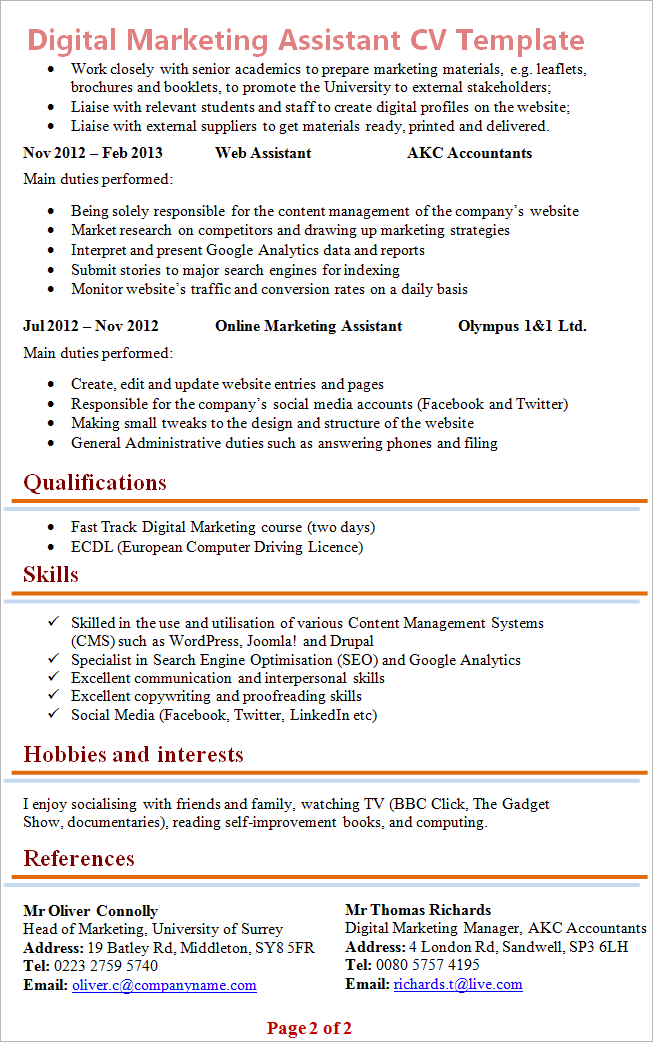 Download
Click here to download the above CV Sample.
COLLECTION: You may also want to browse through our collection of Free CV Templates and download any of the editable CVs to create your own (available in Microsoft Word format and convertible to PDF).
Top CV Tips and Guidelines
Digital Marketing is a new specialist area focusing on using the internet to market a service or product. Make sure that your CV is tailored to these specific areas (e.g. SEO, using CMS, etc.) rather than presenting any generic CV with little focus on these specialist aspects of the job position.
If you have got little or no experience, you may want to start off by creating a blog or small website for yourself and use that as a steppingstone to get you into entry-level digital marketing positions. Employers see extracurricular activities, such as maintaining a personal website, as valuable work experience.
Good Luck!
Written by Sobhan Mohmand
Sobhan is a qualified Careers Advisor and Professional CV Writer with over 10 years of experience in helping job seekers get a job. He is a Member of the Careers Development Institute (CDI) and is listed on the official UK Register of Career Development Professionals. He holds a Level 6 Diploma in Career Guidance and Development (QCF).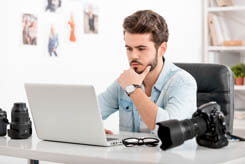 OVERVIEW
SALARY RANGE
£16.000 – £24.000

ENTRY
Relevant Work Experience

WORKING HOURS
37+ hours per week
Competencies
Communication Skills
Excellent communication skills to liaise with internal  teams, marketing suppliers and customers

Writing Skills
Producing articles and other written materials that are clear and understandable

Computing Skills
Having excellent knowledge of computers, Microsoft Office and Content Management Systems

Design Skills
Producing excellent designs for marketing purposes; flyers, posters, leaflets, etc.

Teamwork
Working with people with diverse skill sets and different backgrounds

Time Management
Managing one's time to prioritise critical tasks before anything else
Related Resources