May 2012– Jan 2014
Sales Assistant Next
Main duties performed:
Greeting customers and helping them with their enquiries or concerns
Working in a fast-paced and high-volume retail environment
Providing excellent customer service to all customers, at all times
General merchandising of the store with managers
Qualifications
CIM Level 7 Diploma in Strategic Sales Practice
CIM Certificate in Professional Marketing
Skills
Expert knowledge of the selling process and effective sales techniques
Social Media (Facebook, Twitter, LinkedIn, etc.)
Excellent communication and relationship building skills
Pro-active, organised and excellent team player
Motivated in a target-driven environment
Optimistic and a positive can-do attitude
Hobbies and interests
I enjoy socialising with friends and family as well as keeping up to date with current affairs. In addition, I am a keen enthusiast for cricket and enjoy watching both international and local twenty-20 cricket.
References
Mr Kevin Peacock
Head of Marketing, Nestle Foods
Address:
4 Summer Rd, Luton, LE8 7DX
Tel:
0743 6573 8977
Email:
[email protected]
Mr Paul Flanders
Sales Executive, Sky
Address:
18 James Rd, Leeds, L80 4LA
Tel:
0745 3246 6585
Email:
[email protected]
---
Preview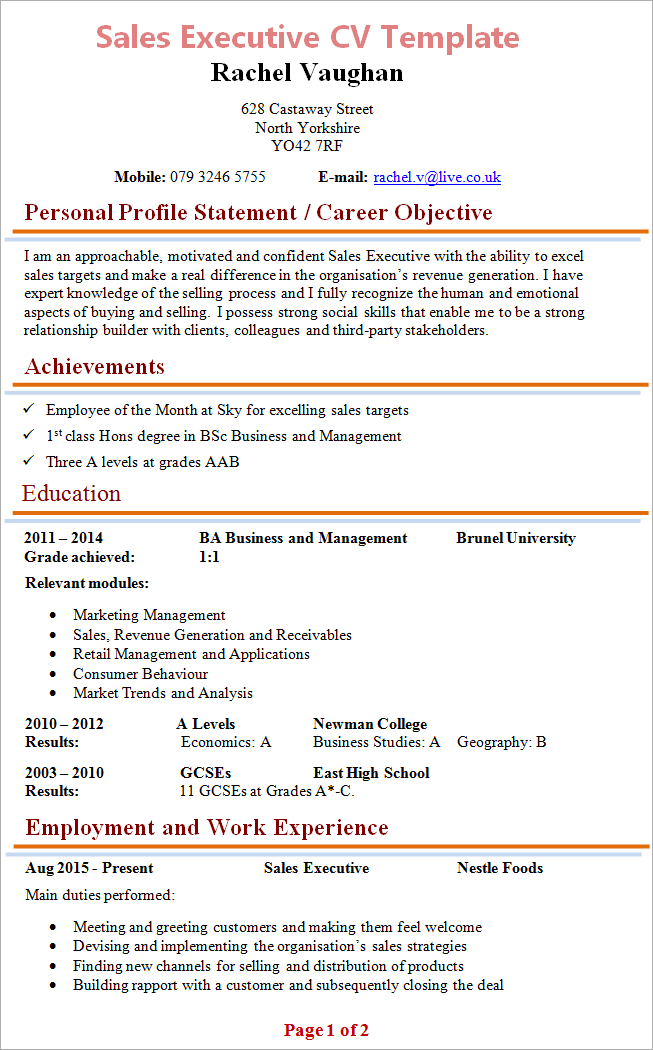 What makes this CV good and effective?
Rachel's sales executive CV demonstrates a well-rounded and effective personal profile. In her personal profile statement, she portrays herself as an approachable, motivated, and confident sales professional with a keen ability to excel in sales targets and contribute significantly to revenue generation. Her emphasis on understanding the human and emotional aspects of buying and selling, along with strong social skills for building relationships, makes for a compelling introduction.
Rachel's notable achievements include being named "Employee of the Month" for exceeding sales targets, and she holds a 1st class honours degree in BA Business and Management, showcasing her academic excellence.
Her educational background at Brunel University in Business and Management, with a focus on marketing, sales and consumer behaviour, aligns well with her sales role.
In the work experience section, she has demonstrated a wide range of responsibilities that reflect her sales and relationship-building skills. These include devising and implementing sales strategies, building rapport with customers, handling product demonstrations, providing excellent customer service and maintaining relationships with clients.
In summary, Rachel Vaughan's CV effectively communicates her qualifications and achievements as a sales executive, positioning her as a strong candidate for sales roles.
---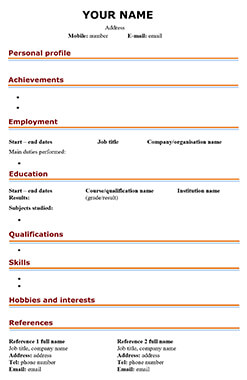 Are you writing your CV from scratch or is your CV template outdated? Download this professional CV template to impress employers!
Free
Save time and effort
Guaranteed correct CV structure
Word document (.docx) format
Fully customisable
How to save your CV as a PDF document:
Click on File > Save As > Select "PDF" from the drop-down menu.
---
Use a professional layout and format: CV should be well-structured with clear headings and bullet points to make it easy for recruiters to navigate. Also, ensure consistent formatting throughout your CV, from font choice to margins, to maintain a polished and professional appearance that leaves a lasting positive impression on potential employers.
Highlight sales targets met: Specify the sales targets you've consistently met or exceeded, demonstrating your ability to drive results. You can do this in various parts of your CV, such as in the "Achievements", "Work experience" and "Skills" sections.
Use facts, numbers and figures to back up your statements: Whenever possible, use concrete numbers like "Increased client base by 25% in six months", or "Surpassed quarterly sales quotas by an average of 15%."
Customise for the job: Tailor your CV for each position you apply for, matching your skills and experience with the specific job requirements. Customising your CV proves that you're not just sending out generic applications, but that you've done your homework and are genuinely enthusiastic about the opportunity.
Proofread for perfection: Before submitting your CV, proofread it thoroughly to ensure there are no spelling or grammatical errors. You can also take advantage of online grammar checkers or seek assistance from family members, friends or career advisors to review your CV and give you feedback.
---
Personal details
Your CV's personal details section is where you provide essential information for potential employers to contact you for interviews or further discussions.
It should include your full name, address, contact number and email address.
What you shouldn't include in this section:
Irrelevant personal information: Avoid including details like your date of birth, marital status, or gender, as these are generally not needed in modern CVs.
Photographs: In the UK, it's customary not to include a photograph on your CV.
Sensitive information: Do not share sensitive data like your national insurance number or passport details.
Read more: A list of what personal details to put on a CV.
Example:
Oliver Lewis
6 Birch Lane, Glasgow, G1 1BC
Mob: 07777 123 456 Email:

[email protected]
Personal profile
The personal profile section of your CV is like an introduction that gives employers a snapshot of who you are and what you can offer.
It's important because it's the first thing they read so make sure you take the time to perfect it.
Guidelines for writing an effective personal profile:
Strong start: Begin with a compelling opening statement. Example: "Dedicated Sales Executive with a proven track record of exceeding targets."
Key achievements: Highlight relevant achievements with numbers. Example: "Delivered a £500,000 increase in sales revenue last year."
Skills and focus: Mention industry knowledge and customer-centric approach. Example: "Expert in tech sales with a focus on exceptional client service."
Career goals: Conclude with career aspirations. Example: "Seeking a senior sales role to contribute to company growth."
Sales executive personal profile example:
As a seasoned Sales Executive with a track record of exceeding targets, I bring a proven ability to drive revenue growth. My strategic approach led to a 25% increase in sales within six months in my previous role, demonstrating my strong market analysis and customer relationship skills. I am committed to achieving results and thrive in dynamic sales environments.
Achievements
Your CV's achievements section is where you highlight your key accomplishments in a concise, bullet-point format.
This is the place to showcase your awards, promotions, outstanding grades or any significant milestones in your career or education.
It's your chance to grab the employer's attention by demonstrating your success and the value you can bring to their team.
Example:
Achieved First-Class Honours in Business Management at the University of London.
Earned the "Top Sales Performer" award for consistently exceeding sales targets.
Promoted to Senior Sales Executive within 18 months due to outstanding performance.
Implemented a new sales strategy that improved team productivity by 15%.
Successfully organised a charity event, raising over £2,000 for a local children's hospital.
Employment history
The employment section of your CV contains details of your work history, including your previous job positions, responsibilities and achievements.
This section should give employers an overview of your relevant experience, what you contributed in your previous roles and how your experience aligns with the requirements of the job you're applying for.
| | |
| --- | --- |
| August 2022 – Present | Sales Executive ABC Sales Ltd. |
Main duties and responsibilities performed:
Developed and implemented effective sales strategies, resulting in a 30% increase in annual revenue.
Managed a portfolio of key accounts, ensuring high levels of customer satisfaction.
Negotiated and closed high-value contracts, with a cumulative worth of £2 million.
Led a sales team of 5 members, achieving consistent over-quota performance.
Actively participated in trade shows and industry events, expanding the company's market presence.
Sales executive duties to add to your CV
Developing and implementing effective sales strategies to achieve and exceed targets.
Managing and nurturing client relationships to ensure high levels of satisfaction.
Identifying and pursuing new business opportunities to expand the client base.
Conducting market research and competitor analysis to stay informed about industry trends.
Negotiating and closing sales deals, contracts, and agreements.
Leading and motivating sales teams to consistently meet or exceed their quotas.
Providing product or service knowledge to clients and addressing their enquiries.
Creating and delivering compelling sales presentations to potential clients.
Monitoring and analysing sales data to evaluate performance and identify areas for improvement.
Collaborating with cross-functional teams, such as marketing and product development, to align strategies and meet company goals.
Educational background
The education background section of your CV is where you provide details of your academic history, showcasing your qualifications in reverse chronological order.
You should list the types of qualifications you've earned, such as degrees, A-Levels, GCSEs, diplomas and any other relevant educational achievements.
Read more: How to write your degree on your CV.
Example:
| | | | |
| --- | --- | --- | --- |
| September 2015 – June 2019 | Bachelor of Business Management | University of London | Degree Classification: 2:1 (Upper Second-Class Honours). |
Subjects Studied:
Sales and Marketing Strategies
Consumer Behaviour
Business Ethics
Financial Management
September 2013 – June 2015
Results: Business Studies (A), Economics (B), Mathematics (B).
A-Levels
Coldly College
Professional training and qualifications
In this section of your CV, you should highlight your professional qualifications and training, such as qualifications like "Chartered Institute of Marketing (CIM)" or vocational courses like "Institute of Sales Management (ISM) Certificate."
Example:
Level 5 Diploma in Sales and Marketing – London School of Business
Chartered Institute of Marketing (CIM) Professional Certificate – CIM Institute
Bachelor of Business Administration (BBA) – University of Manchester
Level 2 Certificate in Sales – Sales Training Ltd
Level 3 NVQ Diploma in Business Sales – Open University
Advanced Diploma in Sales Management – Sales Academy UK
Skills
In your sales executive CV, the skills section is a crucial part that highlights your core abilities and competencies relevant to the role.
These skills may include proficiency in negotiation, strong communication, client relationship management and a results-oriented approach.
Tailor the skills to match the specific requirements of the sales executive role you're applying for, emphasising what sets you apart as a strong candidate.
Example:
Negotiation: Skilled in negotiating deals with clients, resulting in a 15% increase in sales revenue over the last year.
Communication: Exceptional verbal and written communication abilities, demonstrated through successful presentations to senior stakeholders and maintaining long-term client relationships.
Market research: Proficient in market research and analysis, identifying key trends and customer preferences to inform strategic sales approaches.
10 useful sales executive skills to add to your CV
Sales strategy: Ability to develop and implement effective sales strategies to achieve revenue goals.
Negotiation: Proficient in negotiating to secure the best deals and contracts for the company.
Time management: Efficiently manage time and resources to meet sales targets and deadlines.
Product knowledge: In-depth understanding of products or services, enabling effective sales pitches.
Presentation skills: Excellent presentation skills to engage and persuade clients.
Communication: Strong communication skills to build rapport with clients and effectively convey product benefits.
Client relationship management: Expertise in building and maintaining long-lasting client relationships to ensure repeat business.
Resilience: Demonstrated resilience in handling rejection and maintaining motivation.
Team leadership: Experience in leading sales teams to achieve and exceed targets.
Closing skills: Strong ability to close deals and secure contracts with clients.
Hobbies and interests (optional)
The hobbies and interests section of your CV is an optional section that offers a glimpse into your personality and can help you connect with potential employers on a more personal level.
It should contain hobbies and interests that reflect your well-rounded nature and can highlight qualities like teamwork, leadership or dedication.
For a sales executive role, it's beneficial to include hobbies that align with the dynamics of the sales world. Consider hobbies such as cold calling practice sessions to hone your phone sales skills, reading sales books or conducting mock sales presentations to improve your pitch and presentation abilities. These hobbies directly reinforce your sales expertise and enthusiasm for the profession, making you a more compelling candidate to potential employers.
Related: Best hobbies and interests to put on a CV (list of examples).
Example:
Adept at building strong relationships and communicating effectively, my personal interests mirror my professional skills. I'm a passionate member of a local business networking group, a competitive golfer, and a dedicated reader of sales strategy books. These pursuits keep me sharp, motivated and constantly learning, helping me excel in the dynamic world of sales.
References
Finally, the references section is where you provide contact details for individuals who can vouch for your professional abilities and character.
Referees are typically former employers, colleagues, or mentors who know you well.
You should include their name, job title, company, email address and telephone number.
Related: Should you include references on a CV?
Example:
Henry Wright
Managing Director, SalesForce UK
Address:
101 Shell Avenue, Leeds, UK
Tel:
+44 1212 999777
Email:
[email protected]
Liam Ingram
Sales Manager, ABC Sales Ltd
Address:
246 Willow Way, Edinburgh, UK
Tel:
+44 8787 333222
Email:
[email protected]
Note: If you do not wish to disclose your references on your CV, you should write, "References are available upon request."
---
Use an eye-catching format: Use a professional, visually appealing format with bullet points, bold headings and easy-to-read fonts to make your CV visually engaging.
Use action verbs: Begin bullet points with strong action verbs like "Implemented", "Managed" or "Generated" to convey your proactive approach. Read more: Best CV key words to use on a CV.
Use metrics: Incorporate KPIs and metrics from your previous roles, such as customer acquisition cost or sales conversion rate.
Professional Development: Highlight your commitment to self-improvement through sales-related courses, workshops or seminars.
---
Conclusion
This is the end of our guide on crafting a Sales Executive CV. We've provided you with valuable insights, examples and expert tips to give your CV the edge it needs.
You should now have a clear understanding of how to tailor your CV to the role you desire. Remember, showcasing your achievements, emphasising your skills and presenting a well-structured document will greatly enhance your chances of landing that dream job.
Good luck in your job search!
Written by Sobhan Mohmand
Sobhan is a qualified Careers Advisor and Professional CV Writer with over 10 years of experience in helping job seekers get a job. He is a Member of the Careers Development Institute (CDI) and is listed on the official UK Register of Career Development Professionals. He holds a Level 6 Diploma in Career Guidance and Development (QCF).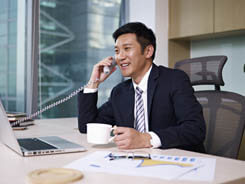 OVERVIEW
SALARY RANGE
£20.000 – £30.000

ENTRY
Degree or Work Experience

WORKING HOURS
39+ hours per week
Competencies
Professionalism
Demonstrating a professional conduct at all times

Multitasking
The flexibility to handle different jobs, tasks and projects when required

Communication Skills
Ability to communicate ideas and concepts clearly and effectively

Persuasion
Using appropriate techniques to move others to action, gain agreements or sell the organisation's products and services

Time Management
Identifying critical and less critical activities and tasks and prioritising accordingly

Numeracy Skills
Dealing with numbers and figures in a financial context
Related Resources