Jan 2015 – Apr 2016
Communications Assistant Airbus Operations Ltd
Main duties performed:
Supporting the community relations team when needed, especially with regards to events and the production of marketing material
Producing press-related documents including briefings and releases
Providing support to senior management with regards to research and the delivery of critical information to staff and other stakeholders
Conducting market research and competitor analysis
Liaising with third-party organisations to produce marketing materials
Writing case studies regarding successful clients
Assisting the internal communication team admin duties
Qualifications
CIPR Crisis (Response) Communication Diploma
Skills
Proficient writing skills with a successful track-record of writing attractive and professional blog posts, website articles, press releases, advertisements, emails, newspaper stories and newsletter entries.
Able to work with people of all levels of seniority in a professional manner
Extensive experience in planning and executing successful Marketing and PR
Able to work in a high-pressured, fast-paced working environment
Fast typing speed of 69 wpm (words per minute) with 99% accuracy
Excellent knowledge of Gorkana and other PR packages
Hobbies and interests
I have a keen interest in learning new skills including languages, and I currently speak fluent French, German and Spanish. My other hobbies include socialising with friends and family, participating in running marathons and following current affairs.
References
Mrs Megan May
Manager, Reed Insurance
Address:
17 Marsh Ln, Helston, HJ9 3XT
Tel:
0753 5437 6855
Email:
[email protected]
Mr Robert Mills
Communications Officer, Airbus Operations
Address:
5 Station Rd, Cornwall, CI1 2KE
Tel:
0740 5461 9775
Email:
[email protected]
Please note: the above CV Example is presented in the UK format and layout.
---
Preview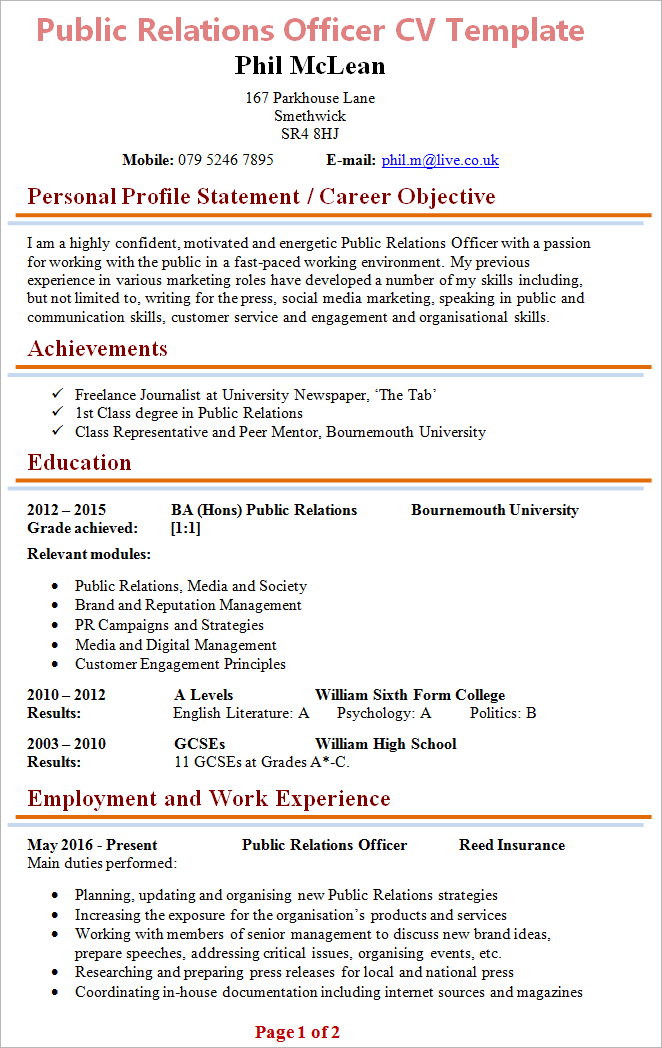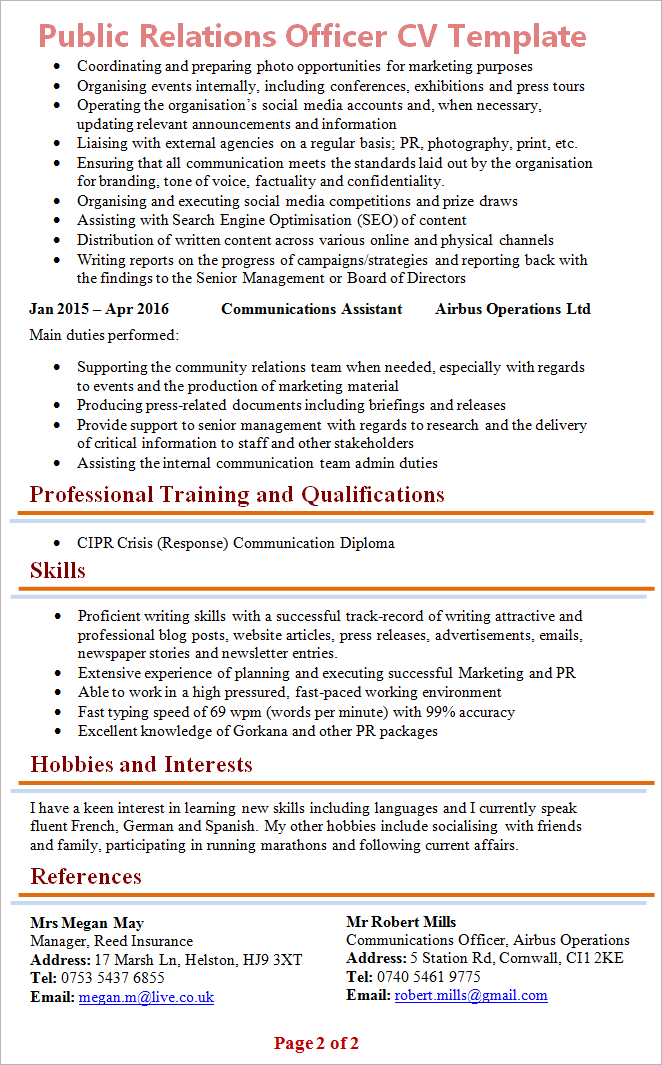 ---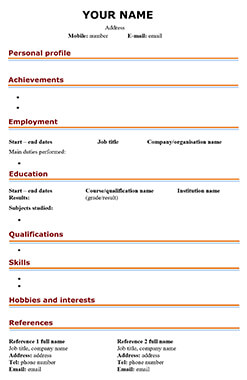 Are you writing your CV from scratch or is your CV template outdated? Download this professional CV template to impress employers!
Free
Save time and effort
Guaranteed correct CV structure
Word document (.docx) format
Fully customisable
How to save your CV as a PDF document:
Click on File > Save As > Select "PDF" from the drop-down menu.
---
Adopt a standard CV structure: Unconventional CV structures catch employers off guard and make it harder for them to find the information that they are looking for. This will most likely result in your CV being rejected, especially as surveys have shown that employers only tend to spend around 30 seconds reading each CV! Instead, you should adopt a CV layout/structure that they are familiar with; write your personal/contact details at the top, followed by your personal profile, achievements, employment, education, qualifications, skills, hobbies and interests. There is some slight flexibility in swapping the education/employment sections, depending on which one is stronger.
Make your CV professional, clear and easy to read: As a public relations officer, you are expected to produce high-quality PR content that will enhance the image of the organisation in the eyes of the public. Imagine if the employers get the impression that you are struggling with presenting a small document (i.e. your CV) in a clear and easy-to-read manner so how about if they hire you and you have to produce hundreds of PR statements, articles and reports to a high standard? It's essential that your CV gives a positive impression of you to the employer! To improve the scannability and readability of your CV, use short sentences, columns, lists, bullet points and subheadings.
Choose an appropriate font: There are literally hundreds of fonts to choose from for your CV but only a small number are appropriate. Unsuitable fonts include fancy, handwriting and comic fonts. The best CV fonts that you can use include Lucida Sans, Helvetica, Arial, Verdana, Cambria, Georgia, Calibri, Tahoma, Garamond and Times New Roman. Click on the link above to see previews of these fonts.
Use a subtle colour scheme and minimal design features: When it comes to writing your CV, less is more. Just like putting on a little bit of perfume or aftershave is pleasant, putting on too much is off-putting. Guidelines for using colour on a CV.
Limit the length of your CV to 2 A4 pages: Employers get tens or hundreds of applications per job opening so they only spend around 30 seconds reading each CV. If your CV appears too long-winded, crammed with information or unfocused, it will be automatically rejected. You should limit the length of your CV to 2 A4 pages and omit any irrelevant, outdated and unnecessary information.
Never use graphics, images, company logos, icons and photos on your CV.
---
Personal details
Let's start from the top.
The first part of your CV contains your personal and contact details:
Your name
Address of residence
Phone number
Email address
LinkedIn profile (optional)
Example:
Stephen Hayden
354 Mill Lane, Belfast, BL2 35C
Mob: 07978376266 Email:

[email protected]
Note: Don't write "CV" or "Curriculum vitae" at the top of your CV. Instead, your name – enlarged and written in bold – should be the main heading of your CV. This will make it easier for employers to identify the author/owner of the CV at a glance.
Personal profile
Next, you need to craft a well-written personal profile statement, a brief paragraph that informs the employer about your personal characteristics, skills, abilities and work experience.
According to the Cambridge Dictionary, a profile is "a short description of someone's life, work, character, etc."
Guidelines:
Keep it brief and to the point (no more than 4-5 sentences).
Focus on your key strengths and achievements (and give examples).
Tailor your profile to the needs of the give and the employer (i.e. give reasons on what makes you the perfect candidate for the job).
Public relations officer CV personal profile statement
I am an experienced and talented PR officer with more than four years of experience in the PR and communications industry. I started my career as a copywriter, in charge of writing compelling marketing and promotional materials for print, web, mobile, video, and social media uses. I was promoted to my current role after nine months on the job. I have excellent organisational skills, enabling me to manage my time and multiple projects simultaneously. My expertise includes maintaining customer relations, devising branding strategies and writing press releases.
Achievements
In this section, you should list some of your key achievements that will portray you as a strong candidate for the job.
Employer surveys have shown that applicants with achievement-focused CVs are three times more likely to be shortlisted for an interview compared to duties-focused CVs!
CV achievements can be divided into two main categories:
Personal achievements: received awards, won competitions, achieved high grades in studies, volunteered, participated in sporting events, etc.
Professional achievements: saved the company time and money, increased performance, facilitated growth, met and exceeded work targets, etc.
Try to include a mixture of both these types of accomplishments on your CV.
Example:
More than 2 years of work experience in the PR and communications industry
Increased memberships by 18% following successful PR campaigns
Elected as a project manager on several occasions at the university
Won the "Silver Award for Excellence" (2022) in my current job
Designed and implemented various PR-related initiatives
Note: You can also mention your achievements in other parts of your CV such as the personal profile, employment and skills sections.
Employment and work experience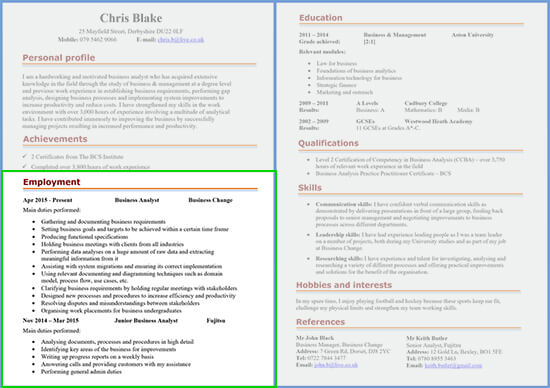 The employment section contains details of your current and previous jobs.
There are many different types of jobs that you can add in this section, including full-time, part-time, voluntary, paid, unpaid, temporary and permanent jobs.
All entries in this section need to be presented in reverse chronological order (most recent items first) with the following details:
Your job title
The name of the employer, organisation or company
The start and end dates
Main responsibilities, duties and accomplishments
| | |
| --- | --- |
| February 2021 – Present | PR/Communications officer 360 Brands Ltd. |
Main duties and responsibilities performed:
Planned and executed PR campaigns to increase brand awareness
Wrote and edited press releases, presentations, articles and social media posts
Organised and attended events, press conferences, exhibitions and tours
Built good relationships with the media for the benefit of clients
Analysed the media coverage of clients, organisations and brands
Provided advice and guidance to clients on PR, branding and customer relations
Public relations officer duties to add to your CV
Develop PR strategies
Create multimedia content (text, sound, video and images) to be used as part of brand awareness/enhancement campaigns
Raise awareness of the organisation's products, services and achievements
Monitor the organisation's print, broadcast and online media coverage
Work closely with the sales, marketing and trading departments
Handle media and public enquiries
Participate in press conferences
Build a relationship with media organisations
Liaise with external PR agencies
Update content on the organisation's intranet
Education
The education section, as its name suggests, contains details of your educational background.
Here you can list the following types of qualifications:
Refer to the example below on what information is required for each entry.
Example:
| | | | |
| --- | --- | --- | --- |
| September 2016 – July 2019 | BA Public Relations and Media | University of York | Degree classification: First-Class Honours. |
Relevant Modules:
Principles of Marketing and Marketing Communications
Public Relations: Strategic Communications
PR Concepts & Influencer Relations
Reputation Management and Crisis Communication
Digital Essentials (Content Creation)
Social Media Cultures
Brands and Branding
2014 – 2016
Results: English (B), Maths (C) and Business (B).
A-Levels
Kensington College of Business
Qualifications
The qualifications section, as a continuation of the previous section, contains details of any additional qualifications that you hold.
These are usually technical, work-related and/or vocational training qualifications.
Example:
Level 2 Certificate in Sales and Marketing – ISM
Level 2 Certificate in Public Relations (VRQ) – South Derby College
Level 2 Certificate in Copywriting and Content for Marketing – Dudley College
Level 1 OCR Text Production and Word Processing – Fast Lane Training
Skills
Your skills are very important because they are a testament to your competence in a certain task, activity or field.
Employers highly value applicants who meet and exceed the skills requirements of the advertised jobs so it makes sense to spend some time perfecting this part of your CV.
Include a mixture of the following two categories of skills on your CV:
Soft skills: Personal qualities, attributes, characteristics, abilities or traits that enable one to interact and work with others. For example, organisational and communication skills.
Hard skills: Specific, quantifiable and teachable skills that enable one to do their job to a good standard. For example, writing a book or designing a website.
Excellent copywriting skills to produce accurate and well-written press releases, articles, blog entries, social media posts and marketing materials.
An excellent command of the English language (both written and verbal).
The ability to speak confidently in front of a large group of people.
Strong IT skills – Microsoft Office (Word, Excel & PowerPoint), Teams, email marketing software, content management systems (CMS) and photo-editing software.
Good understanding of digital marketing – search engine optimisation, web traffic analytics, competitor analysis and advertising campaigns.
The ability to produce creative written and visual content for PR-purposes.
Analyse and measure the success of strategies.
Plan and organise events.
Knowledge of politically sensitive issues.
Hobbies and interests (optional)
In this section, you should add one or two of your hobbies and interests that are relevant to the job you are applying for and which will add value to your application.
For example, stating that you enjoy blogging in your free time tells the employer that you have excellent copywriting skills, an essential requirement for a PR officer!
Example:
In my free time, I enjoy writing well-researched and interesting content for my personal business blog and playing football with my friends at weekends.
References
The last section of your CV should contain details of your two references.
Check out this article for guidance on writing references on your CV.
Example:
Mr Mike Miller
PR Manager, Epic Media Ltd.
Address:
26 Kingsway, Leicester, L11 4DB
Tel:
07663579822
Email:
[email protected]
Mrs Sandra Thomas
Head of Marketing, Limelight Digital
Address:
9 Green Lane, Redhill, R91 6DR
Tel:
0787435689831
Email:
[email protected]
Note: If you do not wish to disclose your references at this early stage in the recruitment process, you can write "References are available upon request."
---
Tailor your CV to each job: The closer your CV matches the requirements of the job the greater your chances of being invited for a job interview. An effective way to tailor your CV to the job you are applying for is by looking at the job's personal specifications and identify all the essential and desirable requirements of the job and then mention those skills, abilities and requirements on your CV. Remember to use the same key phrases and terminology as the one used in the job advert.
Proofread your CV: Your CV needs to be impeccable because a big part of your job will involve planning, writing and publishing written content. Any mistake, whether big or small, could cost you the job so you should always proofread your CV to identify and correct any spelling and grammar mistakes. Ideally, you should also let a family member, friend or careers advisor proofread your CV too.
Include a cover letter with your application: PR professionals are in the business of influencing and building relationships so employers expect you to know how to connect with audiences. Sending a personalised, one-page cover letter with your application will give a nice boost to your application and increase your chances of being shortlisted for an interview.
Include a link to your LinkedIn profile: You should include a link to your LinkedIn profile in the "Personal details" section at the top of your CV, especially if you're active on the platform and have many connections and professional recommendations.
---
You've now reached the end of this guide.
If you have followed all the guidelines and tips in this guide, you should now have an impressive public relations officer CV that will get you job interviews in no time.
Good luck with your job hunt!
Written by Sobhan Mohmand
Sobhan is a qualified Careers Advisor and Professional CV Writer with over 10 years of experience in helping job seekers get a job. He is a Member of the Careers Development Institute (CDI) and is listed on the official UK Register of Career Development Professionals. He holds a Level 6 Diploma in Career Guidance and Development (QCF).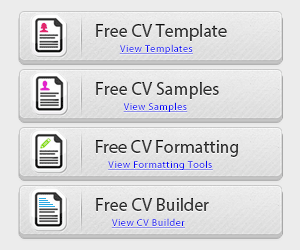 SPONSORED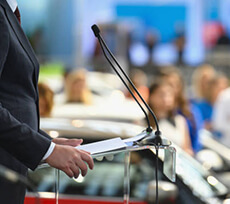 OVERVIEW
SALARY RANGE
£18.000 – £40.000

ENTRY
Degree and Relevant Work Experience

WORKING HOURS
38 – 40 hours per week
Competencies
Communication Skills
Ability to communicate ideas and concepts clearly and effectively to a wide range of audiences

Interpersonal Skills
Excellent interpersonal skills to build relationships with stakeholders, the press and the general public

Attention to Detail
Paying attention to every aspect of the task or project

Caring
Ability to care for and empathise with the organisation's needs and objectives

Teamwork
Working with people with diverse skill sets and different backgrounds

Public Speaking
Giving speeches and presentations to a large audience / group of people
Related Resources