I am an extremely keen and creative Tourism Manager with experience in an array of tasks from online promotions and website maintenance to client budgeting and holiday promotions. I strive to provide my customers with the best tourism packages to suit their needs without exceeding their budget. My friendly approach and strong communication skills enable me to build rapport with guests, tour operators, staff, and guides thereby improving efficiency and boasting business. I specialise in organising holiday plans in Europe, Asia and Africa; therefore I am aware of the most appealing places to visit that will make anyone's holiday one to remember.
| | |
| --- | --- |
| Jul 2016 – Present | Tourism Manager Green Globe Travels |
Main duties performed:
Recommending suitable holiday destinations, tours, travel routes, accommodation and local attractions to customers within their budget
Writing tourism guides for certain cities including London, Paris and Rome
Organising tours across major cities in Europe, Asia and Africa
Booking of flights, ferries, car hire, hotel and holiday accommodation
Making reservations using a variety of online booking systems
Preparing reports, newsletters, adverts and articles for the Marketing department
Developing marketing strategies and tourism business plans
Providing excellent customer support all types of travel/holiday requirements
Meeting with customers to finalise all the travel details for their trip
Contacting new potential customers and offering our services
Producing statistics on sales, travel destinations and customer satisfaction
Liaising with government embassies, tour providers and hotels on a regular basis
Organising and attending holiday exhibitions
Delivering talks and speeches at various national and international events
Hiring staff; particularly during busy holiday periods to give tours
General website maintenance to ensure that its information is up-to-date
Performing market research on the latest trends and developments in the industry and making any recommendations (when necessary)
Dealing with customer queries and issues on a regular basis
Ensuring that information is kept confidential and secure on databases
Jul 2015 – Jun 2016
Tourism Assistant Green Globe Travels
Main duties performed:
Predominantly assisting the Tourism Manager in daily tasks
Answering the phone and dealing with customer queries
Maintaining the website and posting new content on a weekly basis
Discussing holiday plans and packages with potential customers
Assisting with the writing of the Tourism Guide for London
Emailing customers for their reviews on the service provided
Qualifications
Tourism Management Institute Certificate
Level 2 ECDL – BCS
Skills
Ability to maintain a good business relationship, be responsive to changes in circumstances (cancellations, delays, etc) and always willing to help
Exceptional communication skills developed through regularly holding meetings, delivering speeches and dealing with customers
Creativity; particularly in regards to planning personalised holiday plans
The ability to effectively budget on behalf of our customers
Wide and strong range of IT skills, specialising in Microsoft Word, Publisher, Excel, Access, PowerPoint and Outlook.
Hobbies and interests
Due to my job being within the Travel and Tourism field, I have a natural urge to explore the world, visit new cities and learn about as many cultures as I can. I have extensive knowledge of some of the biggest cities in the world and I love to share this knowledge with family and friends by regularly going on holidays with them.
References
Mr Alexander Burnham
Tourism Executive, Green Globe Travels
Address:
3 Green Rd, Chester, CHK8 3QL
Tel:
0777 4577 7844
Email:
[email protected]
Mrs Katy Williams
Mentor, Bournemouth University
Address:
1 Wild Ln, Sutton, SUT2 9FA
Tel:
0744 6789 3452
Email:
[email protected]
Please note: the above CV Example is presented in the UK format and layout.
Preview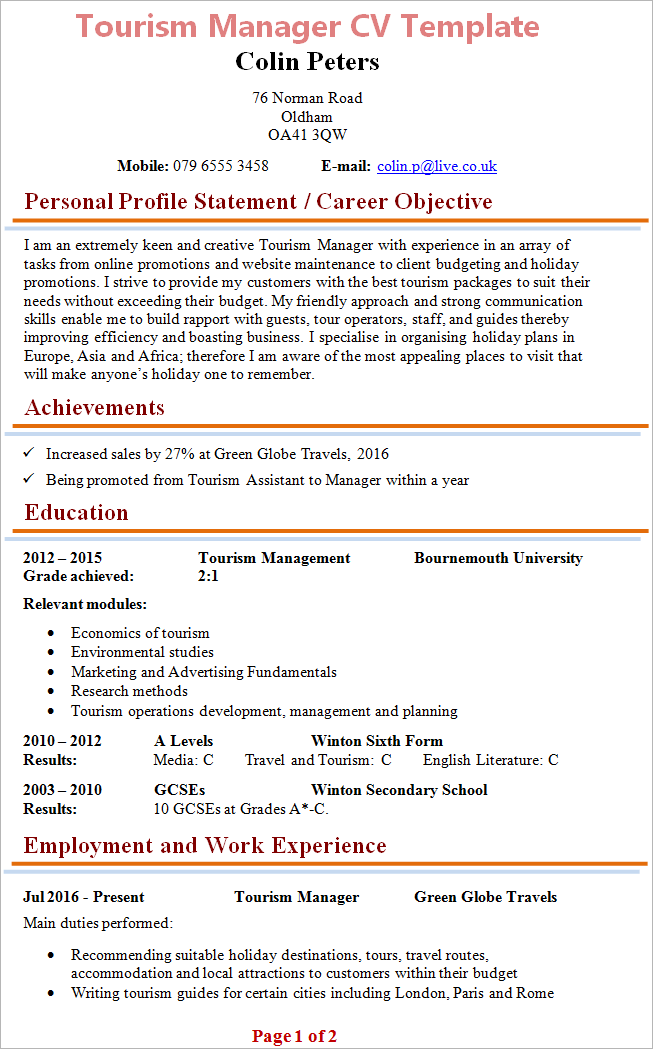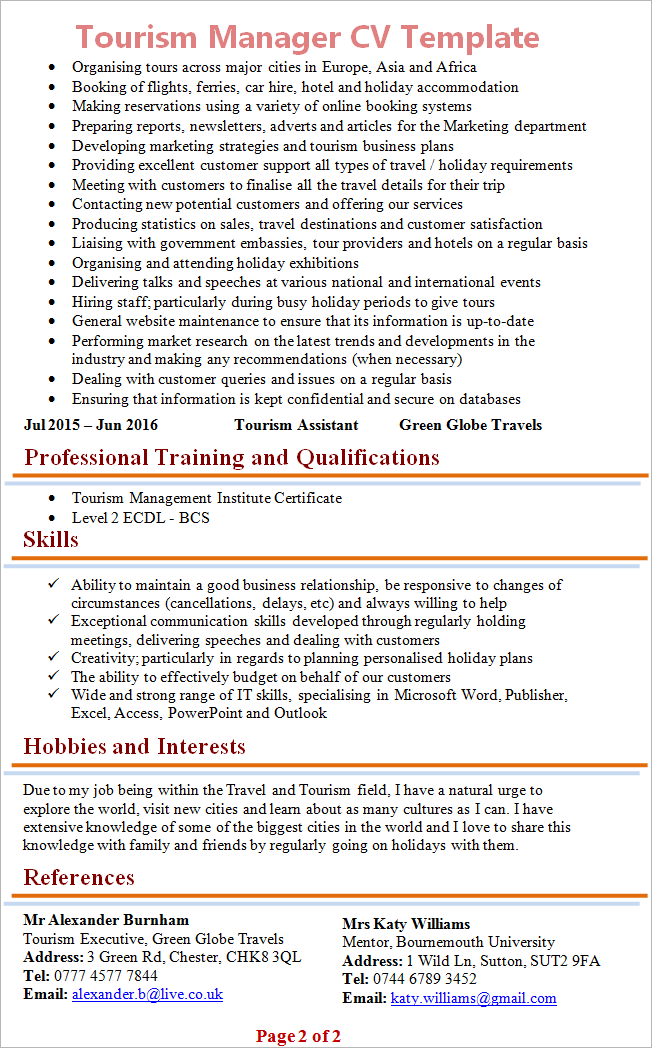 Download
Click here to download the above CV Sample (blank).
COLLECTION: You may also want to browse through our collection of Free CV Templates and download any of the editable CVs to create your own (available in Microsoft Word format and convertible to PDF).
Tips
Customer service: Working in the Travel and Tourism industry means that your number one priority is to provide outstanding customer service because your business depends on online customer ratings & reviews, customers returning in the future and making word-of-mouth recommendations to their family and friends. Customer service can, literality, make or break your business. It is, therefore, recommended that you give some real-world examples of your customer service skills on your CV to demonstrate to the prospective employer that you have what it takes in order to be a successful Tourism Manager.
Good Luck!
Written by Sobhan Mohmand
Sobhan is a qualified Careers Advisor and Professional CV Writer with over 10 years of experience in helping job seekers get a job. He is a Member of the Careers Development Institute (CDI) and is listed on the official UK Register of Career Development Professionals. He holds a Level 6 Diploma in Career Guidance and Development (QCF).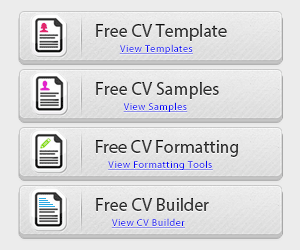 SPONSORED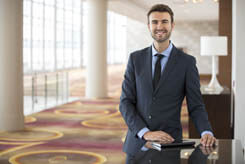 OVERVIEW
SALARY RANGE
£25.000 – £45.000

ENTRY
Degree or Relevant Work Experience

WORKING HOURS
37+ hours per week
Competencies
Customer Service
Ability to relate to customer's needs and offering appropriate advice and solutions

Planning
Planning ahead and anticipating and preparing for upcoming events

Diplomacy
Ability to build rapport with clients by making favourable impressions and using appropriate techniques to move people to action

Computing Skills
Ability to use a computer effectively for business needs

Problem Solving
To identify and solve technical and operational problems

Management
Excellent leadership skills to take charge of and lead a group of people
Related Resources