I am a skilled, hardworking and creative Furniture Designer with great attention to detail. I have a proven track-record of being able to work on multiple projects and complete the work on time and within budget. My outstanding knowledge of design programs allows me to fully unleash my inner creativity by working on attractive 2D and 3D projects. I also have excellent knowledge of carpentry and upholstery and this, along with my patience and diligence, is always reflected in my final designs.
| | |
| --- | --- |
| Feb 2015 – Present | Furniture Designer ACE Personnel |
Main duties performed:
Designing of bespoke furniture – chairs, tables, desks, sofas, beds and cupboards – for the residential, commercial and healthcare markets
Meeting with clients to establish customer specification
Creating concepts, storyboards and sketches based on the specification
Planning and conducting site visits
Surveying kitchen space and taking measurements
Creating stunning drawings and artworks by hand and on the computer
Creating 3D floor plans displaying existing and old furniture units
Using scrap wood, metals and stones to create sample pieces or test materials
Researching current interior trends to create unique, high-end products
Liaising with the Interior Design team on a regular basis
Developing functional prototypes and presenting them to the clients
Invoicing and ensuring that the work is signed off to the customer's satisfaction
Working under budget considering material costs and availability
Working alongside the marketing team to promote upcoming designs
Assisting managers with key decision making in the organisation
Nov 2013 – Jan 2015
Junior CAD Technician Express Solutions Ltd
Main duties performed:
Working with finalised hand-drawings to create 3D production drawings using the latest Computer Aided Design software
Using designs to create estimates of costs and product maintenance
Working alongside the engineering team to discuss and develop designs
Creating surface models to portray a flat representation of the design, and 3D models to provide a virtual tour and presenting them to clients
Attending meetings with various teams and/or customers to present, discuss and amend designs that have been created
Qualifications
Level 3 NVQ Furniture and Furnishings – City & Guilds
Woodworking Course – Rowden Atelier
First Aid – St John Ambulance
Skills
Skilled in the use of AutoCAD 2D, Adobe Photoshop, Illustrator and 3DS Max with a high level of efficiency with digital photography and technical drawing
Steady hand and an artistic eye
Great sense of self-discipline during independent projects
Excellent communication skills in a team and with customers
Hobbies and interests
I like to spend the majority of my free time creating artwork or visiting art galleries. I enjoy oil painting and often retreat to scenic areas to carry out my art projects; here, I also tend to find inspiration for my work in furniture design. Additionally, I enjoy socialising with my friends and family whenever I have some free time.
References
Mr Hank Smith
Senior Furniture Designer, ACE Personnel
Address:
2 Egg Rd, Dorset, DOI8 1DY
Tel:
0777 5688 5468
Email:
[email protected]
Mr Paul Anders
Manager, Express Solutions Ltd
Address:
8 Field St, Leeds, DJ1 7DH
Tel:
0774 4568 7685
Email:
[email protected]
Please note: the above CV Example is presented in the UK format and layout.
Preview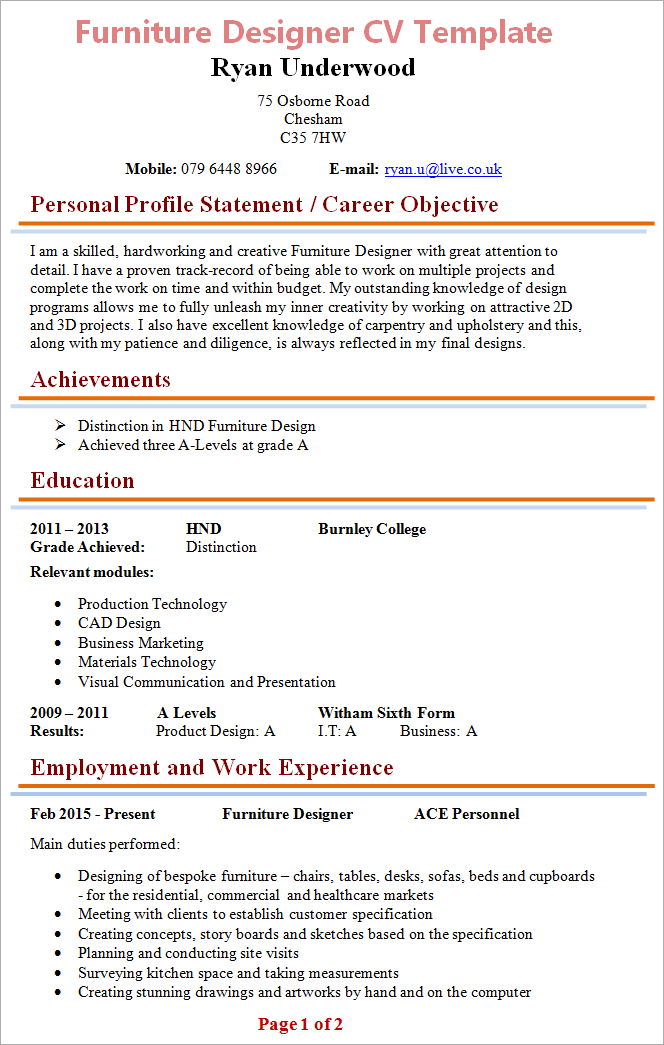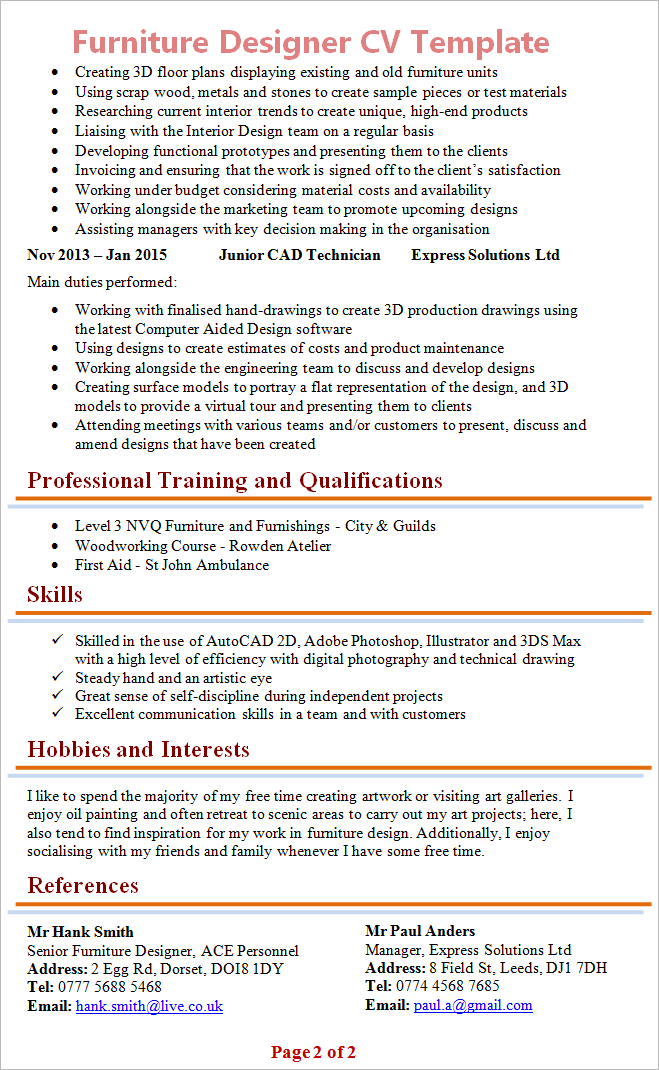 Download
Click here to download the above CV Sample (blank).
COLLECTION: You may also want to browse through our collection of Free CV Templates and download any of the editable CVs to create your own (available in Microsoft Word format and convertible to PDF).
Tips
Work experience: In order to secure a job as a Furniture Designer you will need to demonstrate on your CV that you have some relevant work experience in this field. It is, therefore, advisable that you dedicate a large part of your CV to the experience you have in this and related fields such as paid employment, education in a design-oriented field, voluntary work and relevant hobbies & interests.
Good Luck!
Written by Sobhan Mohmand
Sobhan is a qualified Careers Advisor and Professional CV Writer with over 10 years of experience in helping job seekers get a job. He is a Member of the Careers Development Institute (CDI) and is listed on the official UK Register of Career Development Professionals. He holds a Level 6 Diploma in Career Guidance and Development (QCF).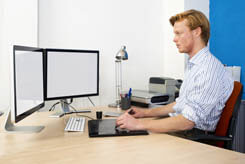 OVERVIEW
SALARY RANGE
£16.000 – £35.000

ENTRY
Relevant Work Experience

WORKING HOURS
37+ hours per week
Competencies
Interpersonal Skills
Excellent interpersonal skills to communicate and interact with others

Customer Service
Ability to relate to customer's needs and offering appropriate advice and solutions

Analytical Skills
Making sense of complex issues and proposing meaningful solutions

Design Skills
Producing excellent designs that meet user requirements

Creativity
Finding "better ways" of completing required tasks and coming up with novel designs

Precision
The ability to take  exact and accurate measurements and working with them accordingly